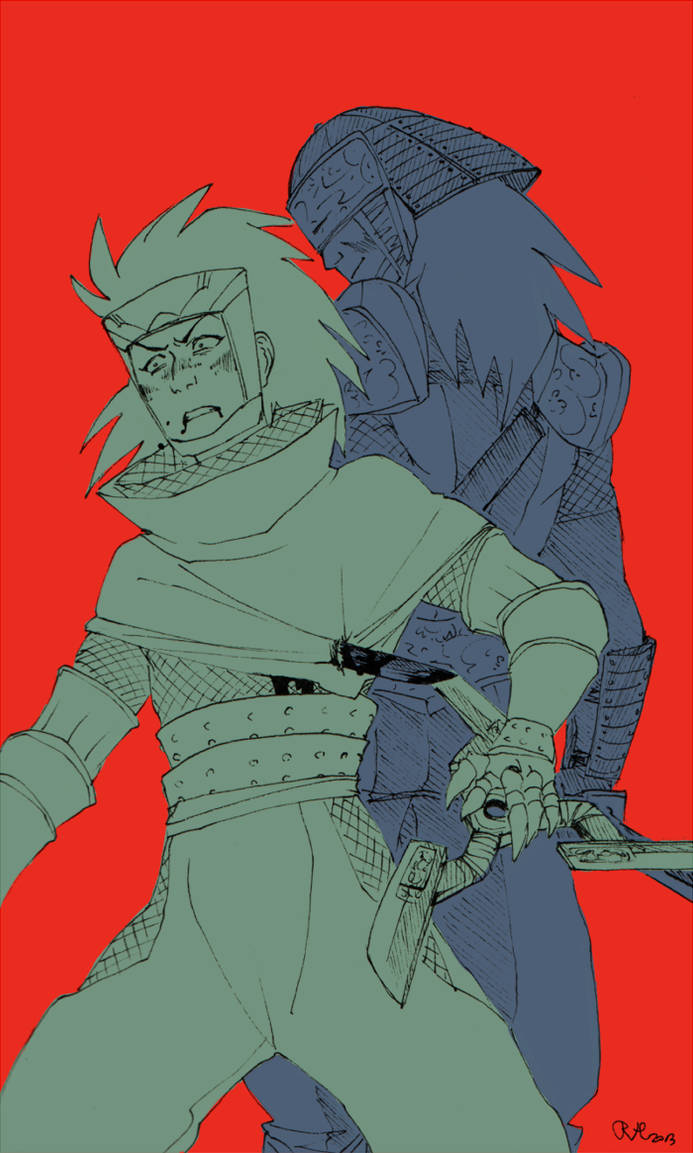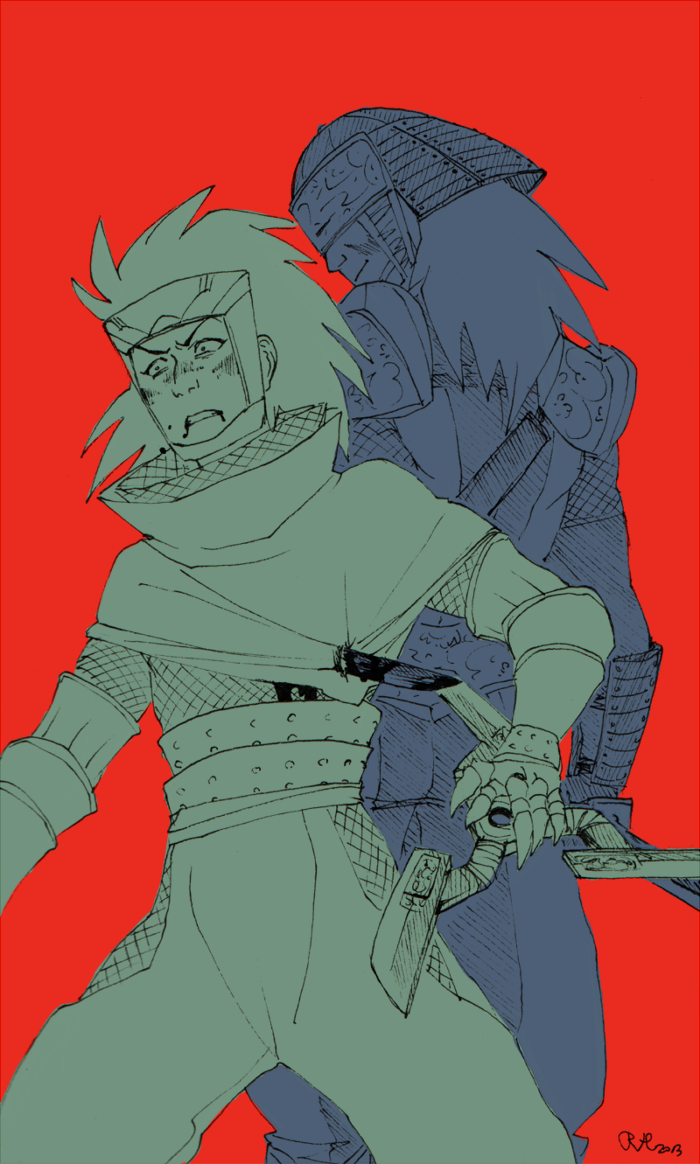 Watch
I bought a PS3 and the Sengoku Basara HD Collection (and SB3: Samurai Heroes I already had) so I've been playing a lot lately. The games sure are rich in absolute terrible and sadstuck. >: ) That said, all of my favorite characters are the most terrible ones...
This one's inspired by Kotarou's gaiden story in SB2: Heroes.
Also in
tumblr.
Also
a lineart version.
Somehow, my tumblr's also become 99,9% Sengoku Basara... XD
Pigment ink marker, SAI.

NOOOOOOO!!!! SASUKE-SENSEI!!! damm you kotaro i'll kill you for this for hurting my sensei and sasuke
Reply

Aaah, ihanat värit tässä *_*
Reply

Kiitos kiitos! Vaihteeksi suunnittelin erityisesti etukäteen. : D
Reply

Ollos hyvä vain : D Teetkö sit usein värityksen kohdalla spontaanisti tai mitä tulee mieleen?
Reply

Aika harvoin mietin kunnol, oon aika sellanen epätaiteellinen et väritän mentaliteetillä "tää asia on tämän värinen" niinku, "täl hahmol on punaset kengät ja sininen paita hur dur" ja sit katon vaa jotai taustoi tai lisäelementtei mitkä tuntuis sopivan niihin muihin väreihin.
Reply

Okeis, kiva kuulla

itse meen kans aikalailla samalla tavalla (hävyttömän kauan kesti mulla tähänkin vastata x_x;; )
Reply

Katoin aluksi et etualalla oleva tyyppi oli sohaissu itteänsä tolla heittotähtisysteemillä. Sitte avasin toisenki silmäni ja ymmärsin näkemääni.
Jollain oudolla tavalla mä tykkään tosta, et hahmo väritetään kokonaan samalla värillä. Lucky Lukes oli semmosta. Jännää.
Reply

Taitaa mulla olla Homestuckin peruja. : D Tämän kuvan tapauksessa syynä on se, että apinoin hiukan pelissä ollutta videopätkää, jossa kaikki muuttui tummiksi silueteiksi punaisella taustalla kun Kotarou rupes tappohommiin.
Reply

Aw come on not the sarcastic ninja!
Reply

Cool!

Reply

>X,,,,,,,,,,,,,,,,,(
Reply