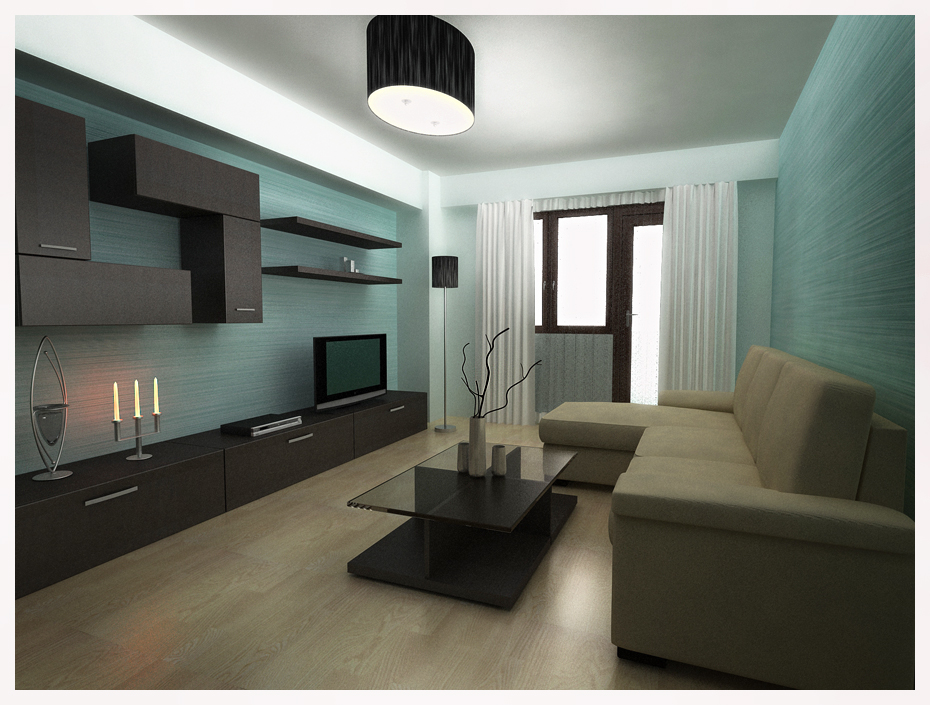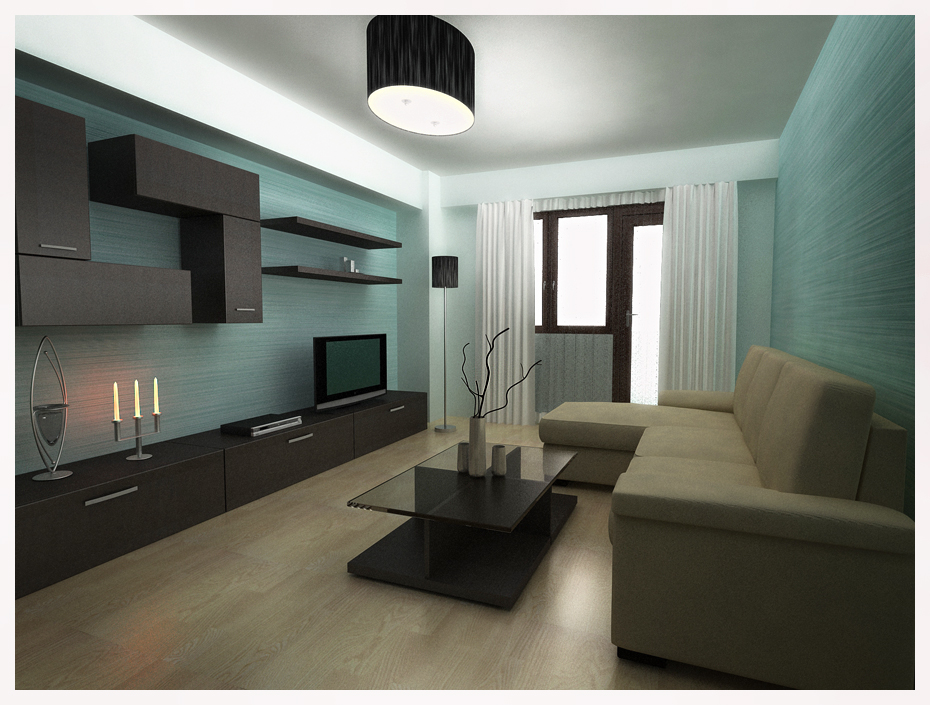 Watch

Imi place foarte mult designul overall, atata doar ca albastrul pe perete (si poate si combinat cu brownish yellow cum i-o fii zicand de la parchet+canapea) ma face sa vreau sa dorm acolo...well, sa ma relaxez, sa tolanesc fara griji, maybe that's not alive enough pentru living.

Really like your designs a lot! Arhi? Sau doar esti pasionat de asta si esti self-taught?
Reply

Hei. Mersi pt support si comments!


Lucrez in arhitectura acum. 3d-ul l-am invatat cam singur... Din pasiune! Da! E unul din hobbiuri


Reply

printre ce alte hobby-uri? (aveai o formulare ce aduce a invitatie acolo

) E fain sa vezi ca cineva face asta din placere nu "all for the money" si nimic altceva. Putinii studenti (sau wannabe studenti) de arhi pe care-i stiu nu aveau niciun pic de suflet pentru potentiala viitoare meserie...dar poate-s doar eu prea critic cu oamenii

).
Ma lasi sa profit un pic de tine? ce-mi recomanzi sa studiez pentru design interior? Is la o postliceala pe domeniu dar nu simt ca ma duce nicaieri didactica profesoarelor mele, si daca tot esti unde esti poate poti sa give me a tip sa ma pun pe drumul cel bun. (here's to hoping)

Reply



lol
asa.. hobiuri.. pai desen, chitara, skate, bmx, foto in natura, si snooker/biliard. si.. nu prea ma joc jocuri pe comp, decat rar... adica prefer sa fac ceva util decat sa ma joc

da. poti sa "profiti"

pt design interior e bine sa faci niste cursuri undeva daca gasesti. te invata cum sa echilibrezi si sa potrivesti chestii, si tehnici de desen, la fel te invata si ce sa eviti... mutle chestii.. cel putin asa e scoala de aici din constanta.. nush in cluj daca sunt scoli de genu. dar, daca vrei si ai ambitie poti sa incerci sa dai la fac de arh din buc. la ion mincu. au si sectie de design interior. e f aprofundat acolo.
eu de ex am fost la lic de arta si aveam specializarea arhitectura si de atunci am inceput sa invat 3d.
aa.. e bine sa te mai uiti si prin reviste de design interior de genu ideal decor si casa lux parca.. mai gasesti pe acolo idei bune

si daca vrei sa inveti singur 3d, poti sa te joci cu 3ds max. pt inceput cu modelat

ca e cel mai important.
asa... si cam atat deocamdata

Reply

la modelat m-am jucat foarte putin cu blender (ca e cam ca 3ds max de mare si compelx, dar complet free) si ceva mai mult cu sketchUP cand faceam pregatiri pentru arhi si aveam GD (recomandase un prof programul, si ma prosteam cu total altceva prin el vezi tentative de spaceships, de casute dubioase, etc)
vor fi fiind scoli, la postliceala e doar foarte pe langa si necompetitiv. Am colegi care is like "de ce tre sa desenez eu mobila?" la o scoala de design interior, si basically au aceleasi rezultate ca si mine, so in acest anul 2 mi s-a cam lasat si am fost ffffffffffffffff "rau" in sensul can u mi-am tocmai predat lucrarile pe primul semestru. SI-mi place sa fac de-astea dar...singurul lucru pre care l-am invatat e ca probabil some clients will be a bi**h din cauza unei profe foarte subiective. E util si aia presupun dar nu foarte didactic.
Vroiam la arhi la bucuresti, dar pe arhitectura per se nu de interior, ma vreua asa un multilateral al constructiilor. Acuma is la facultatea d constructii la Universitatea Tehnica, si fc o postliceala pe desin interior, hopefully urmand sa fac dupa master si arhitectura...vreau sa fiu ing. arh.

Reply

my futur living room

Reply


vraiment super
Reply

Woah u did all this on Photoshop?
so u wanna b an architect?

great job on the interior design! >_<
Reply

thanks!!!
no, it's not photoshop! it's done in 3d studio max. i used photoshop after... just to correct the colors and effects
i wish i was an architect but for the moment i am happy with 3D interior design.
Reply

misto...lumarile zicic a sunt fluorescente
Reply