Happy Valentine's Day all, today is my birthday~
I've been very busy lately with many different things, most of them not relevant to DA. But one thing is quite relevant, today I opened up an Etsy shop!
Baby's first steps haha, I'm still working on a lot of things like polishing up the appearance of the place, and getting a handle on how to actually package and ship my stuff, etc. Right now I just have a couple things in there, stickers which I am working on getting many more designs for, and... some commissions :V!!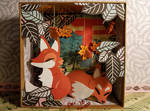 This got SO MUCH attention when I uploaded it here, I was really shocked haha. The paper cut-out boxes I made for Christmas got everybody and their mother telling me I should sell them or offer them as commissions. Well.... now I do!
I have two slots for custom paper cut-out commissions up in my shop, at a special lower price since this is my grand opening!

After these two slots are gone I will only offer one at a time, and the price will be higher. So if you wanted something like this for yourself, now is your chance! It won't be a replica of these particular foxes, but if you want a cutout of foxes for yourself I can definitely do that~ Or really anything else you want too!
For the time being I'm also only gonna offer these through Etsy since it handles the payment stuff pretty smoothly, and I adamantly do not want to have anything to do with Paypal \:!

I plan to sell premade boxes too, I have some ideas I think will be good. Those, of course, will be cheaper than the commission ones.

I've also been planning for a very long time to get back to woodblock printing, and there's a few other wood-related art forms I've been interested in for a long time. For me it's just a matter of having the space and the money for it.. and not to mention, before now I didn't know what I would do with something like a stack of prints after I was done with them haha. Now, however, I have a great outlet to produce all the physical art I want to without worrying about where it will go when it's made!
On the digital art front, you'll probably see a shift in what I'm putting up here on Deviantart.
CenturyARkStorm-OCT
was not able to be run after all, so it's closed now. With that, I'm no longer in any rp, character, or story groups on here. That means no more character rp stuff, no more ref sheets and rushed stuff to meet group deadlines, stuff like that. What I think I will be uploading here is going to be more polished, complete illustrations and paintings. Most of it will likely be fan art or non-oc original stuff. It'll probably be coming out a lot slower too, expect months of nothing.. XD;;
You can probably expect fewer journals too, not that I post very many to begin with. I'm not leaving DA and I doubt I ever will simply because it's such a good free online gallery site, and I use stash all the time. But I'm definitely no longer
social
on DA. I'm just here to post my art, see what my friends are doing.. and contribute to
Game-Art-HQ
collabs here and there haha
Thanks for sticking around with me through the years and being kind to my art and me~ I've met some great people through DA rp communities and stuff. I'm so glad to have the friends I do from groups like that! You guys are all great, I hope you are feeling the love today!
And if you are interested in keeping up with me in the social way, and less the art way, you can follow me on twitter twitter.com/ra__ooo