New members are welcomed!




Members submit their genuine infrared photographs to our submission folder, which is named after the current month. The submission limit is ten (10!) pictures per week. Photographs which are accepted by the admins in a voting process are later moved to the appropriate gallery folders (e.g. "Magic Trees").




Please indicate in the description of the deviation what ir technique you used - e.g. filter, converted camera, other.




Reasons for declining a submission include:
- Bad lighting conditions
- Over- or underexposures
- Lack of sharpness
- Poor compositions
- Disturbing watermarks (e.g. big dA watermark, or watermark in center of image)
- Non-infrared images or a non infrared "feeling" in the pictures




By declining an image we do not want to discourage your work or your future submissions. Please spend time in our galleries and feel free to ask questions about techniques used to achieve images that impress you.




The making of infrared photos and more informations about INFRARED you can find in our tutorial gallery folder -->> r72.deviantart.com/gallery/245…, in gilad's journals

My Infrared POVIn General
Well, a few words about Infrared. I will not get too techniqual cause it's not my strong side, just a few words about it.
Infrared photographs show a kind of thermo effect. Trees with white leaves and luminous white clouds against colored skies are the most common use for it.
The Infrared opens a window on a parallel world intriguingly different to the one we usually see.
We can't see Infrared light without the filter, we can only see it when It's isolated. Infrared photography is often confused with thermal imaging. It's not, It's just shows an effect similar to that. The difference is basically one of wavelength of electromagnetic radiation.
The filter shows the object because the sun (or some other light source) shines infrared light on it and it is reflected or absorbed by the object. You could say that this reflecting or absorbing of infrared helps to determine the object's color in a four-dimensional colour space made up of blue, green, red and infrared.
:thum and

Ever wondered about IR photography (Infra Red) ?In General
Well, a few words about Infrared.
I will not get too technical cause it's not my strong side, just a few words about it. Infrared photographs show a kind of thermo effect. Trees with white leaves and luminous white clouds against colored skies are the most common use for it. Many photographers on DA have tried it in the last few years and it seems to be more and more popular.
The Infrared opens a window on a parallel world intriguingly different to the one we usually see. The effect is surreal ans it shows a different kind of "documenting reality".
Here you can see the scene in normal view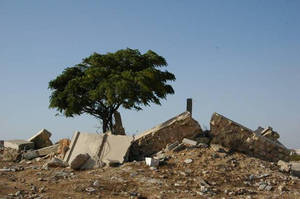 And here is when using the IR filter -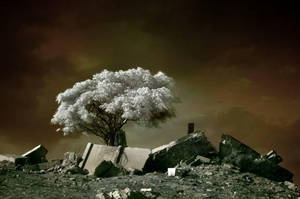 We can't see Infrared light without the filter, we can only see it when It's isolated. Infrared photography is often confused with thermal imaging. It's not, It's just shows an effect similar to that. The difference is basically one of wavelength of electromagnetic radiation.
The filter shows the object be.
IR-Making-Of-Journal by Admin vw1956 :

Editing of infrared photographs using PhotoshopInfrared Photography
I would like to show you my way of editing infrared photographs using Photoshop CC and the NIK plugins Viveza 2 and Silver Efex Pro 2. I started about 10 years ago with infrared photography using a Fuji S3 Pro body and two Nikon lenses. Having not been satisfied with the endless exposure times, I bought a used Nikon D70 having taken lots of infrared photographs over some years. In 2013 I decided to buy a new Nikon D90 body and had it converted to 720 nm.

My newer infrared photographs are all taken with the Nikon D90 converted to 720nm by Optik-Makario, Germany. At the moment, I am using a 18-70mm and an 18-200mm lens by Nikon. I have used other lenses such as a 50mm, 105mm and even a 85mm Petzval lens too. Using anything other than the 18-70 and 18-200mm lenses make things a bit more complicated because I have to use the camera's liveview.

Now let's talk about how I edit an Infrared photograph...

Below is the original photograph fro

r72 Infrared Group (Last edit: 11th-June-2017)