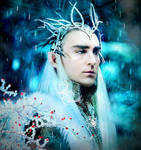 Thranduil from

The Hobbit Movie. For non-commercial use and for admiring Thranduil only.
You will not be able to find Thranduil in this particular pose in the movie or behind the scene. This new pose is edited based on my creativity. If you see this picture without my watermark anywhere, it means that someone has

stolen it from my sites without permission.


For anyone who wishes to share my editing

anywhere else on social media,
PLEASE INCLUDE THE LINK WHERE YOU'VE FOUND THIS PICTURE,
Also, do not change my edits. This includes the change of colour as well as the cropping of the picture or screenshot. Do not blame me if I report your link for you have been warned.

Credits to :
Winter Tree 8
Snow Bush 04

Snow Texture V 5184 x 3456 Pixels

Arctic fox stock 17
XMAS TREE PNG

Premade Background 1439

Winter Vegetation (12)

Image details
Image size
2700x2700px 3.99 MB