1.
How long have you been on DeviantArt?
This account is already 7,5 years old, but I'm active since February 2014. Before I've been here for just 2 days, uploaded 6 drawings and didn't write any comments.
2. What does your username mean?
My favourite carnivorous plant is Utricularia quelchii.

3. Describe yourself in three words.
Curious, friendly, geeky...?

4. Are you left or right handed?
I'm left handed. I can write and draw with my right hand, too, but it doesn't look pretty good.

5. What was your first deviation?
This was my first upload on dA (a drawing of Utricularia quelchii):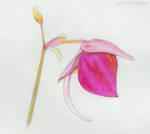 6. What is your favourite type of art to create?
Traditional realism.

7. If you could instantly master a different art style, what would it be?
Probably digital art, because then I could erase/correct any mistake and would save a lot of money, because markers are really expensive.

8. What was your first favourite?
One of my first deviations was a Legend of Zelda drawing, so one of my first favourites was also Zelda fan art: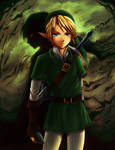 9. What type of art do you tend to favourite the most?
Traditional art (fan art, nature) and photography (nature).

10. Who is your all-time favourite deviant artist?
I've got many favourite dA artists (see also this journal: My favourite dA artists), but my all-time favourite is probably DavidDeb.

11. If you could meet anyone on DeviantArt in person, who would it be?
Some of my watchers and my favourite artists!

12. How has a fellow deviant impacted your life?
I don't know. Many artists on dA are an inspiration for my own art and talking to other deviants has sometimes also an impact on me. For example: shaynaJreddick motivates me to practice more yoga, but I was a bit lazy in the past days.

13. What are your preferred tools to create art?
Colored pencils and markers.

14. What is the most inspirational place for you to create art?
Nature.

15. What is your favourite DeviantArt memory?
That's difficult, because I don't have a specific dA memory. I just try to enjoy dA all the time and I'm happy about every comment.

But coming back after my huge drawing break and getting so many watchers in a short time was a great experience!