How long have you been on DeviantArt?

What does your username mean?

Describe yourself in three words.

Are you left or right handed?

What was your first deviation?

What is your favourite type of art to create?

If you could instantly master a different art style, what would it be?

What was your first favourite?

What type of art do you tend to favourite the most?

Who is your all-time favourite deviant artist?

If you could meet anyone on DeviantArt in person, who would it be?

How has a fellow deviant impacted your life?

What are your preferred tools to create art?

What is the most inspirational place for you to create art?

What is your favourite DeviantArt memory?
1. I began posting on DA around Dec 2014.
2. I liked graffiti in high school & most artists put the word "One" after their name. Queens was a nickname my college friends from Washington gave me since that's where I'm from.
3. Hardworking, a lover of all creative styles & someone who will try my best no matter what.
4. Right handed.
5. A painted Kidrobot Munny Crash Bandicoot.
6. I love everything; originally,go it was painting vinyl toys but I got frustrated since you couldn't capture many details on a small toy, so I tried sculpting instead. I'd love to improve my drawing ability & try painting too.
7. Besides the ones I mentioned above, I'd like to try pastel painting, like Pixar's Ralph Eggleston (& his color scripts). Lorelay Bove's gouache painting look fun;so yeah, it'd be just painting!
8. A munny toy by MindoftheMasons.
9. I love the custom cakes (I'm blown away by how creative these cakes are

) & sculptures mostly.
10 & 11. This combines both questions-Some Deviant artists that I'm a huge fan of & like to meet :
ChibiSilverWings' POkemon chess set: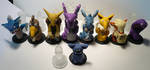 (Her sculptures were what got me into sculpting)
SkipperSara's disney pieces: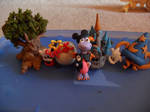 (Her passion 4 everything Disney is great, loved those Pixar pieces she did to; I'm so envious of her work; it made me wanna just give up sculpting altogether

)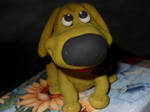 MindoftheMason's vinyl toys that use real life parts, etc (some of the most creative, original designs I've ever seen):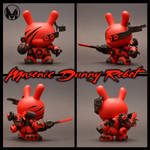 MacLeod Dragons: This sculptor is a beast & king! Look @ all the detail & original designs on his pieces; his full settings, props, everything; every post is a labor of love & props go out to him & his work. I read he was self taught too which is awesome; I feel his work would be also great for movie production or studios, given his attention 2 detail & great skill.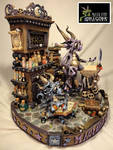 MysticReflections: Her sculptures are amazing; the fact that she can sculpt any animal plus incorporate that steampunk style is great; totally original designs too. Owns steampunk in my opinion

CustomCakeDesigns: Pretty much owns the custom cake category in my opinion; every piece tells a story/creative scene & is full of adorable details: <da:thumb id="438564074"/>
Sculptor101: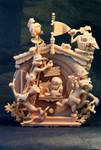 Another king of sculpting in my opinion (he mentioned he's sculpted for 21+ yrs already? absolutely awesome); would love to be able to work professionally like he does; very friendly w/ giving technique, tips & advice too.
BeOkCreations: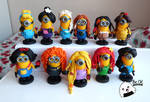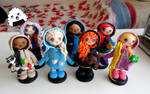 This girl pretty much owns Minions in my opinion! Her disney princess themed figures r very creative also!
DisneyKittyArt: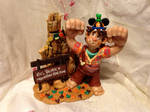 : Her sculptures r detailed, involve very creative situations & have little themes that r fun to spot out everytime (ie. Mickey themed hats based on characters). Her pictures r very nice too (always a nice Disney wrapping paper bckgrnd or theme that fits the piece). Another artist who made me wanna give up altogether!

Own's Wreck it Ralph in my opinion! Her work deserves to be in stores it's so appealing & creative

12. Two ppl actually even if they don't know it.
a. CHEMAX3X:
He told me to just continue sculpting no matter what & continue going forward w/ ur style even if it looks different from what everyone else is doing.
b. TouchedbyLavender:
Great talk about art styles & knowing we're all trying 2 find a way to make art our main means of living since that's our passion

Mentioned was a Disney fan but eventually found what was her true style & I give her props for that; her pieces r unique, very adorable & original (her animal plushes). Made me think about pursuing my own style & told me ppl will eventually accept ur style 4 u & 2 force urself 2 create more original pieces

13. Super Sculpey, a few sculpting tools, a sewing seam blade tool, a few "spotter" sized paint brushes & acrylic paint (I heard once, it's better to buy quality brushes & cheap paint) I was originally drawn 2 expensive paint but found buying the cheap paint lets u try more different colors & u have no regrets about how many mistakes u make b/c u can afford to (I'm still in the learning/experimenting stage). Tony Cipriano, the famous maquette sculptor in his blog, says he also uses just 3-4 hand tools for everything (which is what u need); of course he uses the electric sculpting pen in his Youtube video but the message is make the most w/ what u have; the rest if just hard work & practice.
14. I focus the best in the same spot (bedroom, table, chair) where I usually work; this is what works 4 me. I feel just work hard regardless of wherever u are!
15. It'd be anytime I connect w/ other DA folks & learn about ppl out there, across all these countries, who r just as passionate about their craft as I am & have the same labor of love. We're all in this 2gether!!