Tagged by

she tagged my character Ash.


—-
Rules
#1. Post these rules.
#2. Post 8 random facts about your character.
#3. Tag 8 other creators.
#4. Post their OCs name along with their creator's name/avatar.

1. He has a little farm plot outside the tower where he lives. Where he grows food for his friends, using skills he learned in his youth when he was still alive and living with his farmer family.

2. He loves to perform, he can play the fiddle and sing. When visiting the modern world Damion was from he was taught how to play the electric guitar.

3. Despite his history he is a very carefree and lighthearted guy. Wanting to bring cheer to those around him, can make some awful jokes and puns.

4. He often gets homesick. It mostly strikes at night, he doesn't have to sleep but he can, it helps him feel refreshed but it isn't a neccessity. It's during the sleepless nights the homesickness can creep in. Luckily Damion is a workaholic who often pulls all nighters, so Ash sometimes hangs out with him for company.

5. He'd love to be able to cast magic but he is inable to cast it, he can't seem to grasp it. He has wasted countless scrolls, with them exploding in his face.

6. His love for attempting to cast spell scrolls has led him to be irresponsible with money, to the point Damion keeps watch over what little money he has.

7. He's very accepting, takes people as they come and see's the positives in everyone. He won't judge anyone unless they do something to harm his friends.

8. He see's Edna like a big sister, he likes her but doesn't view her as partner material. Not that he feels like he is compatible for such a thing.


Who do I tag. hmm.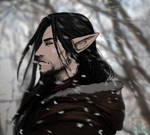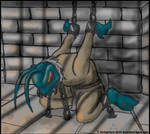 ~~~~~~~~~~~~~~~~~~~~~~~~~~~~~~~~~~~~~~~~~~~~~~~~~~~~~~~~~~~~~~~~~~~~~~~

I was tagged again by

she tagged my character Niles.




1. He is a gentle giant, he refuses to fight. There was even one occasion Skeldon tried to teach him a few punch moves. Leading Niles to accidently punch Skeldon in the face. The newf was so distraught and upset by that he locked himself in his workshop in tears.

2. His family ran a small logging company. Working with lumber and crafting different things with it, from furniture to houses. It is where he got his woodsmanship skills from. He ran away from home when some strange people turned up at his familys homestead. His family had been getting harrassed constantly and it hit breaking point. His dad told him to run to Bramble village.

3. He gets very hot in the summer, with all that fur, luckily New Westbrook is right by the coast, so on truly hot days he often visits the beach and takes a dip in the ocean.

4. He loves his team members, they mean the world to him, as they have become a family to him. Though he is wary around Damion, he only gets a bit nervous around him. He especially likes working with Muffin.

5. He can drive a tractor, he had his own at his family home, which he named Sybil.

6. He has a soft spot for pastry treats, jam tarts, apple pies and pastys. So he took an instant liking to Henny when she moved into the village.

7. He tries to be the peacekeeper, he isn't a fighter so he tries to talk to people to ease a stressed situation. Whether it's Muffins temper flaring up, or villagers airing their grievances

8. He has a crush on Mayor Alberts daughter Patty. Despite being on the recieving end of insults from the mayors sister. Belittling him and body shaming him, he still can't deny that he loves Patty and she likes him too.

I have already tagged people, so I won't be tagging again XD.