Blessed are the weird people: poets, misfits, writers, mystics, painters, troubadours---for they teach us to see the world through different eyes. -Jacob Nordby


Nothing in life is to be feared, it is only to be understood. Now is the time to understand more, so that we may fear less." - Marie Curie

-----------------------------------------------------


"Stay strong, things will get better. It may be stormy now, but rain doesn't last forever." - Prince Cain

-----------------------------------













I have characters that are religious, ones that aren't, ones that are terrible people, ones that have philosophical views, ones that are apathetic, ones that would vote left, right, or middle in the next election. Some will shoot the first person to look at them funny, some are pacifists, and some are just sane Nazis

I personally think it's boring when every single character shares the person's religious beliefs, philosophical beliefs, favorite foods, and would all act just like the author.
Don't take my characters' views and behavior as my own.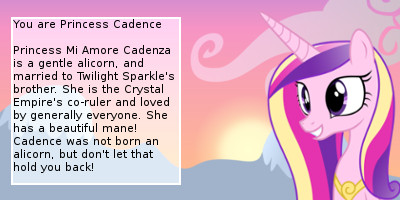 What Alicorn Princess Are You?
Hosted By theOtaku.com: Anime