Darkroom Week
When the everyday person hears about me shooting film, often their immediate response is, "you do know that we have digital now, right?" The person who asks that question likely sees film as antiquated technology and digital as shiny modernity, but I see it slightly differently. Digital is wonderful because of its convenience and easy correction methods, but to me, film is still a very valid classic art form. I definitely appreciate the ease of use that digital gives me, in fact, I shoot thousands of digital photographs a year. However, film is a different experience, one that, in my opinion, can't just be replaced with digital. I won't be listing off technical reasons for shooting film, instead I'll explain my experiences with film and why I personally still shoot it in 2015.
As a child, I carried around little disposable film cameras with a sort of reverence. It was a kind of magic the way I could look through a viewfinder, press my tiny index finger against the shutter button, and as a result capture the scene inside the camera. I never knew what I was going to get (and sometimes I didn't get anything, because developing was expensive!), but the excitement of opening up a little white envelope of 4X6 prints never ceased to fill me with awe. Those are the kinds of memories that tie me to film with a feeling of nostalgia; I always credit those memories as reasons why I eventually got into photography as something more serious. They instilled me with a firm appreciation for the value of each individual photograph, something that is sadly missing in the digital medium.
The time got away from me though, and working on digital had become a way of life. I graduated college and started shooting with models, and before I knew it, 5 years had passed since the last time I shot film. Digital was becoming tiring, fashion has an illusion of perfection and the exhaustion of trying to achieve it was ruining my creativity. I started seeing other photographers using film again, and my interest was piqued. My mom found a Polaroid Impulse in a box of my late Aunt's belongings, and that was the only sign I needed. I jumped in feet first after my first pack of Impossible Project Polaroid film; the film was rather pricey, but that thrill of the unknown returned in full force. Integral Polaroid film (the kind with the iconic white frame) today is a lot more delayed than the original, it can sometimes take up to an hour to develop, so by that time your subject has moved on. Thus, each individual frame is a work of art, no two alike, and they're physical things you can hold in your hands, memories that feel real to me, unlike a digital print. The colors are dreamy, soft, and tinged with a variety of nostalgic hues, even if you took the same photo one after another, I doubt that the colors would look the same. It isn't the kind of film that you would choose for its skills at color accuracy, but that's what attracts me to it so much.
Editing all of the final photographs from a shoot can take me weeks, and I end up exhausting myself wondering if I've chosen the right colors, retouched the skin correctly, and if I've selected the right final selections. With film, I am given a limited amount of frames and I think more deeply, because I don't want to waste even a single frame. It's quite peaceful looking through the viewfinder of a film camera, because you take your time, something I miss with digital. With digital, I am concerned about having perfect focus, a high level of sharpness, and having the colors look just right. However, film has brought back to me a feeling of being relaxed, because mistakes often have a way of looking much more interesting in film.
Today, I shoot, in addition to digital: 35mm film, Fujifilm Instax and Instax Wide film, Impossible 600, Sx-70, and Spectra film, as well as Fujifilm pack film in fp100c and fp3000b. I don't shoot film because of the amazing specs or because I won't accept digital or because I hold some belief that it makes me look "cool" (it totally does though, you can't convince me otherwise). I shoot it because it brings me joy. The experimental nature of instant film lets me play with it, and it has a tactile, hands-on experience that I don't get in digital. That hands-on experience is something I especially feel when I'm outside bleaching my fp-100c negatives or developing a roll of 35mm film at the kitchen sink. It has a very methodical feel, but the results are always exciting and new. At the end of the day, I know the models I work with get excited that I already have something finalized for them to see at the end of a shoot. Instead of photographing the back of my digital camera, they're all pulling out their phones to "sneak peek" the Polaroids on Instagram. So, not only am I deriving joy from it, I know they are as well.
In the digital photography world where many photographers are updating to the newest camera or lenses on a constant basis, I like that I can depend on something that I already know is tried and true technology. The best part is that you can get started having fun for under $50! A vintage Polaroid 600 camera can often be bought for under $10 at a flea market (they're practically indestructible) and with a $23.49 pack of Impossible film you are well on your way to creating something beautiful!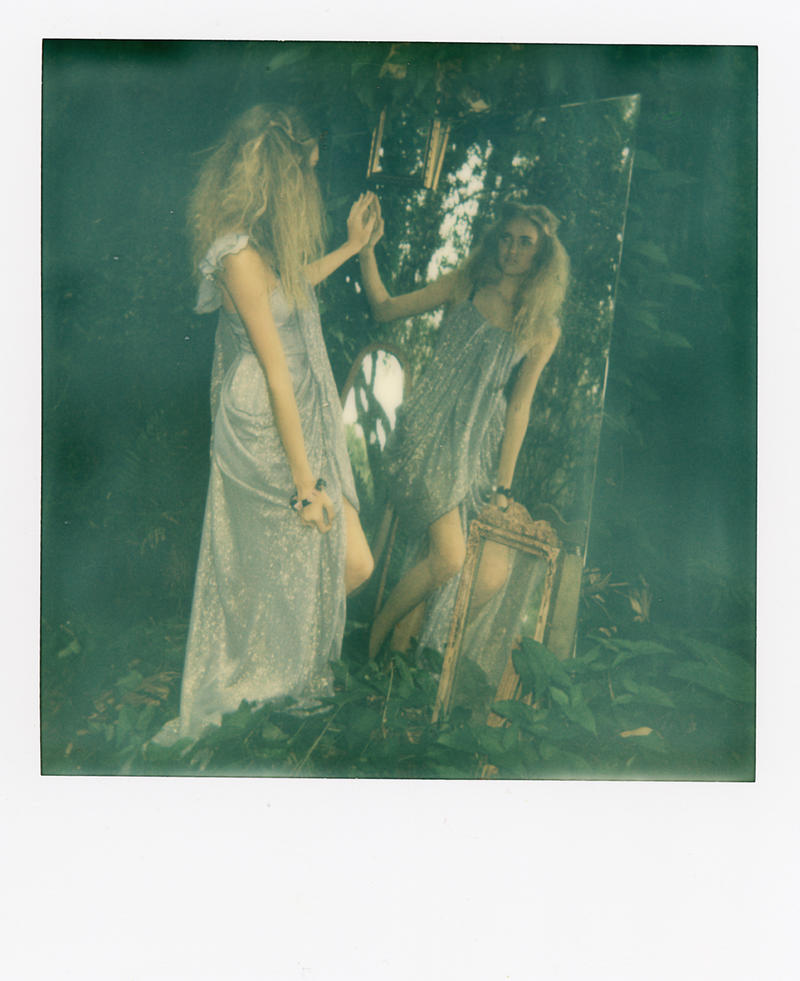 Impossible 600 film, shot with Polaroid Impulse