Commercial and Fashion Photography Week
What would fashion photography be without fashion designers? Well, it certainly wouldn't be around! Every fashion shoot is made up of talented and original artists that design, create, and/or craft amazing clothing! While each fashion photographer has their own style and concept to their work, so do the amazing designers (and the rest of a fashion team, of course)! Today, I'll be interviewing a recently active member of DeviantArt who is not only a talented designer, but also is a photographer and model! Let's give a huge thank you to
XiaoLin94
aka Julia Chew for giving me the privilege of interviewing her today, and let's move along and find out some more about her and her work!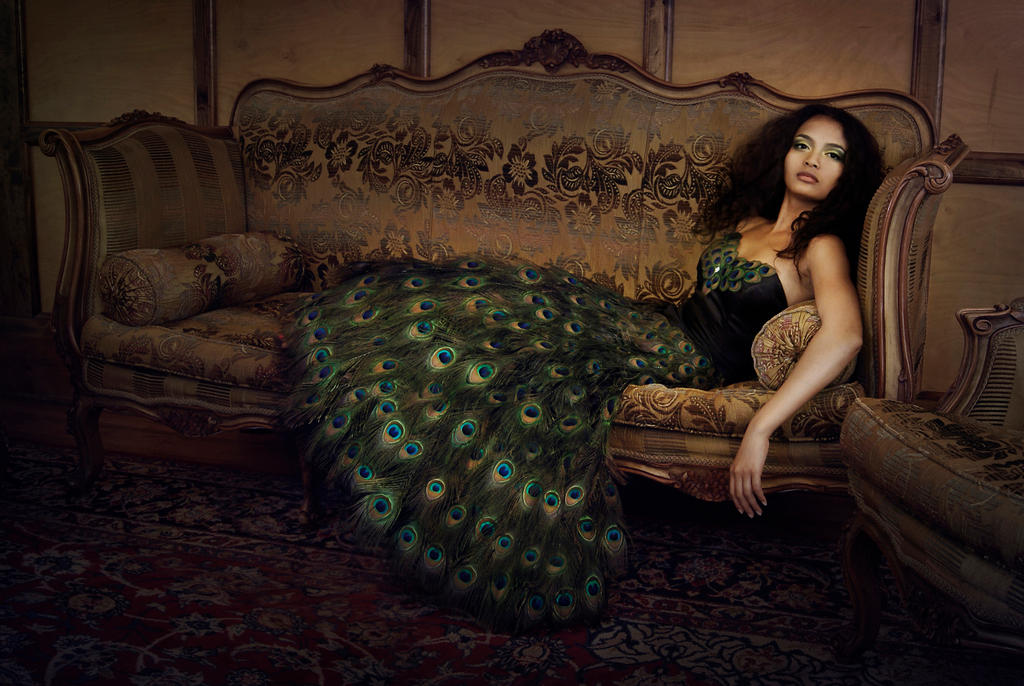 Briefly describe yourself as an artist.


I am an independent fashion designer, I design and sew garments for myself and clients. The inspiration for my line, Xiaolin is Gothic Victorian fashion and the concept of a wearable Cabinet of Curiosities.

You often model and photograph your own fashion designs, which role do you find is the one you most identify with: designer, photographer, or model?


Designer. Fashion design is my main passion, but photography and modeling work perfectly together as I'm able to portray the designs exactly how I had envisioned them.

Are you self-taught or formally educated? And if you're self-taught, what resources have you found to be the most helpful on your journey?


I am self taught. When I was a child my Grandmother was eager to help me learn how to sew when I visited her. Nothing more wonderful than learning a skill from somebody you love, and passing along a legacy.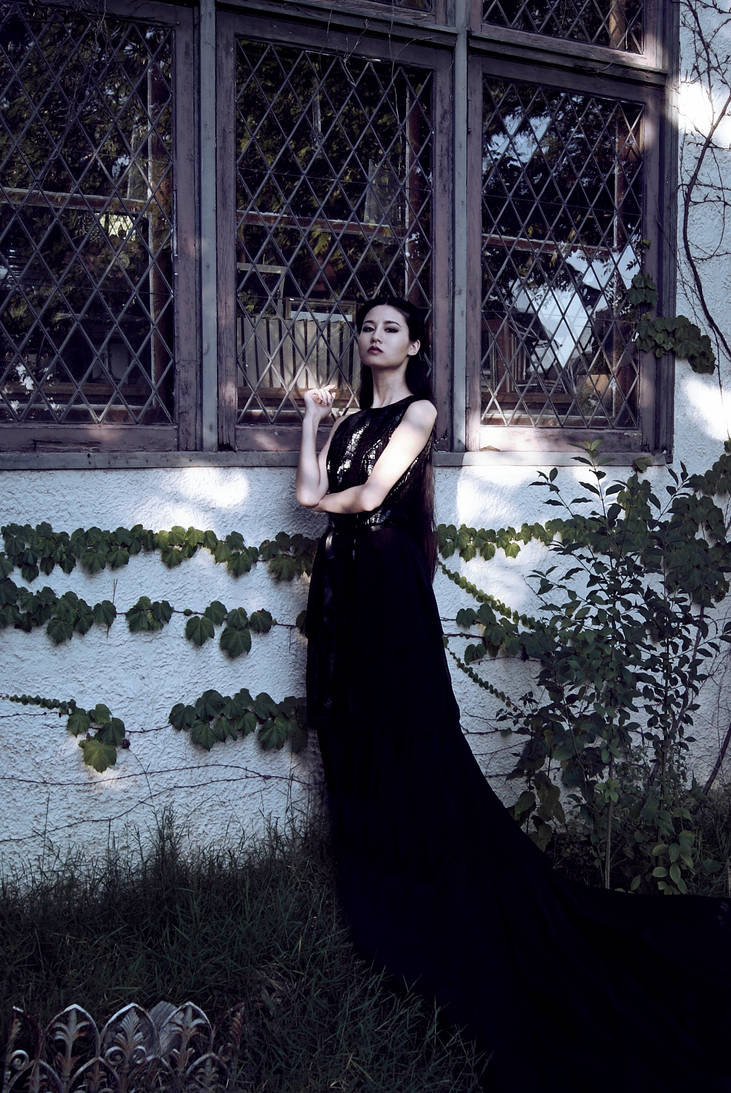 What are your favorite materials to work with when designing? And what is the most unusual material you've used?


For the base of my clothing, I love using natural materials, especially silk. My favorite material to decorate with is feathers. They create such a dramatic textural element to my designs and there are so many exotic colors and shapes to choose from. I participated in a fashion design competition where we were given a Project Runway inspired 'unconventional challenge'. I created a dress using trash bags, plastic and metallic shopping bags, and a mannequin hand.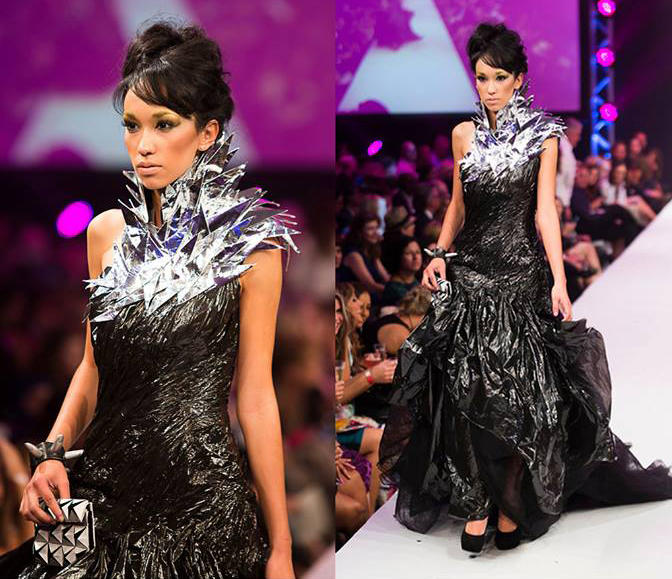 What is your favorite fashion piece you've created? Favorite photograph?


My all time favorite garment is my Raven Queen gown. It is a dramatic full length, high collar mermaid gown covered head to toe in iridescent feathers dyed black. My favorite photograph is an image of the same Raven gown, taken by Zhang, Jingna (zemotion).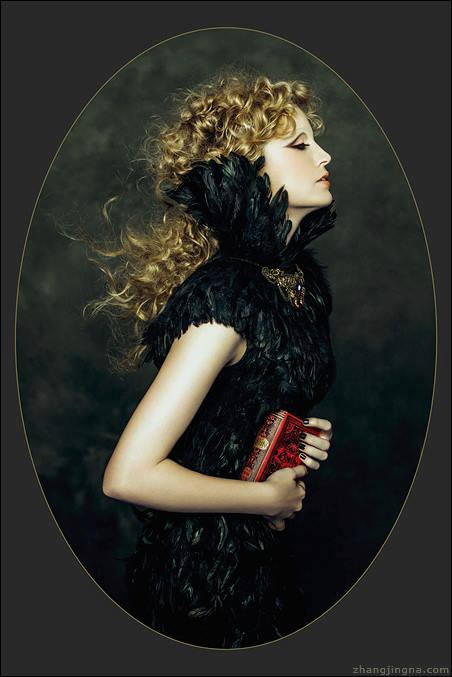 Photography: zemotion ,
Hair: Junya Nakashima,
Makeup: Gregg Brockington,
Model: Germaine Persinger

Photo Assistants: Ngoc Vu, Ernie Chang,
Raven Queen dress from Xiaolin by Julia Chew , Necklace by JuleeMClark

What/who are you most inspired/influenced by for designing and photography?


The top three designers I look up to are Tex Saverio, Yiqing Yin, and Sarah Burton. They have mastered the art of couture and combining elements of nature seamlessly into their designs. For my photography, I like to combine the look of a modern dark fairytale and a Victorian Pre-Raphaelite painting. I enjoy collecting images on Pinterest that motivate and inspire me to become a better photographer.

What would you say your "style" is? Has it evolved over time or has it remained constant?


My style is that of a Gothic Romantic fairytale inspired by nature. When I first started designing, my dresses were lighter and more petal-like, inspired by flowers and butterflies with a few dark or feathered pieces. Now the majority of my dresses are black and dominated by feathers.

What do you do to get yourself in the mood to design? When working on an intricate and/or tedious project, do you have some method to keep yourself focused?


I enjoy listening to music to keep myself upbeat and in tune when I'm designing something new on the dressform or sketching. However, when I'm actually working on sewing an intricate design, I have to shut out the whole world to keep focused. I hang a thick black curtain over my windows, turn my phone on silent, and block out all distracting noise.


What time of day do you work best at? Morning, noon, or night?


Definitely a little night owl *hoot hoot*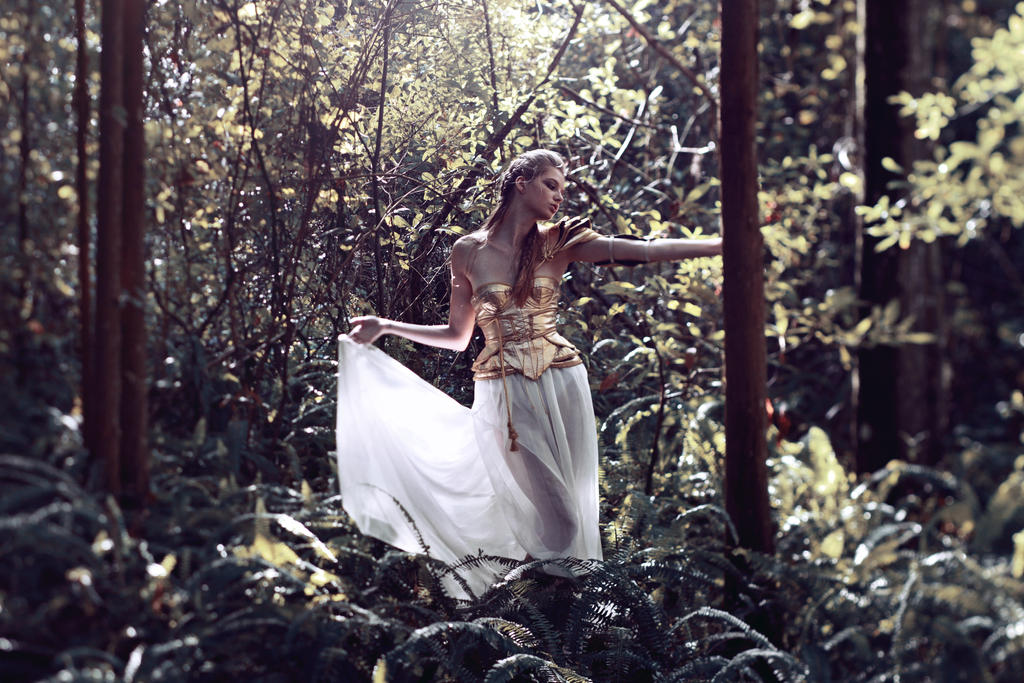 What are traits you look for in a model that will be showcasing your designs?


First of all, a well poised model. Many of the models I've worked with have experience in ballet and have spent hours perfecting their posture. As to physical features, I like to choose models with doll-like features. Porcelain skin, round eyes, and long hair. My inspiration: Enchanted Doll by Marina Bychkova.

If you could live anywhere in order to promote your fashion line, where would it be?

London. I visited the UK a year ago to showcase my collection at the Oxford Museum of Natural History. Fell in love with the atmosphere, architecture and the wonderful people I met there. It is my dream to open my own fashion house someday and perhaps it will be in England.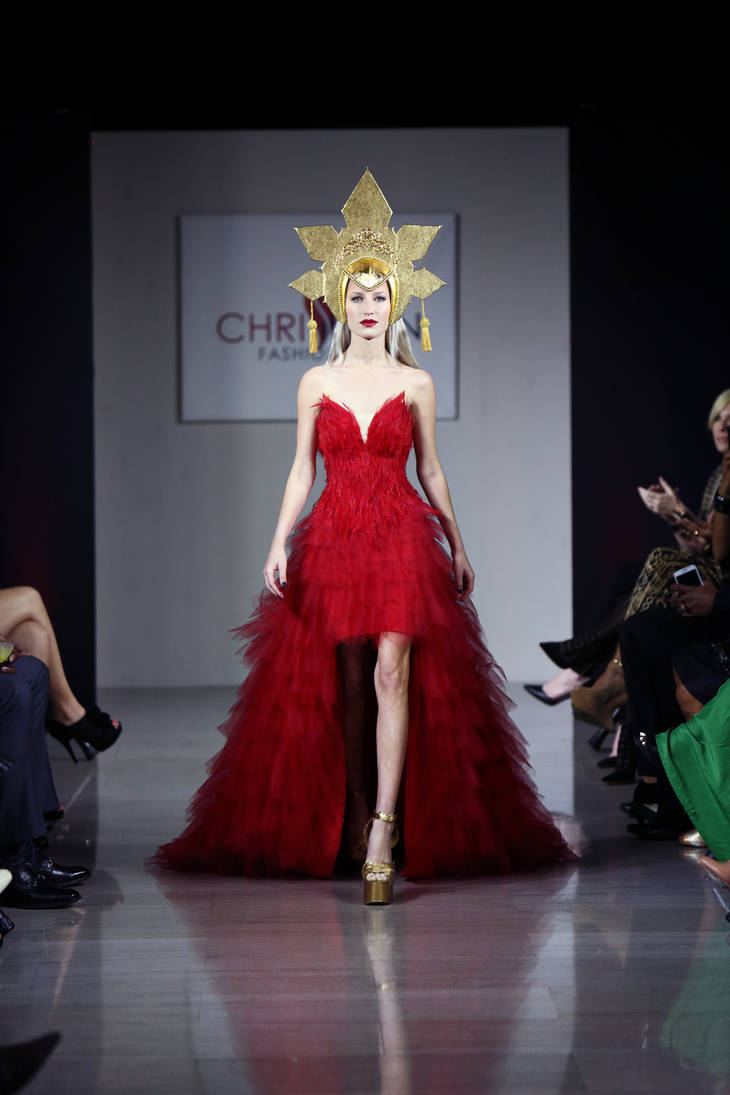 Which do you prefer: photographing your own designs or having somebody else photograph them? And how do these two experiences differ for you?


I prefer photographing my own designs as I'm able to place my garments in the proper setting and mood I have in mind for the concept. Working with other photographers with a similar style and vision is nice, but it's sometimes hard to get ahold of the images afterwards or get the proper credit on print and online.

Some more amazing fashion designs and photographs by XiaoLin94 :