Catwalk Talk
I am absolutely so honored to be bringing you an interview with the incredible
PurpureaPhotography
today for Catwalk Talk! I've been following her work for almost as long as I've been on DeviantArt and I don't think her work has ever went through that awkward phase most photographers go through; Josefine was simply born to be a photographer, in my opinion! Her style is instantly recognizable: a combination of shallow depth of field, expert retouching, an incredible sense for color and toning, and of course a penchant for alternative fashion and models that she captures so beautifully. I hope you enjoy the interview and if you don't already watch her gallery, I definitely suggest it!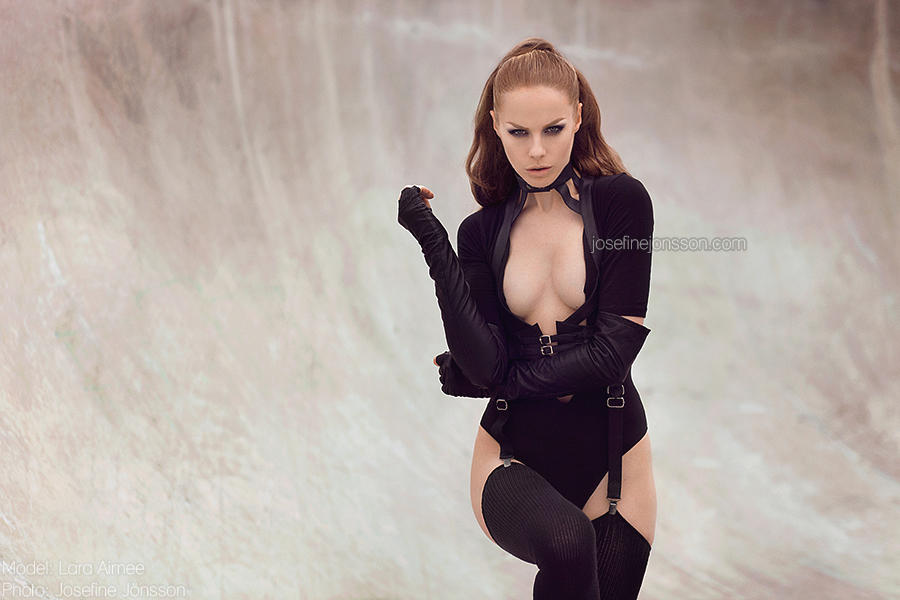 What made you decide to photograph people? And were people the first subject in front of your lens?

I
started off with photography during a time where I used to draw a lot of realistic portraits. I did not feel I developed as I wanted so I tried out a new medium which was photography and I was stuck! Before shooting models I did take a lot of images of flowers and nature, also birds. I do prefer shooting with models though since I like to interact and get creative.


Please, tell me briefly describe your fashion photography style.






I would say alternative fashion with a hint of dreams and timeless hints.


Are you self-taught or formally educated in photography? And if you're self-taught, what resources have you found to be the most helpful on your journey?







I am self-taught from start but also went to a photography school here in Sweden. It's a well-known school and I went there for two years. However, when I first started I experimented a lot with different lights, make ups and styles. I think the best resource is to have fun and see how you can develop your style further.




Do you think in this age of technology that photography is "easier" or more "accessible?" And does this matter for the industry?





The process for taking a photo is still the same; it's not just about pressing a button and then it's done. I am glad it's getting better for each day, especially since I like to retouch a lot. I think it may be harder to stand out with your art, but in the same time there are more possibilities to try something new. I do however like film also, but personally prefer digital.


What do you find most inspirational for your creativity?






Nature
.
I love finding a place where I feel inspired by and later shoot there.


Do you plan out your photoshoots extensively beforehand? Or are you a bit more spontaneous when creating a fashion series?




I guess I am both and it depends on what kind of shoot. If I see a location that inspires me we usually plan around that place. Other times models get outfits sent to them and then we plan around those. However, many times our vision aren't always the same whilst on set and then I think we're getting a bit more spontaneous.
What has been the most important piece of advice you've been given on photography? And what advice would you give to a fashion photographer trying to start out?


I think the most important thing is to believe in yourself and don't let people use you. A lot in this business is expected to be done for free even if it shouldn't. Learn to say no and dare to ask for payment instead of thinking the free promotional "job" is going to lead to paid work afterwards. I think it's also important to experiment a lot to find your own style. Inspiration from other artists is awesome but be careful to not copy anyone's styles but to create your own. Sometimes it takes time to find it!
What is your favorite and/or most successful photo-shoot you've created?


One of my favourite series is the Alice shoot for mine and Insanitea's wonderland series. The styling and the feeling to it is just like I wanted and it was my first time shooting with latex which made me interested in the material and from there it has taken me to where I am today. Other favourite shoots are the really dreamy ones in corsets, especially with model Miss Loulou but also the recent series with Calamity Amelie in a military uniform (which isn't released yet actually!)
Putting together teams for photoshoots can be difficult, and many new photographers don't know where to start. How do you find people to work with? What kinds of qualities do you look for in a creative team?

When I first started off, I worked with my best friend Harriet. We took a lot of photos together and uploaded them on various art sites. There are artist sites such as modelmayhem which are good to find people to work with. But my suggestion is to find someone (a friend for example) to test out shooting with first so that you can present a portfolio. People want to get good images and often want to collaborate which is really fun because then both models and make up artists can be as creative as wanted. I think it's important to contact models and make up artists yourself rather than waiting for them to contact you. Be active on social media and show your work!
I like a team that is really creative and that works well together. Also be able to be spontaneous if something wouldn't go as planned but also professional since all of our time is important.

How do you connect with your models when they're in front of the camera? Do you do lots of model directing on photoshoots?



I prefer a model that is working good on her/his own, because that makes my work easier. Most of the models I work with have been modelling for years so I don't have to direct, unless I have a certain idea for a pose or anything.
What kind of goals are you currently working towards with your photography?



I have always wanted to work full-time with photography but when I got another full-time job my free time has decreased a lot so now I only photograph whenever I have time. One of my goals is to complete our Wonderland series where we create the characters from Alice in Wonderland in our own interpretations which I think is really fun! Would be fun to make a book someday but also shoot with models that I've wanted with for a time. We'll see what's in store for me.