Community Week
What is the first thing you think of when you think of DA staff and community volunteers? Maybe your first thought is that they're authority figures, or you think of the Daily Deviations that the CVs set, or maybe if you're prone to misbehavior, you think of being banned

However, this article today is here to also make you remember that many of them are
ARTISTS
. "Artists?" you say, "Are you sure they aren't just part of some secret society that is keeping tabs on all of us?!"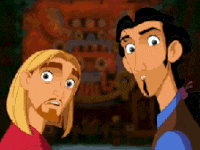 There are LOTS of current staff members and CVs who are artists, but today I wanted to highlight a few as well as let you know what they do! Just because I didn't feature somebody doesn't mean that they're not an artist or that they're not a good artist, it just means that I didn't want to leave you with a hundred name list

You can check out the rest in the links above!
I hope this feature has give you a preview of the amazing art that you'll find in the galleries of DeviantArt's staff and community volunteers. We're a diverse and dedicated group that have a great passion and love for art in all of its varied and beautiful forms!