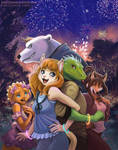 I'm excited to announce that me and

Lindsay's new book, Draw More Furries, is arriving in bookstores November 23rd! The follow-up book to Draw Furries, DMF is packed with more fantastic furries, scalies and mythical anthros to draw! Learn anatomy, muzzles, facial expressions, poses, costumes, coloring and more! The book also includes guest art by the very talented Nimrais, Kelly Hamilton, Kacey Miyagami, CentraDragon, and Cookiehana!
Publisher: Impact Books
ISBN-13: 978-1440314735
128 pages, full color.
PREORDER BONUS: If you purchase Draw More Furries through our website, we will happily sign the book for you, and you'll also receive a signed piece of original art! Go here to order your copy:
jaredandlindsay.com/tutorials.…
Sample spreads: