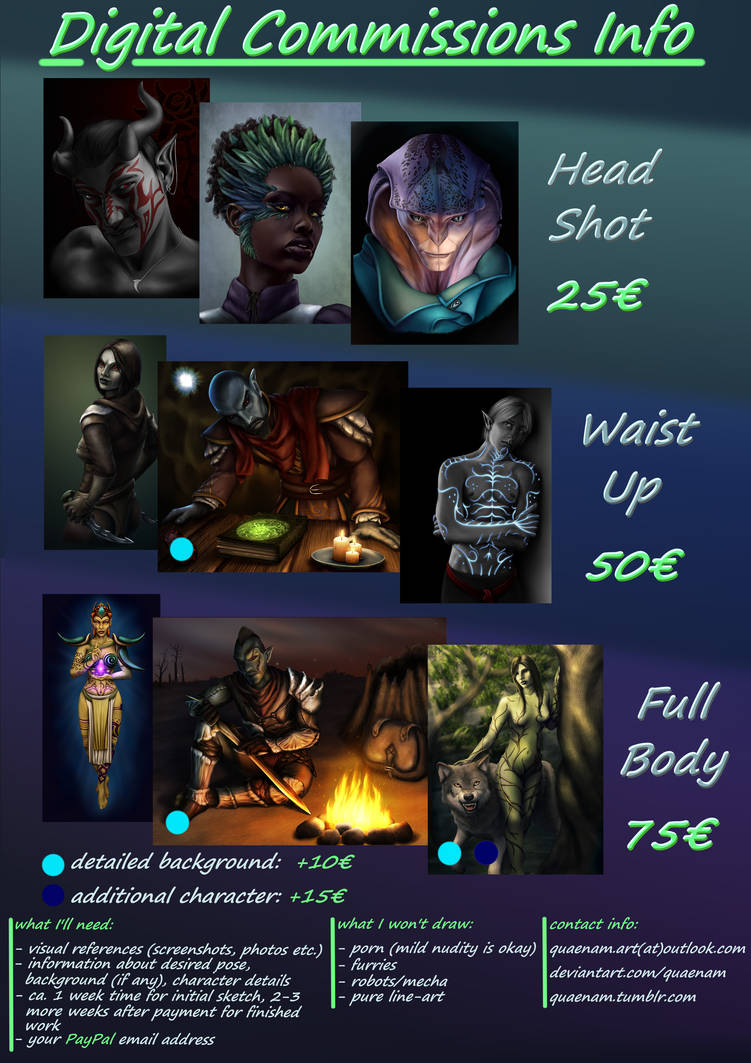 If you want to commission me, you can contact me here on deviantart, on quaenam.tumblr.com or via email to quaenam.art (at) outlook.com.
Send me information on the size of the portrait you want (see info sheet or below), references for your character (screenshots, face claims, photos...), what pose you want and if there should be a specific background. Simple backgrounds are included, detailed work or whole sceneries cost extra (+10€, might go up if it's a large painting). Any additional character(s) cost +15€.
headshot 25€
waist up 50€
full body 75€
detailed background +10€
additional character(s) +15€ (each)
Once I have all the information I need I'll start working on a preliminary sketch to give you an idea what the final result might look like. This might take several days. If you approve of the sketch, you will receive an invoice via PayPal. After I get the money, I'll start working on the actual painting. Depending on size and difficulty this may take additional 2-3 weeks (I'm not the fastest, you have been warned). The final result is usually about the size of a DIN A4 sheet (~20 x 30 cm) with a resolution of 300 dpi and will be sent as image file via email.
I mostly make fan art, but can do everything I can find enough references for, as long as it is in a somewhat realistic style (look in my gallery or on the info sheet to get an idea what kind of thing you can expect). I won't draw porn or fetishes, nudity is okay however. If there is something unclear if I can or will draw a specific thing, just ask.
Payment via PayPal only. Work may not be used for commercial purposes. You can post it on any of your social media, but do not remove my signature or claim it as your own. Unless you explicitly ask me not to, I will post the finished work on my own sites as well (without mentioning your name, if you want).