Yes it is an old photo - look way better there than now

Born in the 60`s in UK and now live in rural Norfolk, England.
Current photo here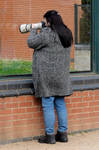 in my HUGE grey cardigan worn on first autumn day cos it keeps my bum warm being that long

Left college after completing art foundation course as disagreed with tutors that a pile of rusty baking trays was worthy of a scholarship when they couldn`t even draw a straight line! Have done much art since then so haven`t missed out - apart from earning loads of money! Since then have tried many mediums - for past few years has been mainly watercolour, ink and wash local scenes with a lot of glass and silk painting . Got seriously back into art again since July 2006 when encouraged as part of my pain therapy, In 2009, daughter finished Uni and moved out got a craft room - which I sometimes even get to use...
Since finding dA am finally enjoying my art again - thanks guys
Just love to do rather intricate pen works... with surrealism for a nice relax... and the odd wyurmie or critter
Personal Quote: I'm so close to heaven, This hell is not mine