Journal Entry:
Sat Feb 7, 2015, 11:31 AM
note: Please, if you're going to debate, be courteous and have basic manners, and not turn this into a typical internet argument. 
I'll probably delete this if this blows up badly, since I just want to iterate this one thing; so please, be courteous. 
I didn't think I needed to address this at all, actually, but here we are.
Please also note, I'm not here to debate with you (edit: Unless you have read all of this very carefully and not just skimmed it like some of you debaters are doing).
If you think that it's okay to copy or redraw and then
sell
the copied art, that's great, please take it up in your own journal or maybe even the forums; i'm sure you'll find a lot of people to debate with there

. There's been drama a'brewin' somewhere, don't bring it here, because
my issue isn't with the artist in question anymore
(for the most part...), but rather with the fans (some who are decent artists themselves so i'm more baffled about that) who think that the artist did nothing wrong at all.
I'm actually extremely baffled and disappointed with the amount of people who are glossing over or are okay the most important part of this whole issue -
selling practice-art which they copied for practice
, and I think that's definitely a problem.
Referencing has always been a part of art. We call it "Master Studies", where you take a master's painting like
Bouguereau
's paintings, and then do your own copy to see parts of how he did it, and through that process, we learn about how they achieved the best skin-tones, cloth folds, etc etc. Master-studying has never been a problem in the art community. This is an extremely good exercise and I have done it many times myself, but...
...passing it off as your own and
selling it is not right, even if you copy it in your style or "made it better". This is called Plagiarism. 
Please don't think so cheaply of artists who create their own composition, pose, and lighting (ie. the original artists and animators people are ripping off of) which makes up a lot of an artwork. You can reference different sources of material to make up one artwork, but that also takes a lot of work and skill, since complete compositions don't just fall into our laps. Just imagine if someone took one of your art, copied pretty much everything, rendered it in their style, and then sold it without ever once mentioning you. Would you really be okay with that? Personally, my biggest issue is with the selling part of this whole thing. Offering incentives to be paid to do these studies also don't sit well with me, since that's also basically still selling copied-art. *sigh* but i won't go into that, since it'll depend on if people still do it or not.
Do these people who support copying-and-selling even know how difficult it is to create a concept and compose the artwork? I've seen artists go through a lot of thumbnail sketches for one picture, and another set of thumbnails for different colour/lighting that would suit it best; it can take
so much
time and effort. To bypass that, copy their work and
making a profit off of them
without even acknowledging them is basically spitting on their hard work, and that's not okay in my books. 
and for people saying that people also sell cover-songs, i'd like to point out that a lot of them have permission or have bought licenses from the music companies that represent the original artists. There have actually been several lawsuits over the years because a song is way too similar to another, you can google it for yourself.
Honestly at first, I didn't even think this needed to be addressed, and I'm so SO disappointed in the online art community right now that I actually have to address it at all
edit: There seems to be another thing people are unsure of: selling fanart. First, I'd like to say that if your art is an pretty much a copy of a screenshot or official art that's rendered more, that is no longer just fan art; it's a copied-art or simply a re-draw. Second, with fanart, yes, they are illegal to sell with north american companies (and probalby europe). That's why when you submit into the fanart category on dA, there is no print selection available. Disney is probably the biggest enforcer of this law out of any other company in NA. The reason why fan-artists aren't all sued off their asses by american companies is because these companies don't think fan-merchandise make enough money to impact their business, but that's why at conventions, there are often rules like "no more than 100 copies of one fanart allowed", and at certain conventions, any disney and disney-related (ie. marvel, pixar) fan-franchises are banned. Disney has even sued a kindergarden for having an unofficial disney mural, and they've also sued a couple who were making money doing birthday parties while dressed up as disney characters. Yeah, huge-corporation disney sued a couple for 2 million dollars, just think about that. So yes, legally, it's also not allowed, though the gray-areas are created when companies don't enforce the law; but if they did, a lot of people would lose a lot of money....
Now when it comes to japanese companies, the law is a lot more loose, since a lot of japanese companies condone it and there are professionals who do doujins and sell them at comiket (one of the largest japanese doujin conventions), but even there you will not find artists selling redraws for the most part.  
Important edit:

People are either confused about what I mean when I say copy or they just think copying for profit is okay, but whatever the case, I'm going to show an example of what I mean by using another artists' redraw.
This artist is actually amazing and doesn't do these for profit, but just for practice,
which is awesome and i think totally okay: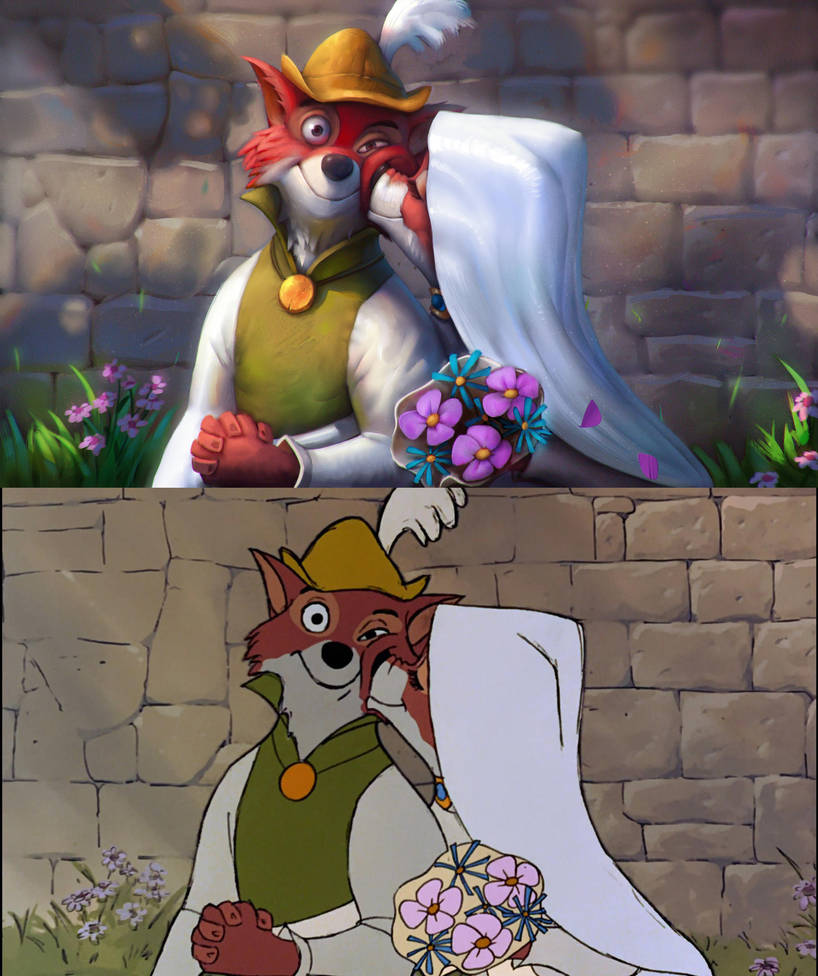 Now imagine doing that, but leave out the fact that it was a repaint and then selling it. That's what I mean by copying and selling
. geezus. i'm already tired.