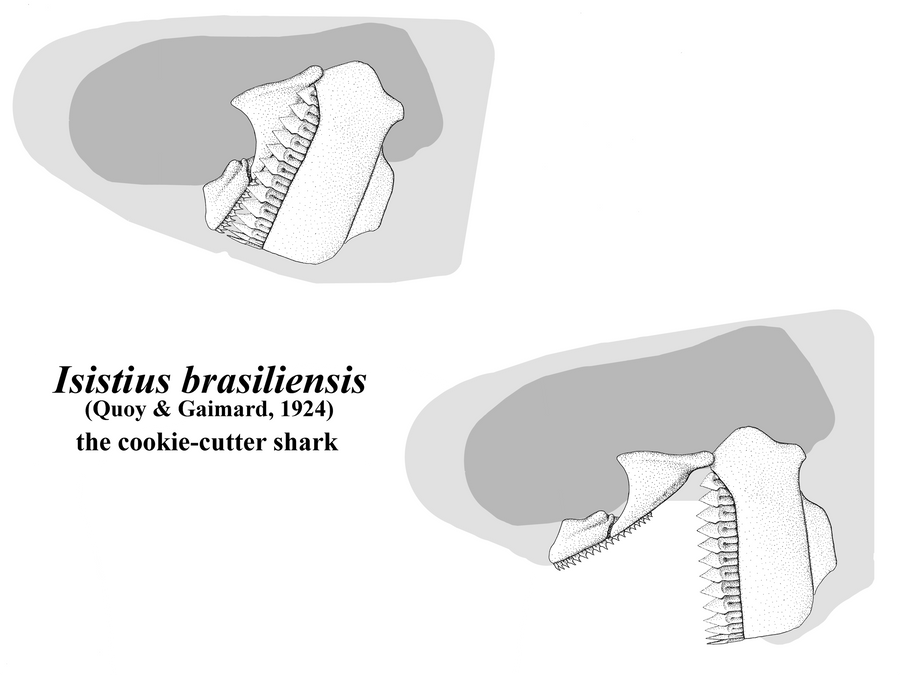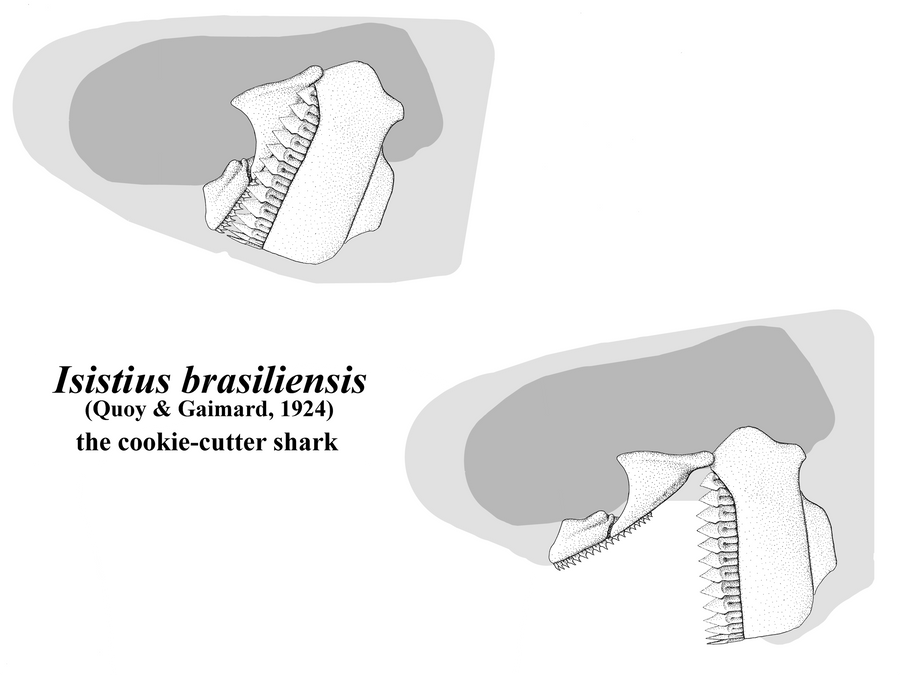 The cookiecutter shark is but one of a small group of primitive elasmobranchians in which the lower jaw is a deep structure, and the lower teeth outsize the uppers by a large degree. These sharks, called Dalatiidae, are all small, round-snouted and rounded-finned, and are closely related to dogfish and the like (Squaliformes). Dalatiids are diagnostic based on the form of their teeth: the upper teeth are tiny, and can be multicuspid but the middle cusp is long and resembles mako shark teeth, but much, much smaller; the lower teeth have a characteristic root and high foramen and long slot, and resemble a "house" of sorts, with a triangular crown set up on twin rectangular pillars the roots. Of the dalatiids, Isistius brasiliensis is the most famous, notable not only for its ridiculously outsized mandibular dentition but its reputation, fiercer than the animal itself at a mere foot in length: Stick a finger in its mouth, and you're liable to pull back a stump, and this isn't an exaggeration, but that's kinda true of most non-durophagous (crushing) sharks; but the cookiecutter feeds by an unusual method, and this is what earns its reputation. The name is no joke: The little guys grab on to prey (be it whale, other fish, humans, rubber hoses, the dense sheathing used to protect undersea cables, you name it) and, gripping using the crooked-finger hook-like upper teeth and wide-gaping jaws, start sawing at the mouthful while twisting themselves around in a circle. Thus, they are able to saw off a round, hockey-puck-sized lump of whatever it is they bit, and start swallowing it.

Illustrated above is the skull of the most infamous species, with the jaws closed and retracted, and then open and protruding; the body outline is shown, and the neurocranium (normally made of a dense cartilage) is in darker grey.

I am impressed by no other shark aside from makos (Isurus oxyrhincus), but that has to do with my fascination for not only apex predators, but by unusual sharks, and the dalatiids are among those latter. The gruesome way they feed, and the manner in which they leave their prey alive (but not whole) is itself fascinating.