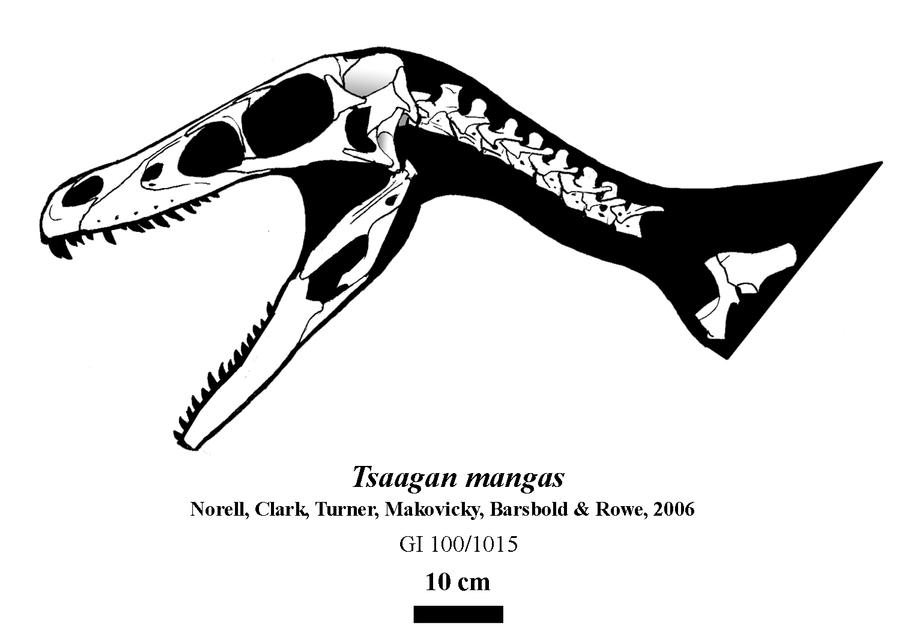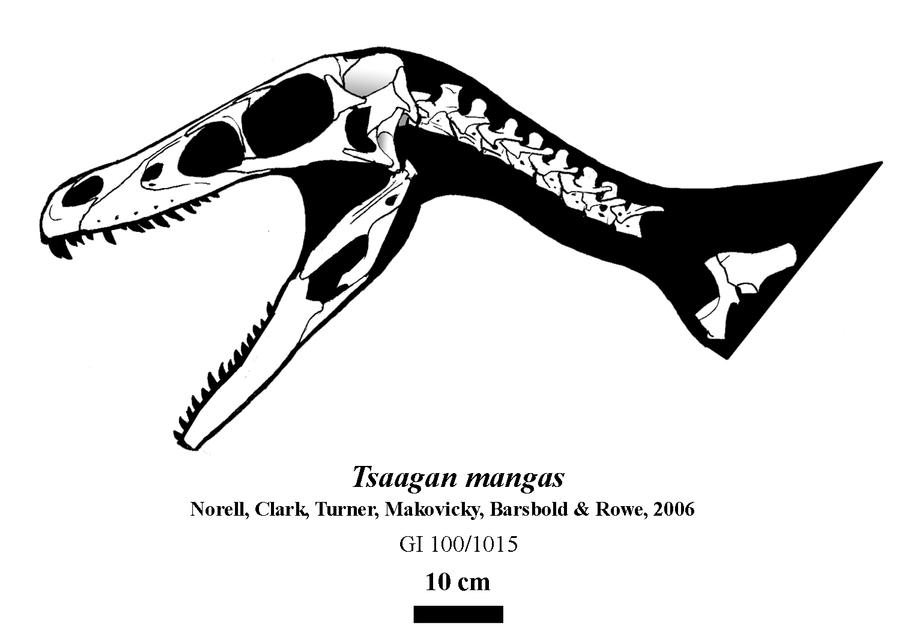 Because the bones came from the pinkish, brown/red sands of Ukhaa Tolgod in southern Mongolia were white, they contrasted well with the sandy stone they were encased in. This lent the name
tsagaan
and
mangas
, meaning "white" and "monster" respectively.
Tsaagan
is a smallish dromaeosaurid, and comparison to <url=
[link]
>other dromaeosaurids</url> from the Djadokhta Formation and equivalents suggests that it may have been among the largest Mongolian dromaeosaurs (the type specimen has a particular small neck compared to the skull, and is probably a subadult, and nearly the same size as other Mongolian dromaeosaurs as shown above despite this).

Funny because, in my official language (portuguese), manga is a type of fruit. So it seems like The White Fruit to me XD
Reply

Well, that's a funny interpretation! White fruit, eh? How to work that into a drawing...
Reply

As always, excellent reconstruction. He does look bad tempered!

Reply

Looks great, but why not make the known teeth white too?
Reply

That's a style I'm not particularly fond of. For me, it distracts too much from the bones, and similarly introduces what end up looking like overlarge teeth to the face:

1. If the black lines only outline the material contained within, I have to margin the whitespace to the actual tooth's dimension; that being,

2. The black lines used to marginalize and border the teeth would extend into adjacent teeth, as well as extend well beyond the tooth margins, exagerrating the shapes and sizes of said teeth.

I know Abraczinkas does this for Sereno's skeletal diagrams (as well as Bakker), and I have no problem with this; I tried it early on in figuring out what to do with my skeletal art, and decided I liked Paul's black-out method better. In the end, it's just more aesthetic.
Reply