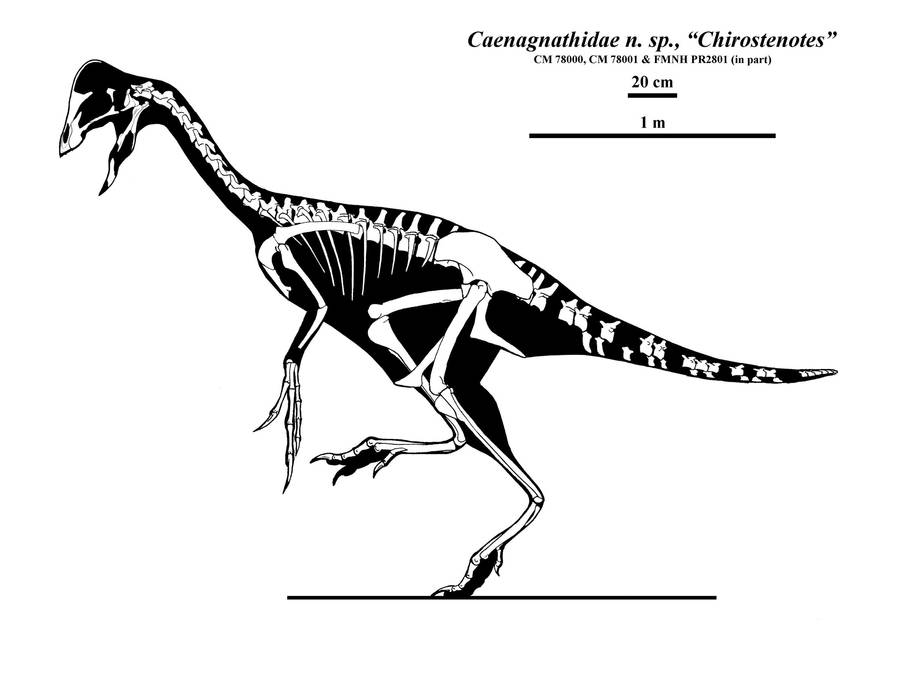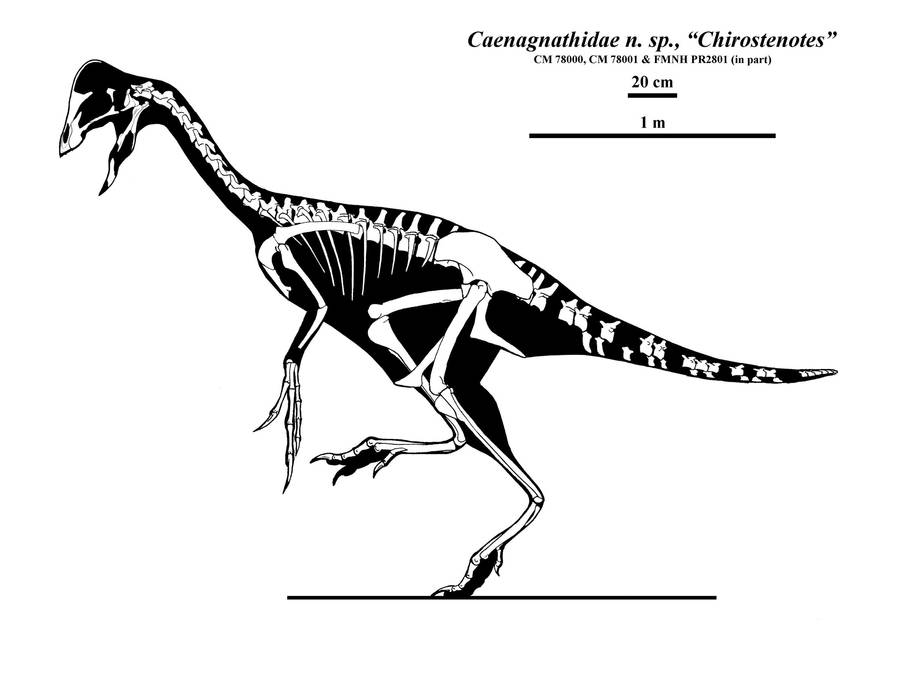 Known only from a few specimens from the Hell Creek Formation, and partially associated with the infamous
Tyrannosaurus rex
, the so-called "Triebold-raptor" is a large caenagnathid, and likely represents a new taxon. Suggestions may be that it merely represents a new species of
Chirostenotes
, although this is based on lumping a large amount of variation from the Campanian and Maastrichtian into a single type of caenagnathid. Very little of the foot is actually known, and what is shown here is based on a single large toe and part of a hallux (inner toe), and one metatarsal.
This was largely done after Scott Hartman's reconstruction,
[link]
, although I did refer to my own notes and several high quality photographs. Not my best work. Expect the skull portion to change more drastically when better data comes in.

I was surprised to find out what a large animal this guy actually is. Nice skeletal too, just waiting on more data on the thing.
Reply

Yes, we should have more of that in the next year or so. And I appreciate your comments. As I said, I'm not too happy with this piece, but it was created for the purpose of increasing "completeness" among oviraptorosaurs in general.
Reply

Hey, is this the one we now call Epichirostenotes?
Reply

Very nice, and cool to see you skeletal-ing again!
Reply

With you and Paul and Hartman all restoring it I'm glad so many masters of skeletal restoration are contributing to this fascinating creature.

Yes, there seems to be substantial variation between all your takes on the skull. Hopefully we'll get more material soon and a name, though that's probably asking a lot.

And hopefully this is the end of your artist's block--the world of the past, as well as that of the present, is far too fascinating to be justifiably uninspired.
Reply

It's just not that high quality as Scott's and Paul's skeletals are. But this doesn't really push my block away ... I've been ... sketching a little lately, but not dinosaur stuff, and not really scanable stuff.
Reply

I also suspect this creature is in cahoots with Tyrannosaurus. Cahoots...what a word that is....cahooots. Anywho...
Reply

This creature needs a name. SRSLY.
Reply

Fred.

Reply

Reply

Nah! He looks like a Fred to me! How about George Frederick?

Reply

"Word" has it that while this specimen is likely a new SPECIES, it won't be named with a new GENUS name, in the conventional sense. That means it's going to be called "Chirostenotes [something]." Maybe infernalis or something, in keeping with the Hell Creek.
Reply

I read that it's much larger than normal Chirostenotes....maybe....Chirostenotes ultimus or Chirostenotes gigas would work....I wish there were giantish oviraptorids in the Lancian age though.....

.....other than HIM up there, y;know....
Reply

The authors who are redescribing it are for now being conservative and calling it Chirostenotes pergracilis, with the intention of treating all northern North American caenagnathid taxa as Chirostenotes pergracilis with the exception of "Elmisaurus" elegans and Caenagnathus sternbergi (as Chirostenotes sternbergi or Chirostenotes elegans where "Elmisaurus" elegans is a synonym). Sorry if that seems technical.
Reply

Infernalis? Damned evocative name! COOL!
Reply