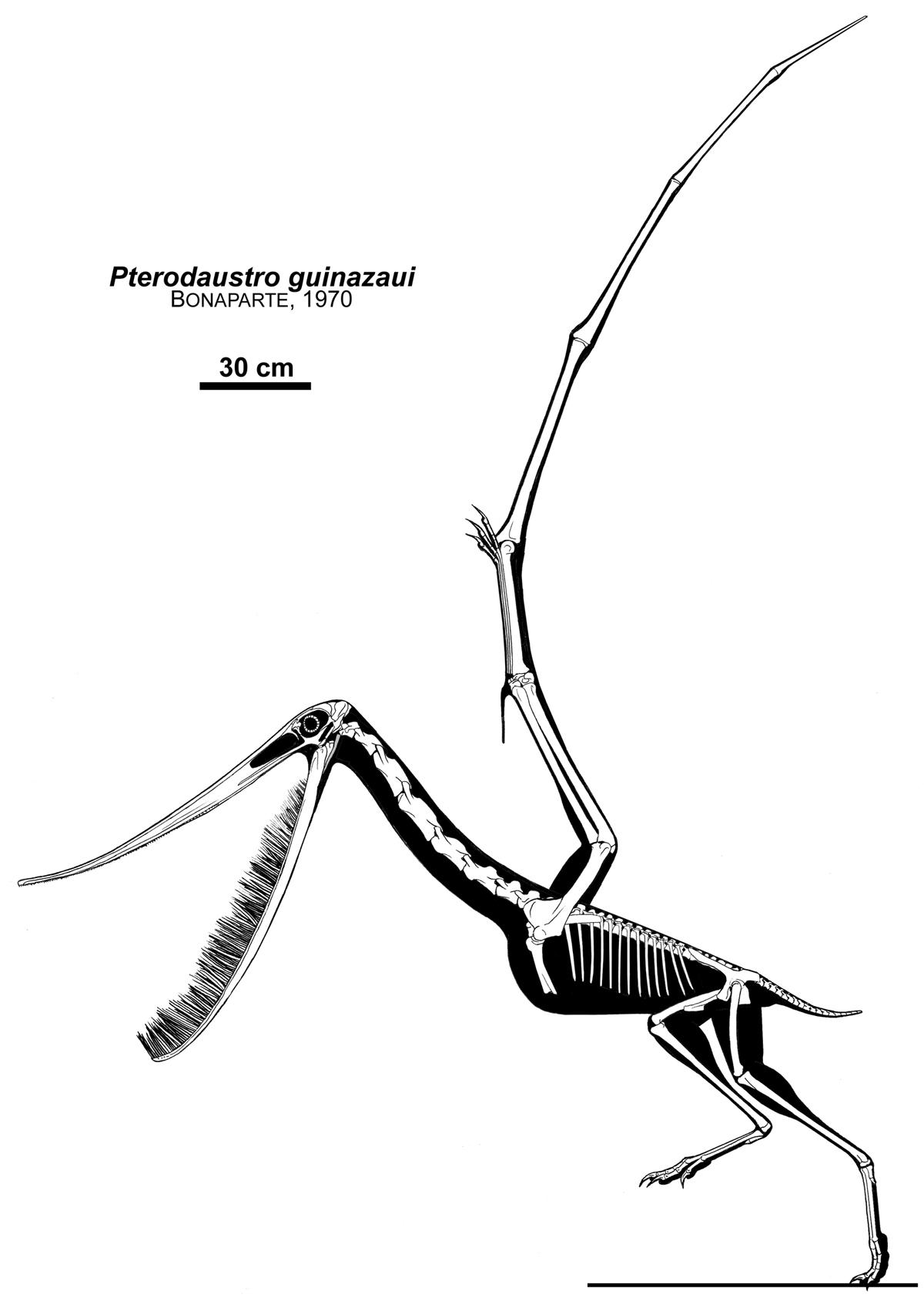 Watch
Few other pterosaurs have received as much inspection into their diet as this one. The long slender, very thin jaws of Pterodaustro guinazaui are lined this hundreds of teeth. More than that, the upper teeth are short and triangular, while the lower teeth are extremely long, thin, and coated with an extremely thin layer of enamel. These teeth may also have been flexible, and would have helped the animal "seive" water. This is brought up analogies with other filter-feeding animals. Whales like the humpback have baleen plates of modified keratin growing from the insides of their mouth which are thin plates of "shredded" appearance that, when overlapping, form a barrier allowing only water to pass through. Dabbling ducks have ridges on the inside of their beaks that also help to "filter" their food from water, shaking their heads vigorously to propel the water out. And flamingos have brought the most analogies, which invert their heads (turning them upside down) to scoop water into their upper beaks, and allowing thin keratin ridges on the inside of the beak and ridges on their tongue act as a sifting structure, keeping food in the mouth and expelling water. Pterodaustro appears to have acted much like flamingos, but would never have needed to turn its head upside down. As in other ctenochasmatids, the long legs and arms would have allowed it to walk in water and keep it's body (and most of its wings) dry. Pterodaustro appears to have had some of the most extremely robust wings of ctenochasmatids.

Is there any insight into what specifically this creature might have eaten, or is it safe to say that it had a wide diet filtering anything small in the water?
Reply

Why is it called "the flamingo pterosaur"?
Reply

Because it is thought to filter small animals from water. By dunking its jaw into the water, it forms a sort of basket which it then withdraws: food stays in, water flows out between all those teeth. Flamingos do the same thing, but they turn their heads almost completely upside down to do it. Se, we liken Pterodaustro to a flamingo.
Reply

Robust wings would have been necessary to take off from murky, sticky waters. Think seabirds and their powerful wings.
Reply

This is one of my favourite pterosaurs! Great picture!
Reply

Yeah, one of the weirdest pterosaurs. Interesting critter with likely a well defined ecological niche.
Thanks for the reconstruction, Jaime.
Reply