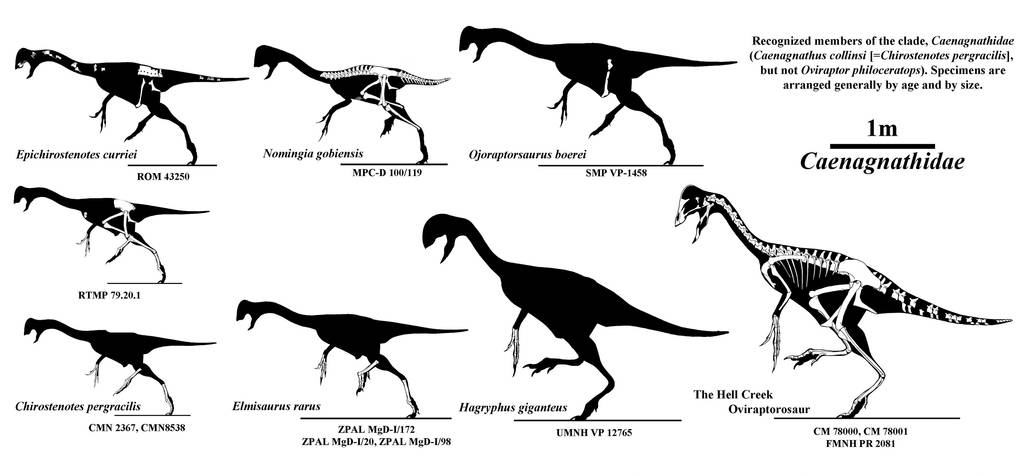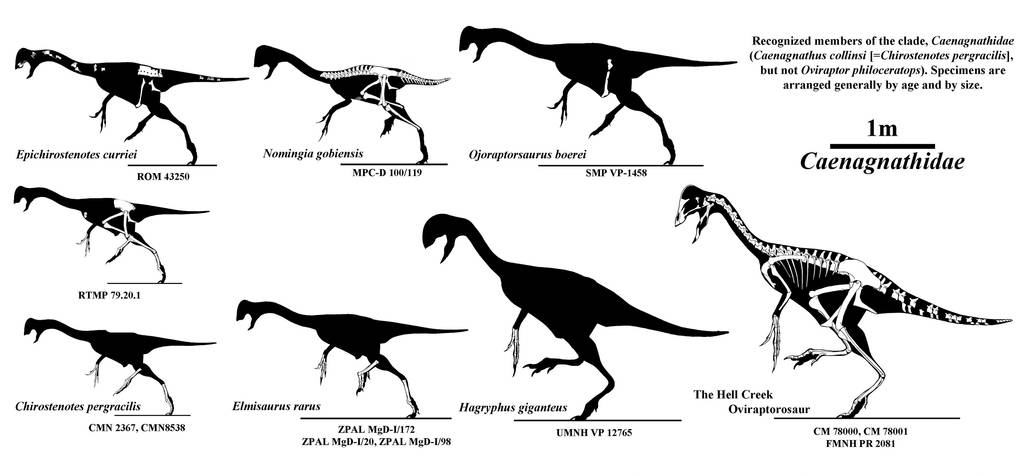 So here is an expanded subset of the skeletons of some of the "normal" oviraptorosaurs, the Caenagnathidae. The newest and some of the "yet to be named" taxa are included herein.

The Hell Creek oviraptor, aka "the chicken from hell", aka Anzu wyliei.
Reply

I figure you're the guy to ask (and this is a good a place as any

), that lower jaw that looks pretty much like the hell creek chirostenotes, but has much more of a "square chin" instead of the pointed tip (in a side view anyway), what is that? I've browsed through your illustrations here, and cannot find it. I remember photographs of it, it appears fairly complete, similar to the chirostenones jaw in most respects, save for the beak ending, which is much more robust looking.
If I knew its identity I could look up the rest myself, for now I'm contemplating googling "square jawed dinosaur"

Reply

Thanks. I also found interesting the later remarks about naming dinosaurs, its something thats been on my mind lately how the list of genera just grows, and often its simply not warranted - but the list keeps growing

I keep forgetting to bookmark this. Done!
Reply

Wow, I knew Hagryphus was a relatively big oviraptorosaur, but dang... Nice job.

Reply

i wouuuld wish that these were uploaded as larger images tho, more detail! ive told scott hartman the same thing: all that work, all those details, seeing them as a distant blur, its really a shame :I
Reply

I have other versions of some of these uploaded to larger sizes. The reason I only load the moderately sized images instead of the full-sized ones is that I, as an artist, want to provide the option to my consumers to purchase the larger sizes. This way I can have my cake and eat it, too; you the consumer get a decent quality skeletal, and I can have something you want that's better I might get paid for).
Reply

Reply

Is the holotype of Hagryphus known from only hand?
Reply

Yes. It's one reason I've not illustrated it before now. Just as Ojoraptorsaurus boerei is only known from pelvic fragments.
Reply

Reply

BTW, they are now the Elmisauridae.
Reply

Wait, WHAT?!

Oh, maybe you're referring to Phil Currie, who splits the Caenagnathidae (just for the jaw-based species) from the Elimisauridae (for all the non-skull-based species), which is a matter of taste. Currie notes and accepts that Caenagnathus collinsi and Chirostenotes pergracilis are likely synonyms, and by at least 2005 was using the term "Caenagnathidae" to include both of them. However, that was the only reason made to name one clade the one name, versus the other. Because they are both considered the same group, the name Caenagnathidae is considered to have priority (it was named in 1940) over Elimisauridae, when they contained the same animals (it was named in 1980). Of course, it is possible to have both, but a large measure of distinction between the two is hampered because all we have of Elmisaurus, rarus or elegans, is hands and feet.

Currie, P. J. 2005. Theropods, including birds. pp.367-397 in Currie & Koppelhus (eds.) Dinosaur Provincial Park: A Spectacular Ancient Ecosystem Revealed. Indiana University Press (Bloomington, Indiana).
Reply

While I get what you're attempting to point out, I must respectfully disagree. The bulk of current analyses attempt to bulk the cranial and postcranial material together, in order to qualify the belief that they are the same taxon. When this happens, yes, the jaws appear more basal, but that's merely an artefact of the greater number of characters that connect taxa with only postcrania simply because there's so much of it more to determine characters from. The jaw has fewer, and tends to get pulled closer to oviraptorosaurs (or even within, in one case). But this means such analyses are weaker and based on just as much bias (whether or not the jaws are lumped together).
Reply

For the records, Tom Holtz may have popularized this by listing Elmisaurinae as a subgroup of Oviraptoridae in the genus list to his encyclopedia. He also includes Caenagnathus among basal oviraptorosaurs following the Senter(?) analysis.

Hopefully once the Carnegie form is described it will provide better criteria for grouping skull material with postcrania and I'm guessing pull "Caenagnathus" back next to (and in likely synonymy with) Chirostenotes pergracilis.
Reply

Yes. The issues with the analysis were that Senter was merely testing the efficacy of splitting Caenagnathus collinsi from Chirostenotes pergracilis. This ends up resulting in an effect that is also acheived when you split sections of the skeleton up that express a different order of codable or relevant features in them, or when you take juveniles and stick them in analyses (they tend to show up more basal than the adult animal they actually grow into). This means that such a "tree" becomes less phylogenetic and more cladistic (you know, what it is). Holtz' analysis is also based on what was, at the time for him, the largest, most inclusive Coelurosauria analysis; this has been superceded, though, and Andrea Cau has produced a far more complete analysis.
Reply

I'll take your word for it. You're the dinogeek, I'm just the Taylor Swift fan who happens to be a dinogeek...
Reply