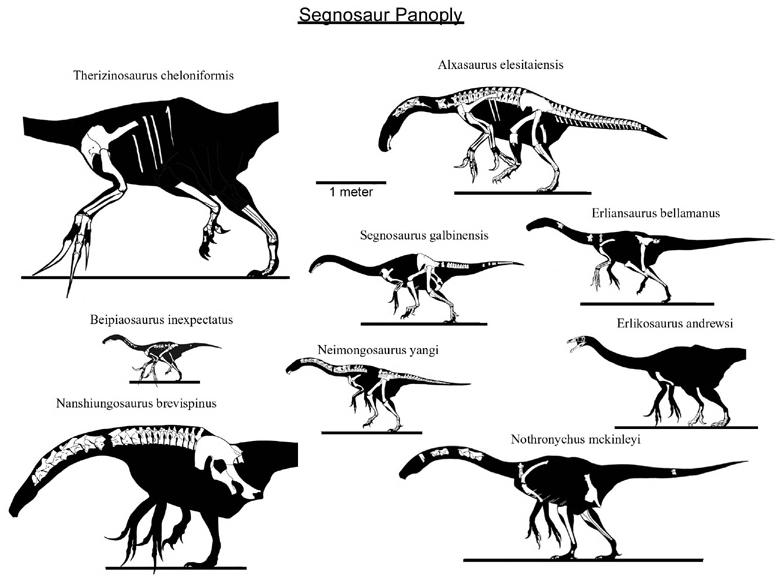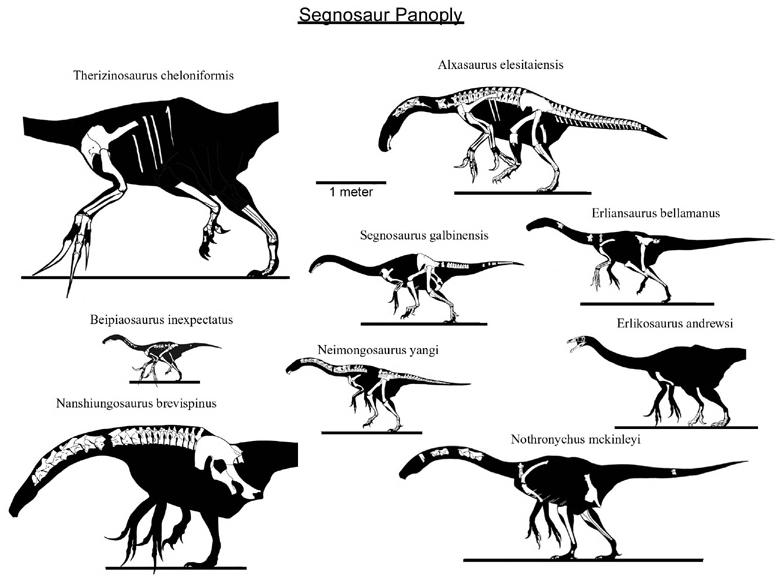 I intend to update this properly someday, but for now it surprised me it wasn't already here. Most known therizinosaurs (segnosaurs).

Most interesting, and, as always, very well done. I do have a crazy thought of my own and I would be interested in what you think, since your knowledge of this group far outstrips mine: the hands and arms do not, to my eyes, look well adapted for quadrupedal mode. Might the postures have been slightly more erect, to better distribute body weight for walking?
Reply

Quite possible. The alternative is that the femur was held is a more... angled position, so that the knee was constantly flexed, moving the effective "hip" joint to a more anterior knee position. This would allow the animal to be more horizontal. It is possible that the neck is derived for vertical feeding, but this only makes sense in case the animals were derived vegetation foragers, rather than a) generalists, 2) omnivores, or 3) something else. The arm adaptations with limited mobility, bizarre potentially predatory adaptations to the pes, and tiny rostra with serrated but small teeth suggest an omnivorous, and potentially low-height feeding, rather than high-height, regardless of size (we have no cranial material for Therizinosaurus, so it's hard to test this).
Reply

Interesting! Do the embryos found provide clues? I think therizinosaur embryos have been found. Could be wrong...
Reply

I'm surprised that Alxasaurus is bigger than Segnosaurus and Erlikosaurus, I'd always imagined it being slightly smaller.

It's also interesting that Therizinosaurus and Nanshiungosaurus have no overlapping remains. Maybe they're the same thing?

Body shape of Nothronychus is out of date, yes?
Reply

There were two specimens of Alxasaurus elesitaiensis, and the original illustration was based off the larger of the two, while much of the textual description is based off the smaller.

This was also done almost 10 years ago, so is horribly outdated.
Reply

very insightful and professional rendering of this group
Reply

I'm shocked that all things we know from therizinosaur skulls were just from Erlikosaurus (and the Alxasaurus' lower jaw)
Are therizinosaurid skulls that rare?
Reply

YES. O, so rare.

Mandibles are known for Segnosaurus, partial Alxasaurus, Erlikosaurus (complete), and Neimongosaurus (rostral fragment), and partial upper and lower jaws are known for Falcarius, while braincase material is known for Falcarius, Erlikosaurus (complete) and Nothronychus.
Reply

Thanks for the info Qilong
Honestly, this creatures were just so bizarre, I wish we could find more about their skulls XD
Reply

Actually, there's a nice skull for
Beipiaosaurus
known from a newer, referred skeleton, and the skull of
Falcarius
should be more or less completely known.
Neimongosaurus
and
Segnosaurus
preserve parts of their lower jaws, but, yeah, that's it for more derived therizinosaurs -
Erlikosaurus
is the gold standard for the sole virtue of coming with a complete skull at all. That of - quite basal -
Beipiaosaurus
, however, is not _that hugely_ different, so everything in the (Beipiao + therizinosaurids) clade should be somewhere inbetween, considering this apparent conservative-ness. Nonetheless, we'd always been great at underestimating diversity and disparity in dinosaur clades, so there goes

Reply

Ohh, thanks for the info pilsator

So, does anyone really know why were the skulls so rare, personally, I thought that the skulls were rare because they were built like the sauropod's, gracile and fragile XD
Reply

Nice one! Still remember it from the Dinosauricon, among others of your trademark panoplies (and another one with non-ornithomimid ornithomimosaurs, if memory serves well). Beautiful work, although I'd love to see an update (especially wrt body posture)

Reply

wow, Paleontological Parodies? That's a first!

I like it! xD
Reply

Well, in a sense therizinosaurs/segnosaurs looked like paleontological parodies

Reply

i read it as 'parody', but then i couldn't find the joke

;___;
Reply