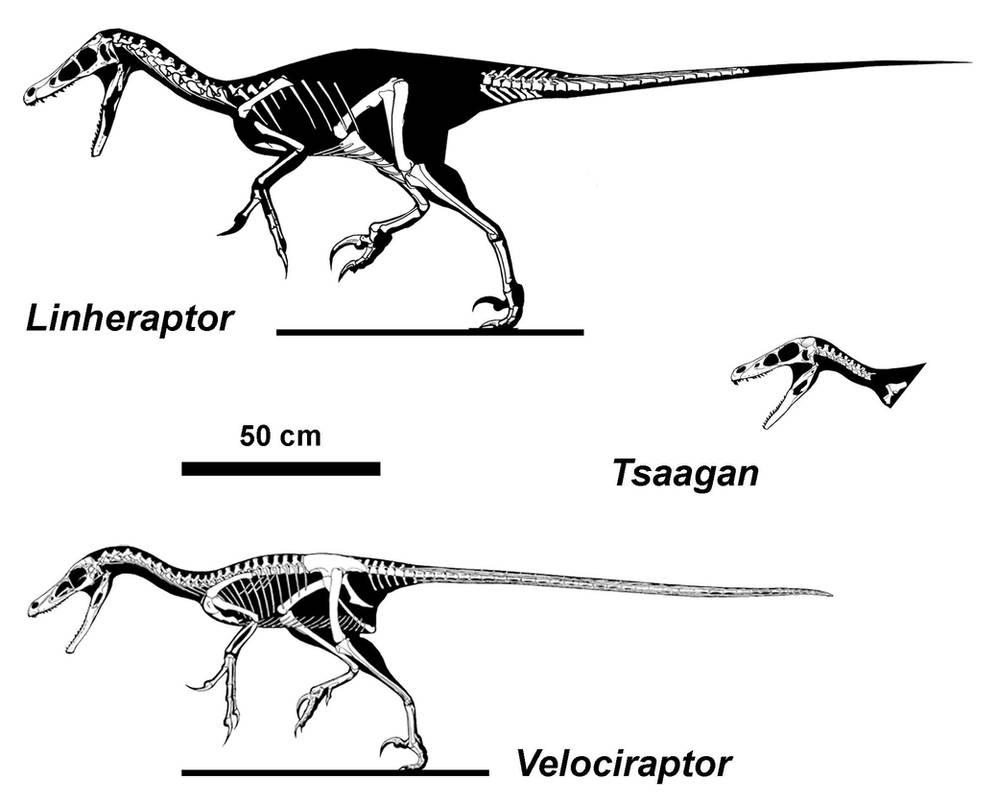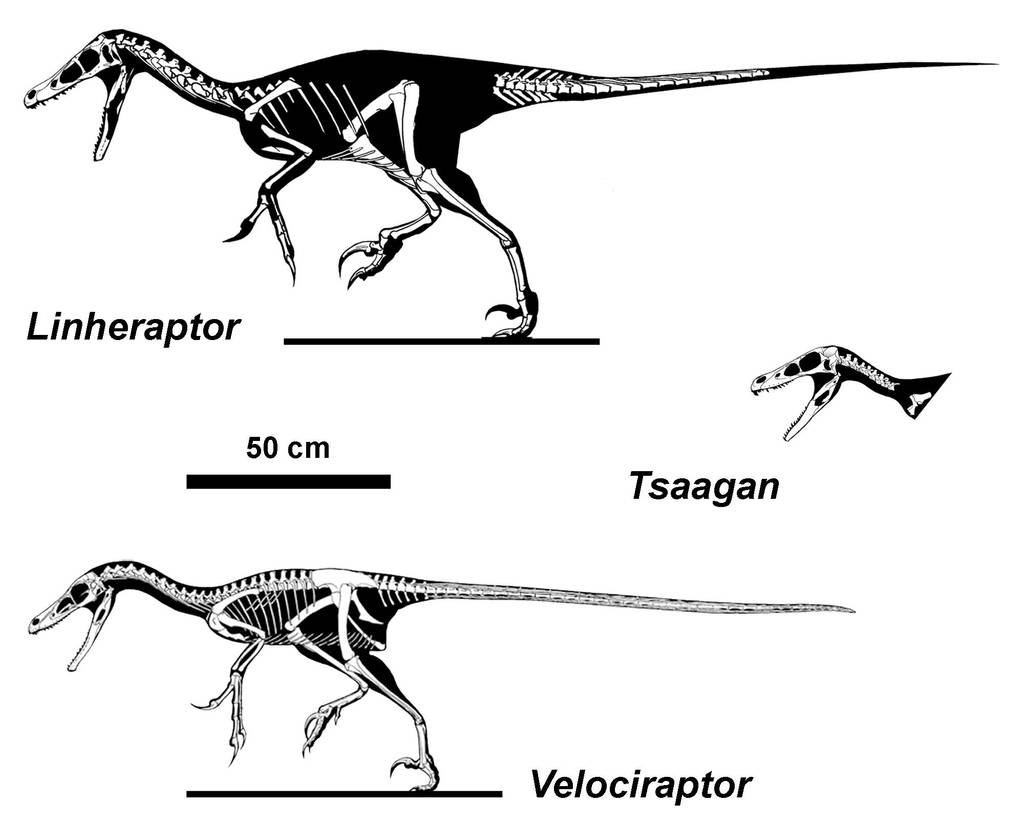 Top: Linheraptor exquisitus, from the Wulansuhai Formation at Bayan Mandahu in Neimongol, China. Middle Right: Tsaagan mangas, from the Djadokhta Formation of Ukhaa Tolgod in Mongolia. Bottom: Velociraptor mongoliensis from the Djadokhta Formation (this specimen from Tugrik, but it is aso known from various other sites) in Mongolia.

The Late Cretaceous eolian deposits of southern Mongolia and northern China are dominated by a sequence that corresponds to the Djadokhta Formation (based in Mongolia). In northern China, deposits part of the Bayan Mandahu region and surroundings were considered part of the Djadokhta ... until recently, where they've been made part of their own regionally consistent formation that is nonetheless equivalent to the Djadokhta. The Ukhaa Tolgod site in southern Mongolia hosts some distinctive fauna, and contains several of the above taxa, but is also unique for its consistently beautiful preservation, while the other sites tend to produce less well-preserved fossils.

I saw it on wikicommon,Great stuff!
still not sure if Linhearaptor is or is not the same Taxon of Tsaagan
Reply

Awesome, but I'm confused. In everything I've read, Velociraptor is listed as 2.5 metres long, but in this case it's Linheraptor, which I've always read was smaller, about the same size as Tsaagan... Where am getting all this from? And plus, what makes the three so different, If I hadn't seen the labels I would have thought they were all Velociraptor...
Reply

You might be confusing Velociraptor mongoliensis with the somewhat larger Deinonychus antirrhopus, the latter which was around 2.5 meters; Deinonychus antirrhopus as sometimes been called Velociraptor antirrhopus, especially by Greg Paul, but typically the two are kept apart. I only show the taxa from Mongolia here, with Deinonychus antirrhopus from North America.
Reply

No, I'm not confusing them, I've always seen Deinonychus antirrhopus recorded as about 3.2 meters (According to the Princeton Field Guide), but in the Princeton field guide to dinosaurs it lists Velociraptor mongoliensis as 2.5 metres long, which seems near the size of the Linheraptor here. Is this something to do with Linheraptor being mistaken for Velociraptor before official description, similar in the case of Tsaagan?
Reply

No.
Velociraptor mongoliensis
here (
[link]
) is based on GIN 100/25, one of the larger specimens of the taxon. Going up from there, I do not think it could get even 25% larger. Meaning you have an animal less than 2m. Greg Paul conflates a lot of taxa in his Field Guide, a major failing of that work, and one that many people have criticized him on, so it's very possible he has confused several specimens. While it is possible he is conflating
Linheraptor exquisitus
(
[link]
), they should at least be different species under his scheme. Vel is not that large.
Reply

Thank you, that clears a lot up, and I do agree, the merging of several taxon in the field guide does bring it down, and in many places it can get rather annoying.
Reply

Velociraptor's so tin y! It's losing its reputation! :_
Reply

It's not supposed to have that reputation! That's supposed to belong to bigger "raptors," like Deinonychus antirrhopus or Utahraptor ostrommaysorum.
Reply

Your skeletals are so very helpful.
Reply

Thank you. Scott Hartman does good ones, too. Probably better than mine.
Reply

Wow, you Velociraptor diagram looks completely dissimilar from the diagram I use as reference for my Velociraptor reconstructions. I can see this one atcually has an accurate hip structure.
Reply

We are actually fortunate to have now found a few well-preserved pelvises that allows up to correctly position the pubis and therefore the ischium. This is not to say there aren't also vertical-pubis'd dromaeosaurs, but this one anin't one of them.
Reply

It's depressing to think my drawing is inaccurate. xD
Reply

They almost look like a growth series to me...
Reply

Yeah, they seem to be closely related, but there's a distinct separation involved here. Tsaagan was probably a bit larger than shown at adult proportions, and may rival Linheraptor in size. There are larger Velociraptor specimens, but not that many, and they seem to be distinct in larger stages.
Reply

Beautiful work as always

Reply

Isn't Mahakala also a "dune raptor"? I'd like to see how tiny it looks beside these guys.
Reply

Technically, yes. I did not include Mahakala because I was attempting, circuitously, to refer to a group of dromaeosaurids (sensu stricto) that would normally fall into "Velociraptor" proper merely a decade ago.
Reply