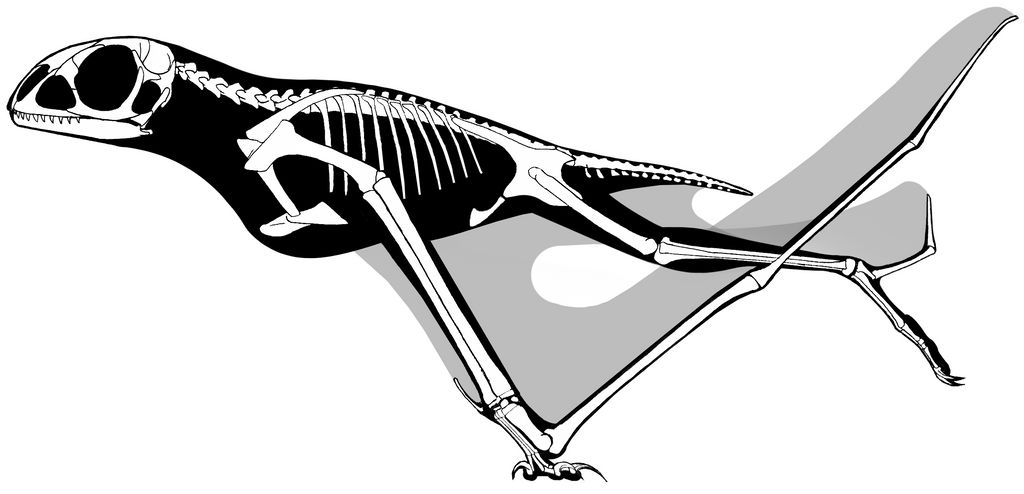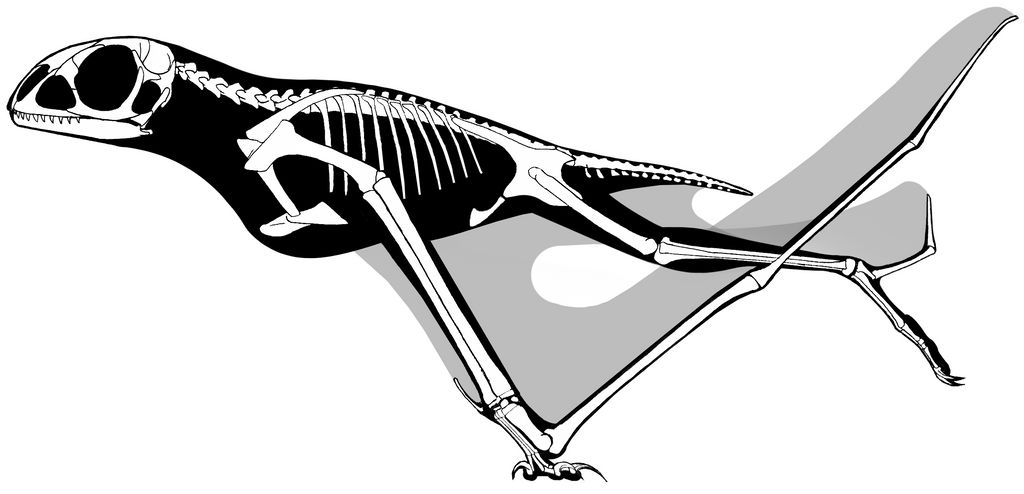 Anuorgnathidae, they being primitive pterosaurs with short, rounded skulls and ridiculously long wings, are some of the cutest little pterosaurs out there. This one is a generalized skeleton, loosely based on Jeholopterus ningchengensis and a juvenile specimen referred to Anurognathus ammoni, the two most complete anurognathids available.

Can you add a scale bar??
Reply

This isn't a specific anurognathid. It represents a schematic of the skeleton, rather than a specific taxon. Anurognathids vary in size, and little is known of their relative age to one another, or average or max adult size. As such, a scale bar would be mostly pointless.
Reply

Reply

The sesamoid is a small discoid bone on the tip of the extra carpal that is in front of the pteroid. It's not present in all pterosaurs, and probably only exists in pterosaurs that use the small additional carpal to leverage the wing extensor tendon around the pteroid.
Reply

Jaime,

Pedal digit 5 is lateral, but you have it framing a medial uropatagium. In any case There's no evidence for any uroptagium connecting with the tip of pedal digit 5. I see you freehanded this as many proportions are off.
Reply

Dave, you are right. This skeleton is completely speculative. It is not designed to reflect a specimen taxon, but a generalized "Anurognathidae."

Yes, this is "freehanded." It is not -- nor does it say -- it was based on a specific specimen. Nor do I think a generalized skeletal SHOULD be. Porportions differ among individuals when dealing with unconstrained and unverifiable population groups. It is far likelier that individuals can differ enough to make some proportions distinct and non-viable for diagnosis.

However, bear in mind: Preservation of a specimen does not equate to natural appearance in life, just as preserved articulation and arrangement of tissues cannot be absolutely assumed on the basis of a limited evaluation, such as one or two specimens. This is also true for skulls, which as preserved tend to become distorted through various taphonomic processes, not the least of which is scavenge-based disarticulation, destruction, erosion, or diagenetic alteration.

That said, there are problems with assuming the uropatagium isn't associated with the fifth toe in SOME taxa, notably what happens when the hindlimb is rotated outward: the fifth toe will be "dorsal" and equidistant between tail and trailing edge of wing planform, but the direction of the toe curling -- as assumed with the OTHER toes, flexorly -- then it would provide a better brace for the uropatagium and it would have to be bent backwards for the wing. There's also the problem for how the digit is articulated, as well as the metatarsal it is attached to, as there may be some skewing of the MT and digit towards the flexor side of the foot in life (especially if one assumes the toe is somehow a stiletto heel, itself a ludicrous notion). If the metatarsals are aligned is in a plane with the wing, but MTV and the digit are flexorly oriented, the digit bends dorsad and slightly mediad, not laterad, and it would be a problem for the wing regardless. Really, the best way to articulate the toe to support the wing is to pretend the toe bends outward but does not flex with the others, and that's not in keeping with how the foot is preserved, where the toe bends underneath the foot or is splayed outward.
Reply

Wow!

That's wonderful!

Reply

It indeed is cute. Was its neck really that muscular/fat-padded?
Reply

The shape of the neck is constrained but a variety of muscles around the throat, but also a series of muscles leading from the braincase and the hyoid apparatus to the pectoral girdle. The muscles would have hung well below the vertebrae. Now, I supposed the cervicals are a little smaller than they should be, and they may have formed a somewhat C-shaped curve, and that would reduce the aspect of the extreme depth of non-bony neck.Much of the rest of this can be taken up with integument and "fuzz".
Reply

You have strange understanding of what's cute pterosaur.

Very nice skeletal drawing though. It's good to have more sources for reference, because there are only few quality ones for pterosaurs ('cuz Peter's ones suck!).
Reply

What? Pterosaurs are cute, and these little frogmouthy things are ever cuter!
Reply

Haha, I didn't say pterosaurs are not cute. They are... well most of them.

I guess the strange skull of
Anurognathus
makes me feel otherwise. It just looks like "warm-blooded", pycnofiber-ed winged frog, and frogs are not exactly the cutes animals. Unless you're talking to herpetologist I guess.
Reply

I think the general shapes as mostly pleasing. Like looking at round-faced animals can be (small cats, dogs, babies, etc.).
Reply