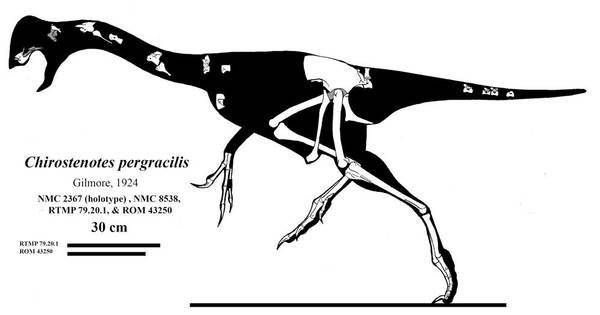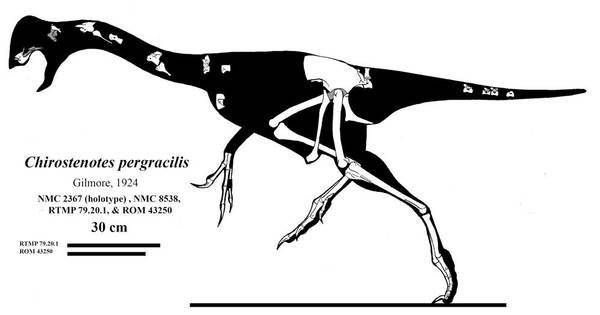 Chirostenotes pergracilis is one of the first oviraptorosaurs named, originally based on just a partial pair of hands from the Dinosaur Park Formation of southern Alberta, Canada (Campanian, Late Cretaceous). After over 50 years, a skeleton from elsewhere in Alberta, but from the same formation, showed that another animal from the same beds that produced Chirostenotes, Macrophalangia canadensis, belonged to the same animal.

Further, a skeleton described in the late 90's included skull material that suggested a lower jaw belonging to a bird-like animal also from the same formation and province, Caenagnathus collinsi, may actually belong to this animal. This specimen, however, comes from a slightly younger formation in Alberta, and is somewhat larger than the original specimen.

However, that jaw bone possesses a shape that is distinct from the maxilla, and I am loathe to merge the taxa based on the existence of several morphologies of mandible of so-called caenagnathids which suggests more than one species of taxon in the Dinosaur Park Formation. Thus, these specimens are separated for the time being on account of caution.

The hindlimb is paired, despite not being preserved in pairs, for the sake of elegance.