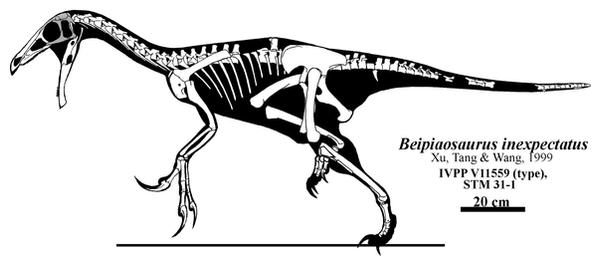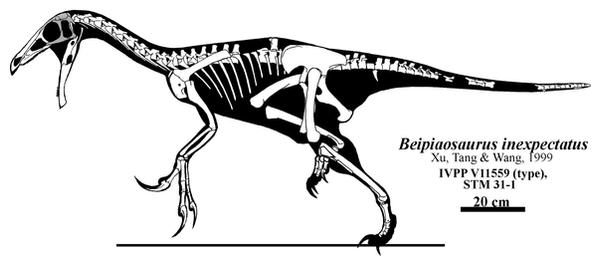 I guess it's hard to describe an animal that has so much going for it in just a few words. In this case, this was the first clearly nonavian dinosaur preserved with what appeared to be filamentous precursors to feathers, but which was closely associated with dinosaurs that are bird like, which differentiates it from the also-fuzzy Sinosauropteryx.

But what's probably the first thing you'll notice is that the arms are so large, the feet large but short, and the claws HUGE. This is no mistake.

You may also notice the skull, which is based on a specimen with a crushed skull, but some details are clear, such as the shape of the anterior snout, and the general shape of the jaw bone, which helps us size this animal compared to the holotype in which ONLY the mandible was clearly distinguished.

The posterior skull is so heavily reconstructed that there is no way to tell what the shapes for the bones are, and the same is true for most the cervical vertebrae and dorsal vertebrae, of which only the last few are preserved (on the type specimen) uncrushed. Most of the vertebrae are based on highly questionable guesses and some comparisons and clear details with other segnosaurs.

Nice work

Reply

Reply

Would it have held its body that horizontal IRL? It just looks so... unbalanced. Ok, it's running, but still.

Reply

He's running, and the back is tilted up a little. Note that the tail is probably longer, as in comparison to Falcarius, but was kept this short based on some scaling issues and in comparison with later taxa like Nothronychus in which the tail is MUCH shorter. So I will likely end up simply extending the tail. Thanks.

However, balance requires that he be overdense in front of the pivot point and CG, which may not happen since at least 60% of the entire shoulders-to-hips body cavity was essentially empty, and the vertebrae are all pneumatically invaginated, so it was relatively hollow in front of the hips. But still, longer tail.
Reply

Is it just me, or is the skull huge in proportion to the rest?
Reply

It may be a bit over scaled. The skull is, however, relatively large for the animal's size, albeit very narrow and shallow. This is also true of the original mandible in the type specimen, which emphasizes a large-ish head. I will have to adjust my proportions a little, but this isn't too far off.
Reply

I know nothing about this subject, but those arms do look like they could be on their way towards developing into wings - especially with the long digits
Reply

Well, they appear to have developed after the fact, especially as a potential prey-capture device, with extremely curved claws. The lack of feathers or an advanced should indicate that these arms were barely capable of folding, and as such it is unlikely that they tell us much of anthing valuable on the origin of flight. The carpals are interesting, though, but they are so because they imply a certain level of restriction of movement at the wrist, such as you'd exepct in a manus designed to resist torsion when impacting objects on the plantar side.
Reply

I just had to fave this! Its an incredible piece of work which has been in development ever since this animal was first described. Kudos for finishing this in style Jaime!

I am surprised to see how long and low the skull is, especially when compared to what is known from Falcarius. Do you think that therizinosaurus elongated their skull during their evolution? How do the two compare temporarily BTW?
Reply

I haven't actually devoted a lot of time to Falcarius. Postcranially, it's very similar, with I think shorter arms and a very different pelvis, but Falc has very incomplete skull, with just maxillary and dentary fragments (that I recall).
Reply

Ok, thank you. Especially the differences in the pelvis struck me as being particularly odd, as it would require a relative quick evolution from one shape to the other. But you are right about the completeness of its skull. I thought there was a bit more material, but I haven't checked the paper describing it for a while.
Reply

Well, there's the partial dentary, and a bunch of fragments that could be anything, without some clearer photos.
Reply

Is a very strange and interesting looking dinosaur, like all therizinosaurs. I have to draw one of these animals someday, and of course, I can use your works as reference

Reply