🍬🍭BubblegumVerse🍭🍬



I haven't posted much of BubblegumVerse here to DeviantART as I'm mainly keeping it Tumblr focused. It's mainly just a side au that I play around with in my sketchbook while at work. Check it out

>>here<<

Anyways, just sharing this here as I'm currently in an art block and haven't really sat down to draw in a hot minute.

This is Blythe Lulamoon, daughter of Rarity and Trixie 💕 she's a really shy unicorn and has a stunted horn, but she doesn't mind much as magic really isn't her interest. She's more devoted to her work in creating beautiful floral arrangements!

🌟

Blythe was designed by FelineNostalgic and can be seen here: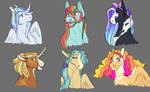 Sorry for the lack of interesting content lately, I'm finding myself falling back into a small bit of depression due to some body image issues I'm having. Trying very hard to work through them on my own but it's kinda kicking my ass at the moment. I'll get through it though!
Image details
Image size
1448x1331px 925.32 KB