Buck is your stereotypical anti girly-girl pony. She hates anything pink, bows, dresses, makeup, you name it. If her pal Hodgepodge is engrossed with it, just know that Buck is adamantly against it!
Though, please take notice that this is all an act. In reality she actually loves these things and quite enjoys when Hodge gives her makeovers, and finds keeping up her tough pony persona to be quite exhausting. She only does this to seem tough and rugged, she doesn't want to damage her future cowgirl backstory when she becomes a famous buckstar!
Characters Mentioned
More of Opheliaverse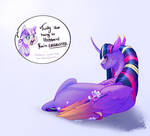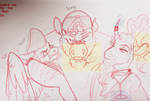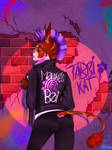 💕🐉💕



🌻 Really enjoying just,,, reworking Opheliaverse. I'm going to be going through old uploads soon and marking things as "scrapped" or adding notes about the rework. Buck and Hodgepodge are so fun to brainstorm on, I filled a sketchbook page with them recently and plan to do a little more in the future to explore their characters!
Image details
Image size
1675x1528px 1.83 MB