🌹🥀A Pride Divided🥀🌹
---

Maira Without Courier Garb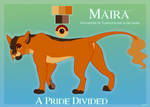 Decided to go ahead and doodle up an example of the stork feather collar that I mentioned within Topanga's family tree . (Also wanted an excuse to draw my precious Maira 💙)

As stated within the linked family tree above, all couriers are required by Kiara (Courier Captain / Founder of the couriers) to be adorned with flashy, white feathered collars (if female/maneless) and vivid white face paints (if male/have a mane) as well as at least one part of their body to be decorated with gold played metals.

The gold accents help reflect and glitter in the sunlight to alert other prides and territories of a couriers presence. This aids in protecting them from unnecessary attacks upon the borders. The collars and face paints ( rough example of a male's face paint ) assist in protecting the couriers as well. Their white color is able to be seen from a distance and also alerts other prides of a couriers presence.


I don't draw Maira by herself too often, but I have slightly changed her appearance to match a new headcanon I have for my Ashlands pride; that being that pure blooded Ashlanders tend to have the dominant trait of more elongated, elflike ears.
Their slender more pointed ears help keep out ash that occasionally billows from the volcano they reside near/within. The cupped ears of other prides tend to collect ash more abundantly and affects their hearing/causes discomfort.
The Ashlands are actually a very vital asset for the couriers in getting what they need for their garb. Couriers collect the ash from the Ashlands and mix it into their facial paints for a longer lasting branding, as well as using their volcanic pools to aid in melting down precious metals like gold and silver.


Image details
Image size
1827x1325px 837.19 KB

Your Welcome and Also I hope your having a good day you can look at my Art anytime you want


The Night Pride in my au actually handles this (: they live in an underground cave system; just haven't decided how they excavate yet! ❤

Maybe moles or meerkat animals who dig for a living? I imagine they'd get something out of it