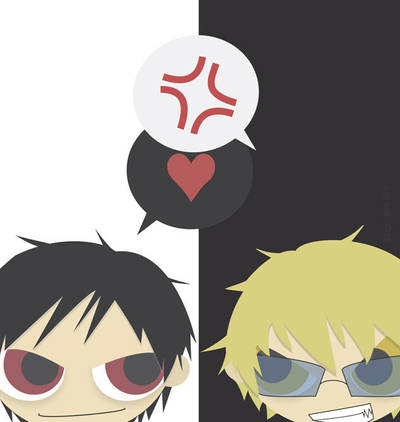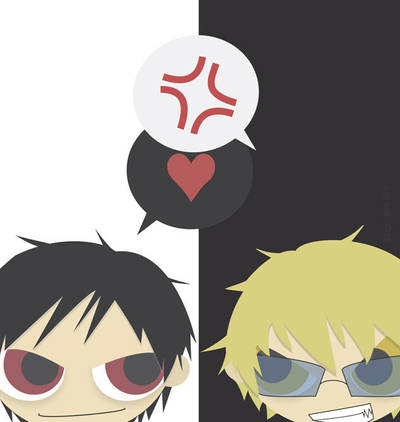 Special 1:
Shizaya from Durarara!! © Ryohgo Narita/ Akiyo Satorigi
It's all sexual tension &We know it.
Don't forget to go out &Buy yourself a copy of Durarara!! Out TODAY. Help save our anime industry!
=============
Gallery:
[link]
Last Three:
o15(Annie):
[link]
o16(Izaya Orihara):
[link]
o17(Shizuo Hiwajima):
[link]

Reply

I wouldn't probably ship these two seriously. However, I might ship them crackly.

Sadly, I will probably will not be getting Drrr!! It's too expensive.
Reply

Awe! It's a great show! You should catch it online for free

Reply

I tend to be a person who wants to support legal sources for shows, but Adult Swim likes to be buttheaded with their shows.
Reply

Understandable. I actually watched the series on youtube by one of the official sponsors. I loved the show so much I went out and bought all the DVDS :] I think it's an excellent resource to be able to watch something for free, then be able to get it when you love it.
Reply

Aaaah~! Their evil expressions are so cute!

Reply

Reply


what is the style from?
LOLOLOL AND DONT I KNOW ITS SEXUAL TENSION. AHAHAH
Reply

It's somewhat inspired by PPG, but it's done by me :]
Reply

The result of the two images. Wonderful asdasdas ♥ ♥ ♥ ♥ ♥
Reply

Reply

Hahah x'3 Adorable~

Reply

Reply