Hey, this is just a way for me to address a situation that came up over the last week or so. There was a situation where Aeon Dream Studios was using a modified version of a very old design of mine, but it looks like it was just a mistake as they were actually using a redesign that another artist had done.
So...here's the situation. This is the original piece on my old DA account.
Yin Yang Dragons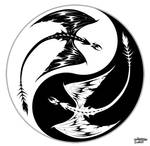 I was aware that some tattoo websites were using the image without permission, but I didn't seek to get it removed from those sites admittedly as I just haven't had especially good experience with that being a fruitful endeavor, and I didn't feel especially inspired to fight that fight. I think the image got wide-spread this way though and the original artist got lost.
Another artist -- who I won't link to because I would like to reach out to them personally rather than have anyone else do it -- redesigned this (in my opinion they did a very good job, as the redesign is a very clean vector) but they didn't link back to me. It's possible they redesigned it from one of the tattoo sites that used my work, whatever the case, I'll try to work that out. POINT BEING DON'T WORRY ABOUT IT.
Anyway, Aeon Dream Studios was evidently using the redesign without knowing that there was an original artist behind it. That said, they did in fact reach out to me once they did find out and offered payment to use the design in their own work. It took me a few days to get back with them as I only log on to DA once every few days, so sorry about that. I am currently working that out with them, as I would in fact be willing to agree to this, if they still want to use the design of course. I think there was just a bit of confusion with one thing and another. At the moment Aeon Dream Studios is using a different logo and the other one has been removed, but if they still would like to use this design in the future I'll get it worked out with them.
I admit when I was made aware of the situation I didn't move right away to clear things up, and I think this allowed for things to get a bit muddled. I'd like to apologize for that. I don't tend to jump the gun on things, I tend to err more towards trying to gather as much information as I can before I move on things. I hold nothing against Aeon Dream Studios, and feel they are genuinely working to correct the situation once they were made aware of it. They have been very cordial and professional to me. Whereas I know others would try to cover up a situation like this, they have instead made an effort to open up a conversation with me to correct things. I would actually be honored to work out something that would allow them to use this design, and they have in turn offered commission payment and credit back to me, both of which would be fantastic. In return, I'd grant them full rights to the design to be used for any branding or commercial purposes, and they'd be free to modify the design as well. I hope that will work everything out, and I appreciate it.
I'd like to thank the people who brought this to my attention and to theirs, and assure that everything's being handled. Thank you.