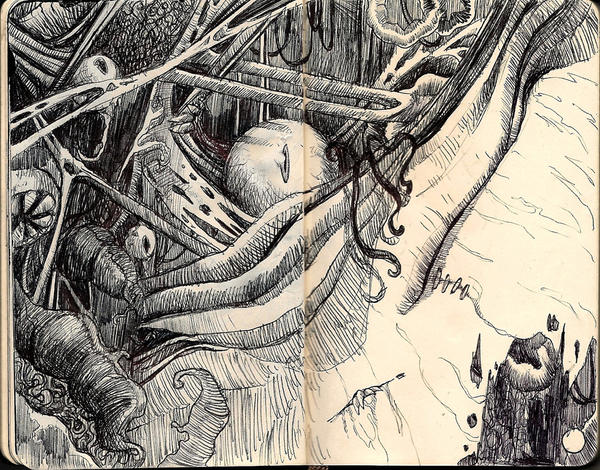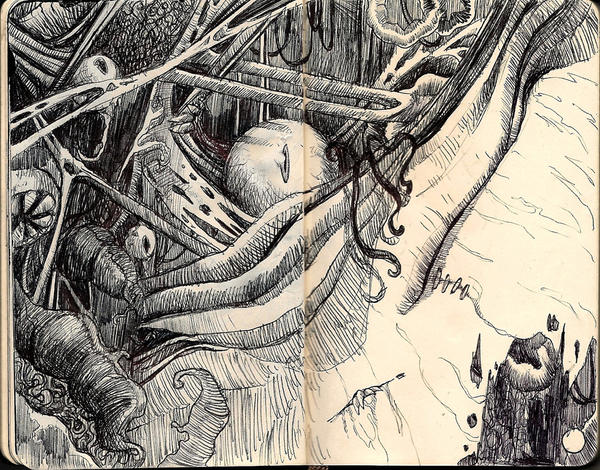 Back with something quite strange that I'm gonna explain right now: some days ago I dreamt of an awful gloomy eye surrounded by veins, kinds of intestines and fragments of flesh, staring at me and talking to me with a hoarse voice, but I don't remember what he said, the only thing I can remember is this: "DYINGS CALL ME ARNN"

It was quite disgusting and when I woke up, I still had the memory of this dream in my head and I decided to draw it!

So here it is!

Enjoy your meal!!



Black pen on A6 Moleskine
I wish I had dreams like this. More fuel for my projects.

Anyway, moving on, this is one of the most creepily, terrifyingly awesome thing I have seen in a while. The giant amalgam of flesh, organs, and god knows what else is a visual treat for the eyes. Every time I look at it I find something new to focus on. It one of those kinds of things where what you're looking at horrifies and disgusts you, and yet you can't seem to look away, as if it's slowly hypnotizing you.

Everything is done is such detail that I can't help but stare in awe. The veins on the bloodshot eyeballs, the shading of the intestines, even that little bit of claws or teeth or whatever that is poking through the wall of flesh near the bottom, so much time has been paid to every part. The only complaint I have is the fold at the center, but honestly what can you do?

Once again, another amazing piece of work.
The Artist thought this was FAIR
1 out of 1 deviants thought this was fair.
It reminds me of a face..."Pary, Come give Grandma a Kiss!" "Nay! Get ye back, foul creature of SATANNNN!!!"

The artist was clever in prop placement, that's fact. The usage of the entirety of two pieces of paper shows tact in avoid the "cookie cutter method" in which an artist will waste space by not using it at all.
Nothing's wrong persay, but the art needs a more gravitating element to capture the viewer's attention, perhaps it needs color, perhaps it doesn't. I say it just needs something that strikes out from everything else. What that is, I cannot say...cuz I don't know.

Final Note: Amazingly messy, yet amazingly resourceful. Nothing seems wasted, and because of that, it shows great merit.

The Artist thought this was FAIR
2 out of 2 deviants thought this was fair.