So I'm opening up commissions (because being an unpaid intern sucks and I have bills to pay).
I will draw mostly anything (for what I won't draw, skim down a bit), so if you're itching to see a character of yours in ink, send me a note with what you have in mind and we'll work something out

Prices
Sketches!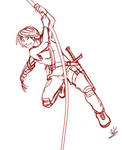 Bust: 5$
Waist up: 7$
Full Figure: 10$
Inked!
Waist up: 10$
Full Figure: 15$
Paintings!
Waist up: 80$
Full Figure: 120$


Adding things in! **
For backgrounds add 5$
For each additional character, add 5$ (up to three)
For Flat colours (sketch or lineart) add 2$
For cell shading (Lineart option) add 10$
**All Prices are subject to vary depending on the complexity of what you ask me to do. Example. A background addition of some alley will cost the standard five dollars. Ask me for a starship battle and the price will likely change. **
Other Details
- Payment is 50% up front and 50% on completion, through Paypal only.
Here's how I roll. I want you to be happy with what I draw. This is why I art. Once I receive the first half of payment, I get to work. When I'm finished, I'll send you a small, watermarked copy for final adjustments/last minute decisions. You pay the balance and I send you the full sized/unwatermarked version. For the more complex pieces (particularly, the paintings), I will probably send you some progress shots to make sure you're getting your money's worth. If, at any time, you want to see a progress shot (this is for all projects), simply send me a note and I will get back to you as soon as I can.
- I'm thinking of livestreaming commissions when I do draw. If you'd be interested in seeing that go down, please let me know in your contact message.
- As an artist and a professional, I will do all I can to ensure your satisfaction with a piece. However, keep in mind that any changes will be subject to their own prices, and there will be no refunds.
- I will most likely give you an estimated time at which to expect a finished piece. These are subject to some change, but again with the professional thing, I will do my darndest to deliver on the day I say I will.
- I reserve the right to refuse commissions if I deem that I will not have the time to complete it, or if I do not feel comfortable with the subject matter (I will not draw anything rated R, such as porn or extreme torture). Everything else though, such as fan art, fan characters, personal characters etc, is game

Feel free to send me any questions, comments and other miscellaneous babbles!
------------------
CURRENT COMMISSIONS
1- OPEN
2- OPEN
3- OPEN