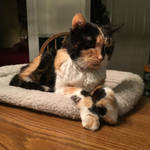 Today I had to say goodbye to my childhood cat. She was the sweetest, most social, most loving cat a huge family of growing kids could ask for. She loved cuddles and pawed your for pets. Or food. Or both.
She was old, 18 years old, and had declined heavily in the last few weeks. Went from getting around fine on her arthritic paw to getting stuck on the couch or lost in her own house. She couldn't keep weight, couldn't move around. She was hurting. And now she's not.
I was was able to hold her until she drifted to sleep. Kiss her ears and make her feel loved.
But gah it hurts.
and now I have to drive to a wedding while fielding a career call.
Im not okay. But I don't want to talk about it. I can't if I'm gonna be functional. I'll work though it later.
rip Reanna
2000-2018