Hello, my name is Laura Pitcher & I'm a gay furry.
My birthday is on the 17th of May (Taurus) & I was born in 1988 (dragon).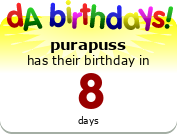 I am a very fun loving person, but I can have my bad sides as well, but don't be discouraged by this...I have a kind nature.
Please do feel free to browse through my galley.

ローラ投手
purapuss
Thankyou for visiting my page.


Pura always wins!
My homies are with me.






Why not visit:
Purapuss's BandCamp Acount
Purapuss's YouTube Account
Also, check out my
scraps
Favourite Visual Artist
Anyone that dosen't trace over other peoples hard work & claim it as their own
Favourite Movies
OldBoy, Secret of Nimh, Isle of Dogs
Favourite TV Shows
DragonBall Super, Nostalgia Critic, YourMovieSucks, Sonic Boom
Favourite Bands / Musical Artists
The Prodigy, The Living Tombstone, Calvin Harris
Favourite Games
Resident Evil: Code Veronica, Resident Evil 2,
Favourite Gaming Platform
PS4
Tools of the Trade
Tablet - Samsung Galaxy Tab A.
Other Interests
Making jam, music & riding push bikes.