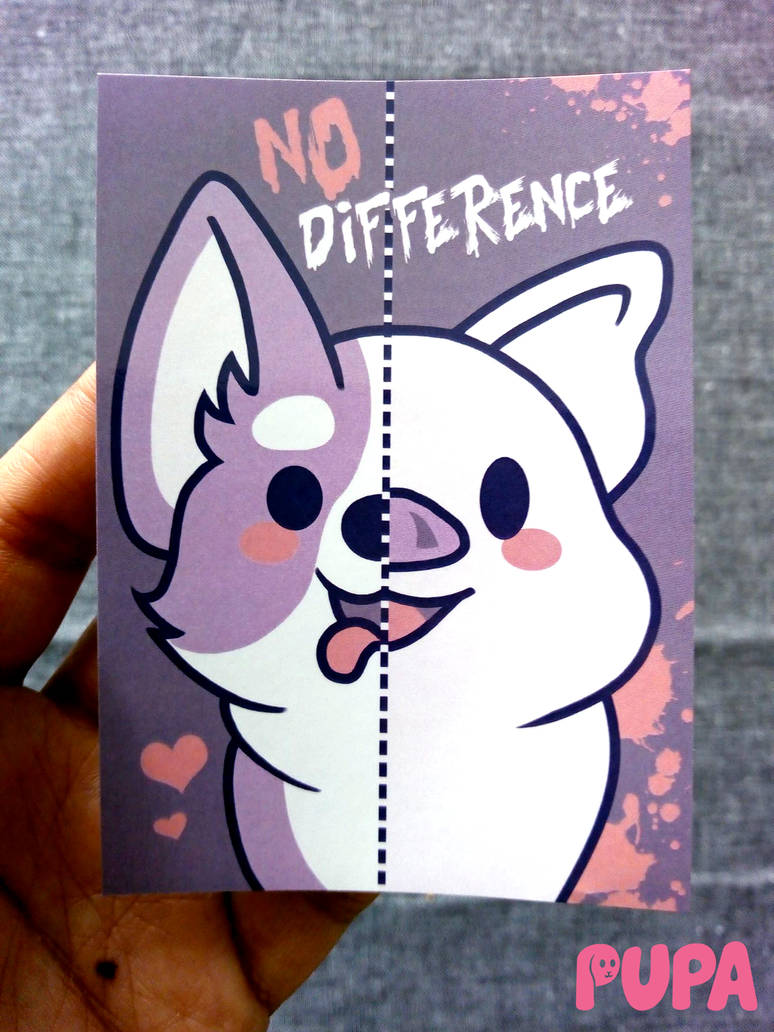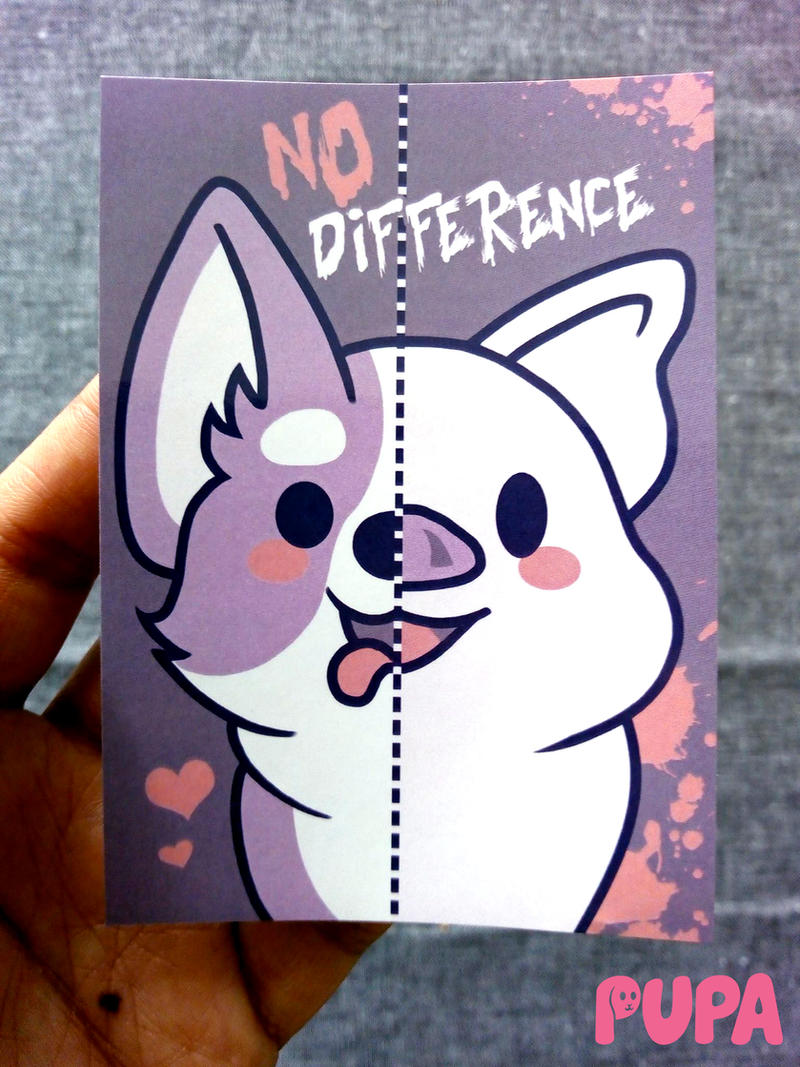 And then there were high quality stickers! Sorry for the bad quality photo (my phone camera is shitty); the real thing is much sharper and also has a gloss.


No difference: www.etsy.com/nl/listing/679098…

I love animals: www.etsy.com/nl/listing/679098…


As with all of my other products, 100% of the profit goes to the animal sanctuary. You can also get them on my website:
www.pupaveg.com/
but my webshop's system automatically counts shipping costs for books and t-shirts (which is higher), so unless you're also going to buy other products from me than only stickers, I suggest you get the stickers on my Etsy instead because then shipping is only 1-2 euros.
Based on my art: fav.me/dcuicjg

That's what I say! The distinction between animals for pets and animals for food is almost entirely emotional and arbitrary!

Let's eat 'em both! How dare the government tell us what we can and can't do with our own animals?
Reply

We don't need to eat any of them. Choosing your tastebuds' pleasure over others their lives and the entire planet is what is truly acting on emotion rather than logic.
Reply

We do need to eat them, actually. If we didn't need to eat them, we wouldn't be able to. Evolution tends to eliminate unnecessary features; just ask any blind cave fish. I think I would rather not suffer the slings and arrows of Vitamin B12, iron, calcium, and omega-3 etc. deficiencies, as vegans are prone to acquiring. Even Sam Harris, who unlike me, actually does have an ethical quandary with factory farming, can't seem to manage being vegan while also being healthy.

Not that you'll ever acknowledge scientific facts. It's just like talking to people who believe in God. You can't acknowledge that your position is untenable, because then how else would you maintain that sense of moral superiority?
Reply

Sounds like you have poor knowledge in nutrition. That's ok, you can't know anything. So allow me to explain.


B12

B12 is a vitamin which people associate with animal products. The fact is that bacteria produce B12. As such, it becomes a simple question of - are you going to get B12 from the bacteria in isolation, or are you going to exploit and kill billions of animals just to get B12 from the bacteria within their bodies? In addition, a B12 supplement is injected into livestock to keep their levels up due to top soil being too intensively used and lacking in certain nutrients. So the choice becomes even more absurd - either take a B12 supplement, or give an animal a B12 supplement then kill them. Why take the second option? I already covered this subject here, by the way: #204: B12 (3)


Calcium

You can get calcium on a plant-based diet, it is in no way exclusive to animal products. Indeed, there are cultures who never had cow's milk, and there isn't a wave of osteoporosis. To take cow's milk requires domestication of animals, and so by definition can only have been achieved relatively recently in human history - prior to that, did we all have osteoporosis? Milk is for infants, it is consumed by mammals during infancy, then there is a weaning process, and in adulthood mammals do not require milk, especially not of another species. If we really needed milk, don't you think we'd keep on drinking it from our mothers? If that sounds weird, then consider that you're just drinking from someone else's mother when you drink cow's milk - and not even of your own species. Examples of plants rich in calcium are: broccoli, bok choy, almonds, pumpkin seeds, okra, collards, turnip greens, prickly pear, avocado, celery, kohlrabi, leeks, brazil nuts, artichokes, green beans coconut meat, onions, gooseberry, fennel, dandelion greens, swiss chard, spinach, kale, butternut squash, brussel sprouts, mulberry, cabbage, sapote, sesame seeds, asparagus etc.


Iron
Like calcium, iron is a metal, and has nothing whatsoever to do with animals or the stuff that comes out of them. There is no link at all between veganism and anaemia (iron deficiency) and vegans and vegetarians tend to get their RDA for iron without even thinking about it. Remember this rhyme for iron: nuts, beans and dark leafy greens. Vegans generally have a far better intake of vitamin C than meat eaters (who are, on average, deficient in vitamin C), which aids iron absorption. The type of iron found in meat is heme iron, which is the type of iron your body cannot regulate properly, and forces its way into the bloodstream. This, in turn, encourages production of free radicals, which can damage DNA and increase cancer risk. So it is safer as humans that we consume plant-based sources of iron (non-heme iron). Plantbased foods rich in iron are soybeans, lentils, tofy, chickpeas, tempeh, lima beans, collard greens, swiss chard, potato, tomato sauce, watermelon, dried apricots, cashews, pine nuts, pistachios, chia seeds, sesame seeds, blackstrap molasses, prune juice, quinoa, oatmeal, fortified cereals etc.


Omega-3
Just as the dairy industry has managed to get everybody to associate calcium with their product, so too have the fish and fish oil industries managed to get everybody to associate omega-3 with theirs. Contrary to popular belief, fish is not a 'health food'—riddled with mercury, dioxins, and PCBs, it is highly advisable that you consume plant-based sources of omega-3 to maintain a healthy heart, brain, and body. Good vegan sources of omega-3 include: flaxseeds (aka linseeds), hemp seeds, edamame, wild rice, canola oil, walnuts, black beans and kidney beans.

It's just like talking to people who believe in God.

#653: Veganism is like a religion <--- Just gonna leave this one here.

Note that your arguments are all based on dogmatic beliefs and industry propaganda while mine are based on hundreds of scientific evidence, peer-reviewed studies and papers. I mean, by your logic I would not be talking to you right now because I would have died 10 years ago or so of deficiencies. But my blood test results show no deficiences at all. And the same applies to my vegan friends and family members who have never eaten meat in their life ever. While most of my non-vegan friends and family members are deficient in iron, B12 and lots of other things. Explain that. We are all raised in ignorance by blindly following industry propaganda, but we need to wake up. Animal agriculture is killing the planet and trillions of its beings on a yearly basis. And if a choice has victims, people are going to speak up for the victims. Sorry, that's just how it is. I hope you understand that.
Reply

I don't care to spend time examining your cherry-picked studies or dubious anecdotes. Like I said, I know it wouldn't change your mind. I know that people who actually care about animals have looked at this and found veganism to be unworkable, at least for them. And I don't even extend ethical consideration to animals in the first place.
Reply

cherry-picked studies or dubious anecdotes.

That's a bit ironic, coming from someone who bases their info soley on cherry-picked
dubious
industry propaganda
, while I base all of my information on peer-reviewed studies and solid research.
I know it wouldn't change your mind.

We're talking about
facts
here, not opinions. If you want to convince me that blue is actually yellow, not blue, you need to provide peer-reviewed evidence of this. As I said, I haven't eaten meat in 10 years and many of my friends and family members have never eaten meat ever, and none of us are deficient in the things you say we are. Care to explain?
I know that people who actually care about animals have looked at this and found veganism to be unworkable, at least for them.

Veganism is not a diet. It's an ethical stance. Someone who finds not killing animals "unworkable" is no more of an animal lover than someone who finds not killing children "unworkable" is a supporter of children's rights. If you care about a certain group, you argue against their slavery rather than finding excuses to continue enslaving and killing them.
And I don't even extend ethical consideration to animals in the first place.

The perpatrator not having consideration for their victims doesn't justify them violating their victims. You can use that poor argument for every form of violence and oppression in the world.
Reply

there is a difference tho
pigs dont poop where they eat
meanwhile dogs eat their own poop sometimes =I

Reply

True. But from a moral perspective, there is no difference. The only difference is our perception.
Reply

Well humans have spent years and years selectively breeding dogs to love us and besides most form bonds with their dog so they value them more than a pig that they don't know and pigs were selectively breed to be food.
Reply

That is just because humans have chosen for it to be that way, it isn't the fault of other animals. You could make a companionship with any animal if you chose, there's no reason to be killing them just because you chose not to make a friend of them.
Reply

I never said it was the fault of the other animals since humans are animals and besides if you were starving you wouldn't want to kill your pet dog because you have bonded with them however if you saw a wild do that you didn't know and it didn't have a collar then it would be best to kill them for survival
Reply

People who are starving (like in wars) even often eat other people to survive. That doesn't justify killing people when you're not starving to death.
If you are in a situation where you will starve to death unless you consume animals or people, then that's your only option. Thankfully you're not in that situation and so it has nothing to do with anything.
Reply

Yes however this whole no difference this is a horrible over generalization to me we are all animals so yes there is no difference besides how we feel but to most other people that eat met there is a huge difference between a dog and a pig
Reply

Which is the belief I am trying to challenge. Dogs and pigs are both sentient beings who want to live. So how is enslaving and killing one wrong, but doing it to the other fine? Most people never even think about this, but from a moral perspective, there is no difference. Because it's senseless violence.
Reply

Senseless violence also includes wars, genocide, and massacres and remember that we enslaved our own kind at one point and if anything the whole enslaving thing is exsatrating sure some animals are used for work but most are just raised until adulthood and then killed for food.
Reply

So what you're saying is... I should eat the dog too?
Reply