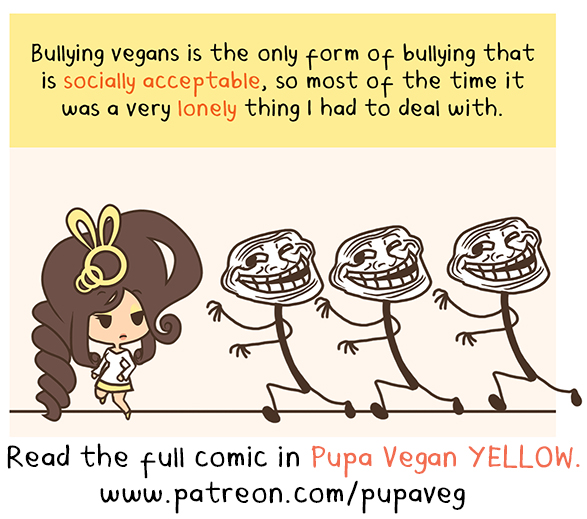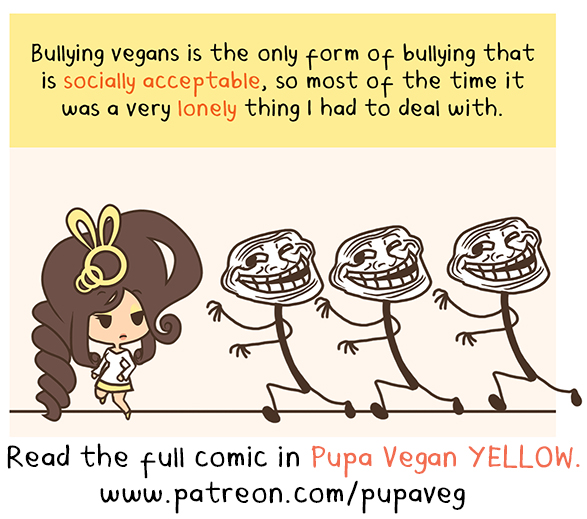 To get the book full of yellow vegan comics, go to my Patreon page:
www.patreon.com/pupaveg
and select the
Kiwi pack
or higher. Examples of the yellow pages can be found in my Facebook gallery.
100% of the money of these books will be used to maintain my animal sanctuary:
www.pupassanctuary.com/
which is a place where abandoned/abused animals can live out their lives in peace.

Art
The book is also full of short yellow-toned vegan comics. Examples of the pages can be found in my gallery.

Oh no... go away, wacky - faced people! Maybe if you gave them free CD - ROM copies of Bookworm Adventures Deluxe they'd finally leave you (and me/all other vegans) alone!
Reply

I mean it's not the only "acceptable" form of bullying but I get what you are saying. Though I do have one question, I understand the whole not eating meat thing but what about milk and cheese stuff like that? What's wrong with eating that?
Reply

If you're too lazy to read: www.youtube.com/watch?v=UcN7SG… (5 mins)
If you're not too lazy to read:

It doesn't harm animals to take their milk

In the dairy industry, only females are required because males don't produce milk. Like all mammals, cattle produce milk to feed their young once they give birth. It is a misconception that cows just produce milk non-stop, they do so only once impregnated. As such, when a male is born, he will be slaughtered. Either he is culled immediately, or he is sold into the veal industry and then killed after a few weeks of living in confinement, or he is sold into the beef industry and killed as soon as he reaches a profitable size, which will be about one year old. If the calf is female, typically she will be removed from her mother so that the milk can be stolen, and then she is used in the same manner. Once a mother's milk production is less proftable, she has her throat slit. That generally happens after two milking cycles, when she would be around six years old. The average lifespan of a cow is about twenty years.

But cows need to be milked right?

Like all mammals, cows only produce milk to feed their young. In the dairy industry, the calf is taken away from the mother, and if male, killed. As such, the mother will be producing milk, and in the absence of her child, will "need to be milked". This is no justification for the process of course. If you were to kill a woman's baby boy while she was trying to breast-feed him, you could hardly claim to be doing her a favour by then stealing her milk because it "needed to be done". The whole process doesn't need to be done.


It doesn't harm animals to take their eggs

In the egg industry, only females are required because males don't lay eggs. As such, in the breeding process, the males and females are divided when they hatch, and the males are killed immediately as they serve no purpose. Subsequently, their sisters go on to be kept in captivity until their egg production is no longer profitable to the farmer, at which point they have their throats slit. This is generally at around one or two years old. The average lifespan of a chicken is eight years.
Reply

(I prefer reading)

Oh my god I had no idea...
I now fully understand why people go full vegan because being a vegetarian isn't enough and still lets animals be abused, thank you for the information I will spread the word and share your page everywhere I can. I want to change the world and I think people like you are the start of actually being able to do that, it starts with you and then spreads. I hope someday maybe there can be a kids show that encourages being vegan you know instead of like every show ever full blown encouraging eating hoards of meat and then it will continue to grow and inspire, get the message out everyway possible.
Reply

You're welcome! Feel free to scroll through my gallery for more information, I have my claims backed up by hundreds of peer-reviewed studies and research, so feel free to look into those, too. Veganism is the fastest growing justice issue of all time. If you want to know more regarding health, the environment or the ethical aspect, feel free to contact me any time and I'll try to help out.
Reply

Thank you! I will continue to learn from your posts and work. I'll reference you for most debates for sure I mean you've shut down so many nonsense argument's lol. I have peeked through some of the comments and what not. Anywho have a good day~ I'm sure this isn't the last you'll educate me I look forward to future discussions.
Reply

Nah, bullying homophobes is also socially acceptable.
But vegans take a pretty hard hit quite often.
Reply

I think you mean homosexuals?
Reply

No, bullying people who don't like homosexuals is socially acceptable.
Reply

But just like non-vegans, homophobes encourage harming others needlessly because of something they cannot choose or change. While bullying is not going to solve it, I do think these people should be called out on it, because their actions are harmful. After all, homosexuality doesn't harm anyone. Homophobia does.
Reply

Homosexuality leads to some harm, just different and less immediately noticable harm. But most homophobes don't care about that and attack people based on the nearest religious text.
But the difference is the world is mostly pro-homo and anti-vegan. Because eating meat and sex with whatever they want are both fun, and they don't like people that tell them otherwise. So, it's socially acceptable to bully homophobes AND vegans. Someone who is both has a sad, sad, life.
Reply

Two consenting people choosing to have sex with each other doesn't harm anyone.
Torturing, sexually violating and killing animals does.

I know homosexuality may seem wrong when you're raised in a homophobic culture. I was raised in one. But then I thought about it and realized that my homosexual female friend didn't hurt anyone by liking other girls. I mean, think about it. Think past your culture.
Reply

Yeah, the animals never consent, and living things are getting hurt.

My culture never said anything about it, it was nonexistent. I think there's nothing wrong with being friends with someone of the same sex, and even having an affectionate relationship. In some cultures, men or women kiss each other to show affection for a friend. That's all fine.
Reply

It may seem odd if you're not used to it, or have grown up in a culture who didn't accept or never talked about it, but the act of homosexuality in itself does not torture and/or kills others in any way. So even though it might not be for me or you, respecting others who do feel good being gay shouldn't be a problem, if that's what makes them happy. People often have the urge to judge things they're not used to, or which are not generally accepted by their culture (I used to be like that long ago: judging gays, people with plastic surgery, sluts etc). But now I think: why? Why attack something that's so harmless? There is so much injustice in the world, and what was I judging? Harmless things like 2 girls getting married, which didn't harm anyone or anything at all? Just because it wasn't "normal"? Why? I'd say we should only fight things that are harmful, like child molestation, rape, murder, racism, and speciesism. Even if someone dresses like a clown, has a weird fetish, or wears diapers as an adult etc... let them. Focus on tackling choices which actually harm others instead.

Reply

and defending yourself is seen as you being the jerk.

I wish reality was a person who had anger management issues, and would smack some sense into everyone doing unfair crap like this.
Reply

Reply