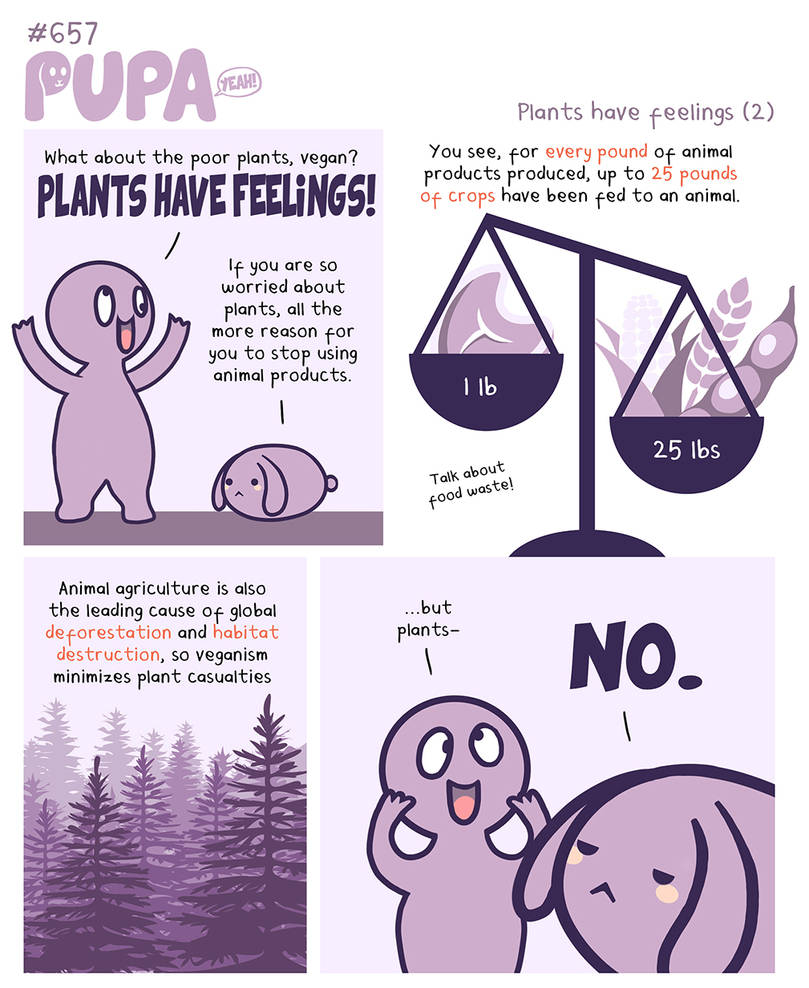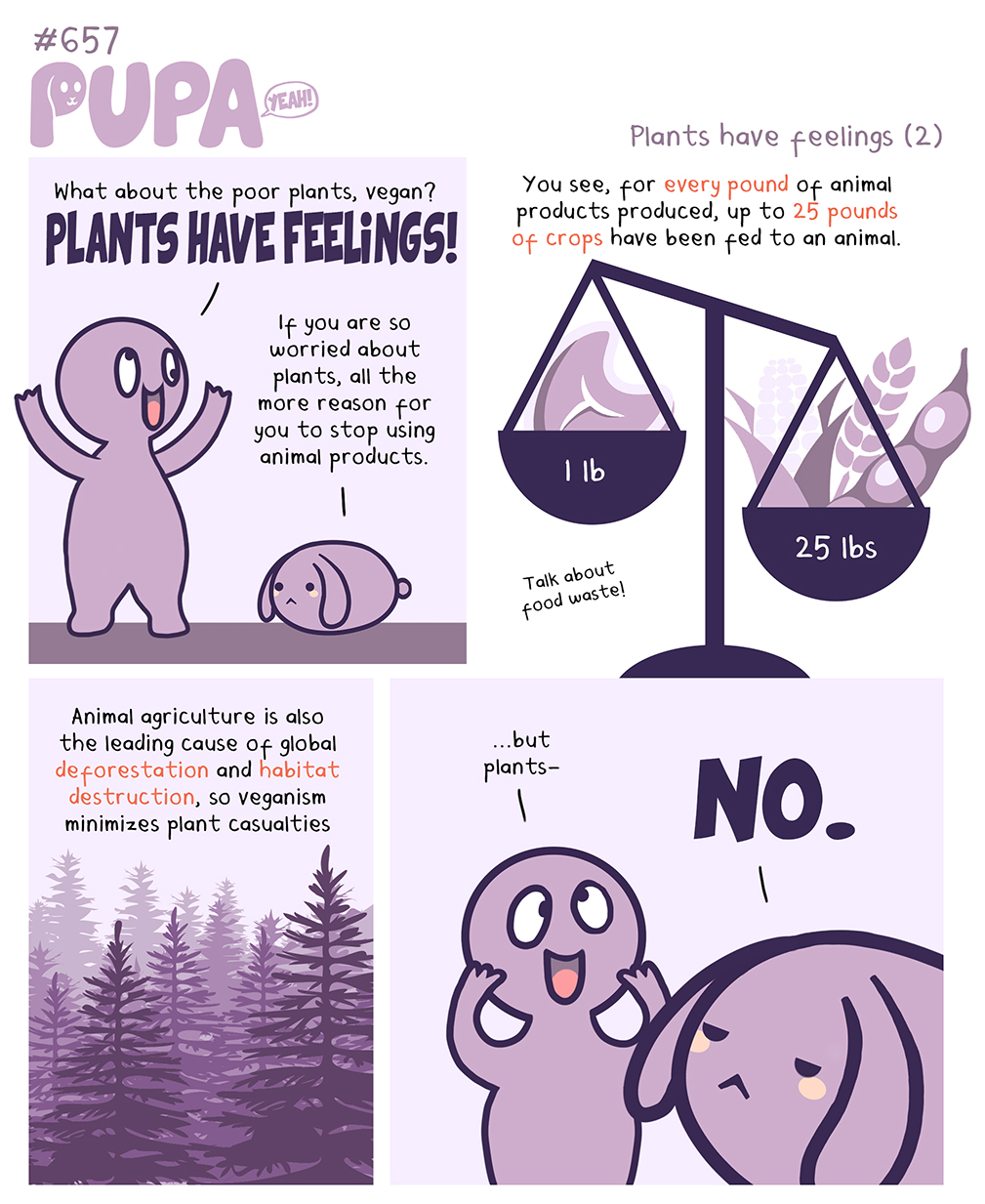 Again, in a long list of things non-vegans only ever say when the conversation is about exploiting animals, we have the plants argument. There is absolutely no conviction in this argument, because the vast majority of people on this planet know that it is absolutely insane to compare cutting a plant to, say, cutting a puppy.
Imagine if we used this logic for human suffering: let's say there was something on the news about a terror attack and hundreds of people being blown to smithereens, and someone in the room said, "What about cabbages? It's the same thing", what would your reaction be to that? Would you, perhaps, think it was maybe a slight trivialisation of human suffering that those victims were compared to cabbages? It's exactly the same principle when it comes to pigs, chickens, cows, etc.
Here's the thing though: if anyone reading this actually does think that 'harming' a plant is comparable to harming an animal, it only makes sense that they go vegan anyway, because it actually requires far fewer plants to feed a vegan than it does a non-vegan, due to the amount of crops used to raise livestock (copious amounts of crops are used to raise the over 50 billion land animals and many of the 90 billion marine animals slaughtered every year). Veganism minimises land use, crop use, and lowers the amount of deforestation (1 acre of rainforest cleared every second worldwide in animal agriculture).
- George Martin


Art
"Plants have feelings"

First of all, if you're really serious about this and no amount of scientific evidence will sway you - then it purely comes down to numbers. If a blade of grass is of the same importance to you as a dog, then it makes no sense to feed up livestock on millions and millions of plants, and then kill the animal to eat. This would result in far more plant casualties, which you'd surely want to avoid as a dedicated plants-rights activist. Better to minimize those plant casualties by just feeding yourself on them, rather than feeding many times more to animals, right?
But let's be sensible - plants lack brains and lack anything else that neuroscientists know to cause sentience. Some studies show plants to have input/output reactions to certain stimulation, but no study suggests sentience or an ability to "feel emotions". You can plainly understand the difference between a blade of grass and a dog. Comparisons between the two are completely absurd.
- Vegan Sidekick

Question though. I saw this on a YouTube comment and haven't had much time to research it. School and things.

If we, as in the whole human race only eat plants, then wouldn't that just leave less food for animals anyway?

Of course, I'm not saying you shouldn't be vegan as a person, I'm just asking.
Reply

The majority of crops produced worldwide are used as cattle feed. And feeding over 50 billion animals on crops will always require more crops than if we'd feed 7.5 billion humans on crops. We could feed the world 14 times over, all starving people included, if we stopped wasting crops on farm animals. And by not breeding them in such high numbers for the meat industry, we wouldn't have to produce so many crops unnessecarily and could return the absurd amount of land required for this to nature instead. Hope this answers your question.
Reply

What you don't seem to understand is that when people say stuff like this, they are MOCKING YOU. This is how vegans sound to meat eaters. Nobody actually believes that plants have feelings.
Reply

No serious person would use it as a serious argument, and most of the people who use it indeed don't. But creepily enough there are still many out there who use it as an excuse to justify animal cruelty; I've even met people who tried to justify puppy mills and the murder of gay people with it. People like that aren't joking, they're just seeking a desperate excuse for their oppressive behaviour.
Reply

If you know that it's not a serious argument, then why have you made so many comic deconstructing it? That is the definition of a pointless exercise. Granted, most people who argue with you will never be convinced no matter what you say, but don't you think your time would be better spent on just about anything else?
Reply

I didn't say that no one uses it as a serious argument: like all other vegans, I hear it all the time (just check the comments on my DA submissions for example). It's just a pathetic excuse to justify animal cruelty, and it's easily debunked. With my "plants tho" comics, I'd like people to consider to think before pulling such a mindless argument.
Many people are indeed selfish, and you are right about that my message might fall to deaf ears to such closed-minded people. But not all people are apathetic. An increasing number of people is starting to realize that the planet can't handle the way we currently eat, and that killing other sentient beings for our greed is wrong. And those are the people I'm trying to reach.

After all: no form of oppression ever ended by people being silent about it.
Reply

Considering Piranha Plant is going to be released as a DLC in Smash Bros Ultimate just makes this ten times funnier.
#plantgang
Reply

their stupidity is giving me an aneurysm
Reply

You have ignorance and you have stupidity. Those who use "plants tho" are guilty of the latter.
Reply

Every time someone uses this argument, I have the urge to hit myself against the wall...why do people use the stupidest arguments to justify animal cruelty?
Reply

IKR? I understand when people are joking, but it surprizes me how many people use it as a serious argument. It's honestly quite pathetic and desperate.
Reply