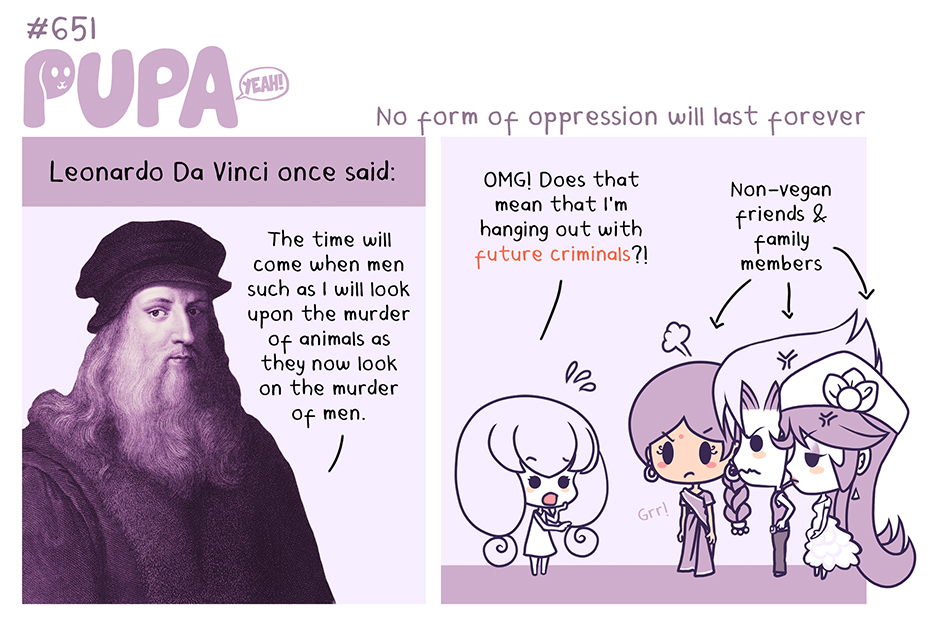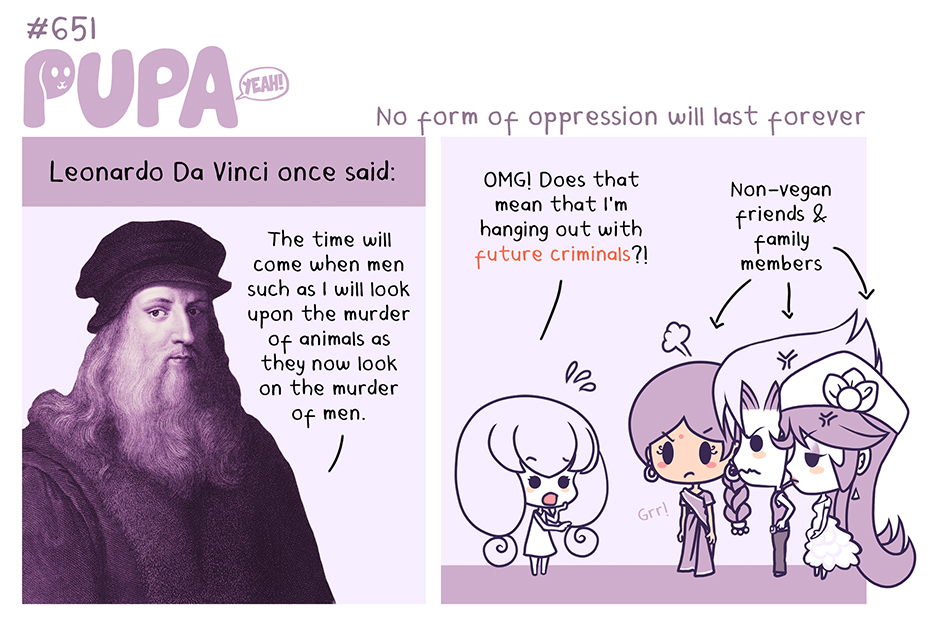 Well, in those three girls defense, their friend is being rather judgmental.
Reply

Vegans judge the majority of life on earth as precious. Meanwhile, it is non-vegans who tend to judge all other species as being not worthy of having even basic rights, e.g. the right to be free from harm and exploitation.
Reply

My point is talking down to someone who doesn't have the same ideals as you isn't going to make them side with you.
Reply

The Pupa vegan comics exist to make people laugh and reconsider their position. Some people will not find it funny, some people won't connect at all. There is no form of outreach which is 100% effective - if there was, then that's what everyone would be doing. I know that the comics do have an impact, because I keep getting people writing to me to say they've gone vegan after really thinking about it since seeing the comics. I make them this way so they're accessible and simple.

But more importantly - if you aren't vegan and you're trying to tell me how best to get the message across - then just tell me what to say to you, and I'll say it back, and then you'll go vegan right?

Reply

I might be one to talk as I like to satirize an opposing party
to give them a hard time, but the best way to get people to
listen is often paired with understanding of the others point
of view and treating them as equals. You wouldn't want to
hear people say they're sticking to meat just because you
made a mistake and they want to spite you, right? It's a
matter of welcoming them to the subject like welcoming a
newcomer to a club.
Reply

The fact that this comic is an exception and almost all of my other comics are educational and thought-provoking: are you implying that "vegans are mean" is a justification to harm animals? If one used the same logic (e.g: "people against dog fighting are mean!") as a justification to keep breeding dogs for dog fights, who is to blame for the cruelty? The people against dog fighting? Or the dog abuser?
Reply

Not really. What I'm saying is that the "Meateaters are stupid" mentality
would get you nowhere. It can be likely that there are those who don't
know any better and should be treated as such.
Reply

When did I call meat eaters stupid? Did you even look at my works in my gallery? Maybe you didn't, but if you'd take a look at my gallery, you see pretty much all comics focus on tackling cultural indoctrination and common myths and misconceptions. I am aware of the fact that most meat eaters are ignorant. I used to be one of them, you see. I know how the industries brainwash people, and make them believe the most absurd things. I used to be a farmer, I used to brainwash people, too, in order to sell my products. Today I do the opposite by debunking industry propaganda and encouraging people to think about the impact of their choices. Being a sitire comic, #651 is an exception (as the artist description states). Most of my other works are educational and thought-provoking. Examples: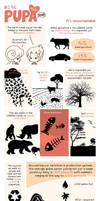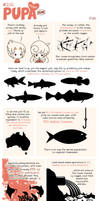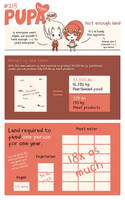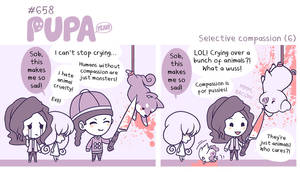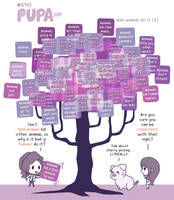 I dunno, maybe you just hadn't seen my gallery. But encouraging people to think about their currently held views is what my comics are entirely focused on.
Reply
(1 Reply)

Reply