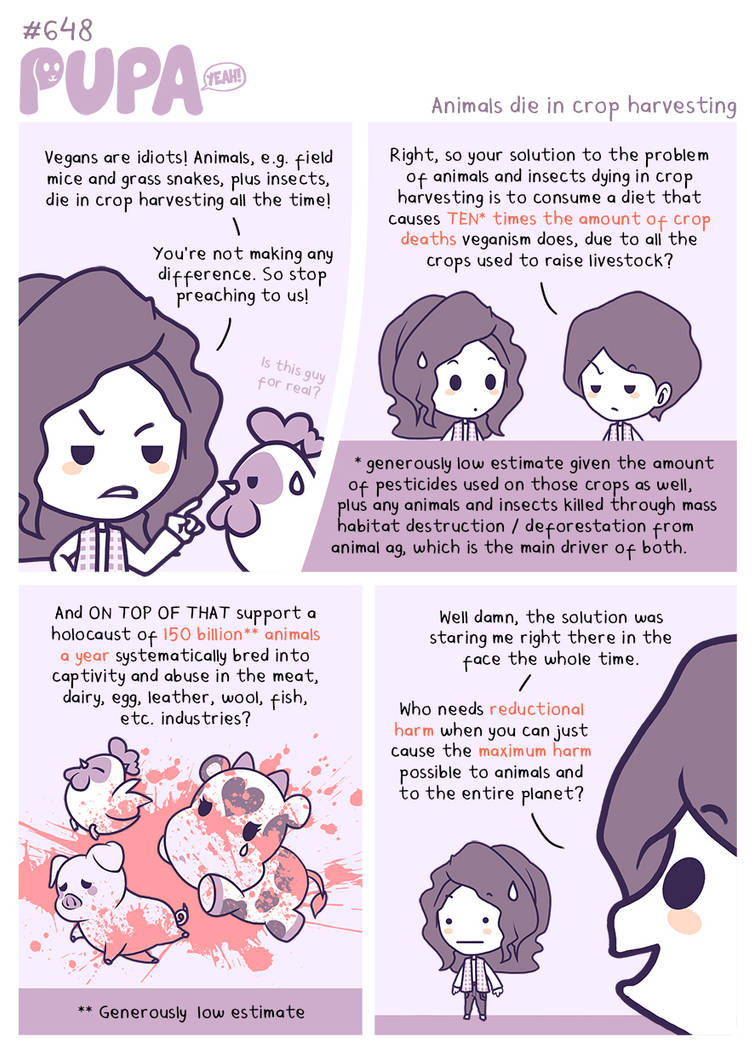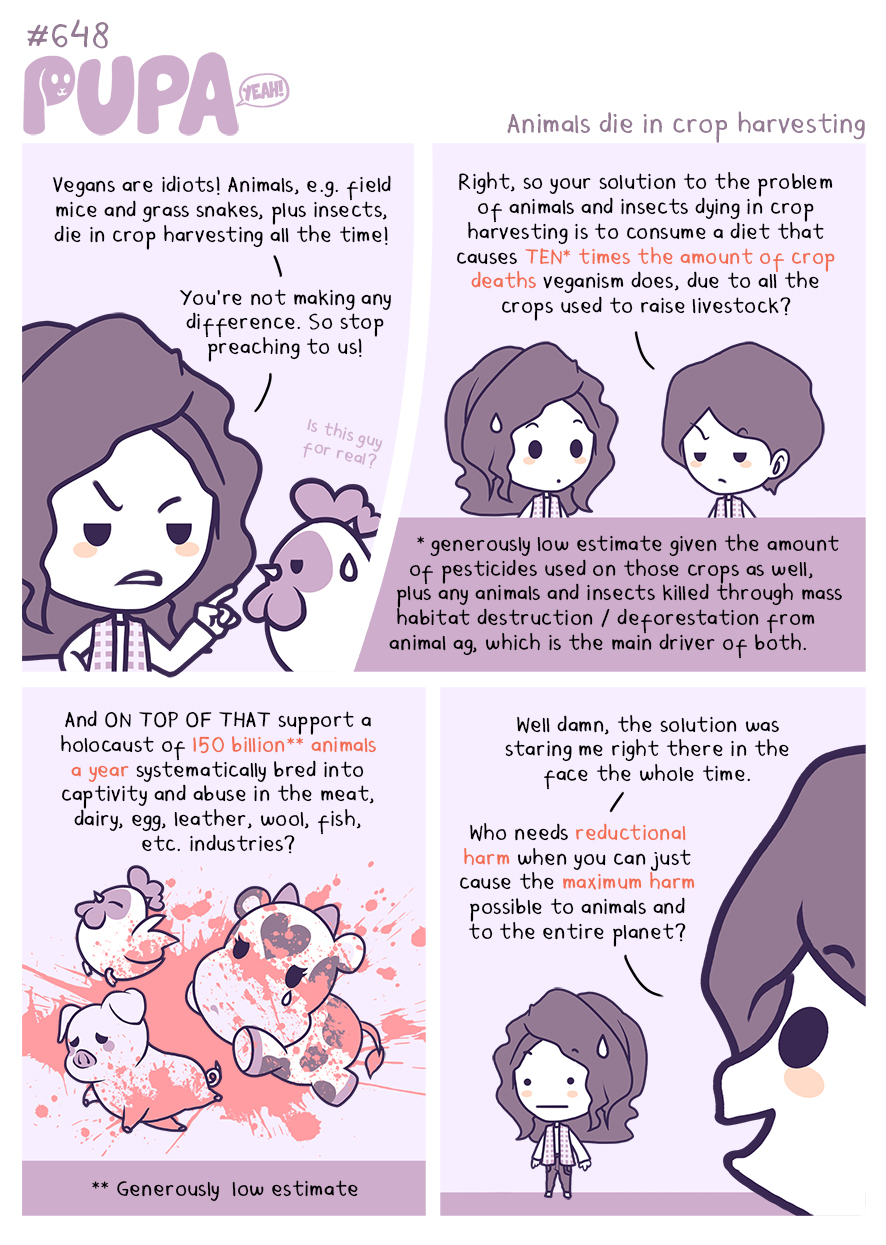 Perfect solution fallacy!


"Animals are killed in crop harvesting so vegans kill more animals"

To feed animals to the age of slaughter, it requires many times more plants to be harvested than if we just ate plants ourselves. You might argue that we could instead just eat exclusively grass-fed animals who do not require grain, but this is entirely impractical. Firstly, most "grass-fed" animals are not fed 100% grass anyway, and secondly, it's not sustainable at all to try to feed 7 billion people exclusively on grass-fed beef. There isn't the space available for such a thing, and good luck living exclusively off beef and nothing else.
Whilst there will be casualties in crop harvesting, and whilst vegans would prefer it not the be the case - it is the
least harmful
thing most people can do. Obviously, it would be even less harmful to grow your own crops on your own property and pick them by hand, without spraying, and without using machinery which can run down animals. But most people don't have the space available to do that to feed themselves at all, let alone all year round every year. So out of all practical options available, it is least harmful - and hopefully in future, as people start to have more respect for animals and more accountability for how we treat them, more advances will be made in crop harvesting in ways that minimize casualties.

Art
"ANIMALS DIE IN CROP HARVESTING!"

Vegans absolutely have a responsibility to acknowledge that their consumerism causes harm. But the practical solution to the problem of animals dying in crop harvesting is not to consume a diet that requires around 10 times more crops (due to the crops used to raised livestock) and maximises land usage and then on top of that support the largest act of systematic oppression and violence in the history of this planet (2 billion animals murdered every single week) via the meat, dairy, egg, leather, wool, and fish industries. No vegans are claiming to be perfect (or at least, any that are, are delusional).
What veganism is very good at, though, is massively, massively minimising one's impact on animals and on the environment.
- George Martin

First book:
www.pupaveg.com/Pupa-Vegan-RED…

My other products:
www.pupaveg.com/All-products

Patreon:
www.patreon.com/pupaveg
For this project, too, 100% of the profit will go to the animals in my animal sanctuary:
www.pupassanctuary.com/

when you become vegan you realize you are surrounded by people in denial of the truth
Reply

And a lot of higher tech farms have auto harvesters that are designed to warn and scare away animals.
Reply

I hope they keep improving. I've seen planes spread chemicals over crops (they were meant for cattle, but it also happens to some crops meant for humans). They need to get rid of that bullshit.
Reply

Totally. And I don't want to eat a cow that's eaten weird stuff!
Reply

They even feed farm animals candies from factory which are too ugly to be sold. They receive a lot of crap.
Reply