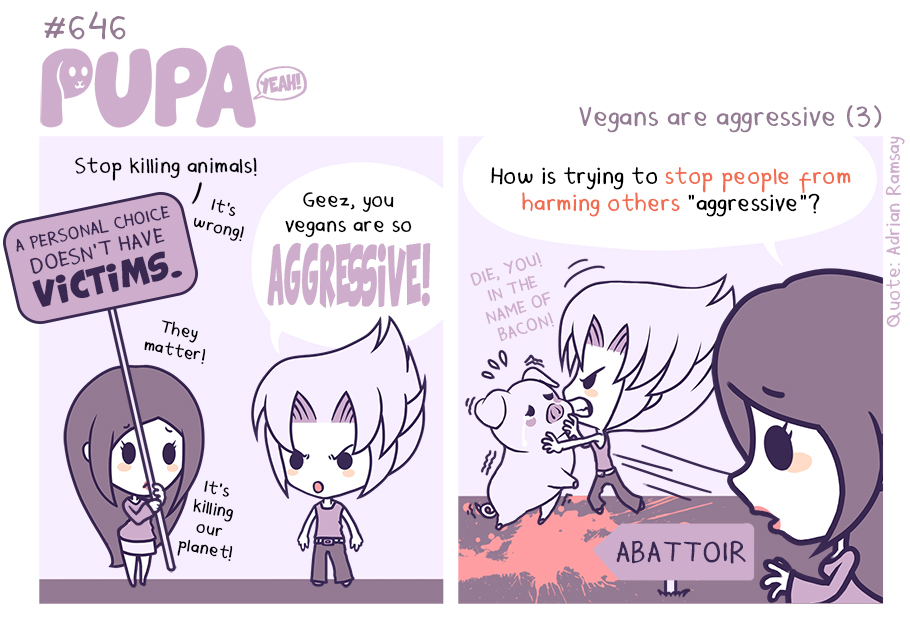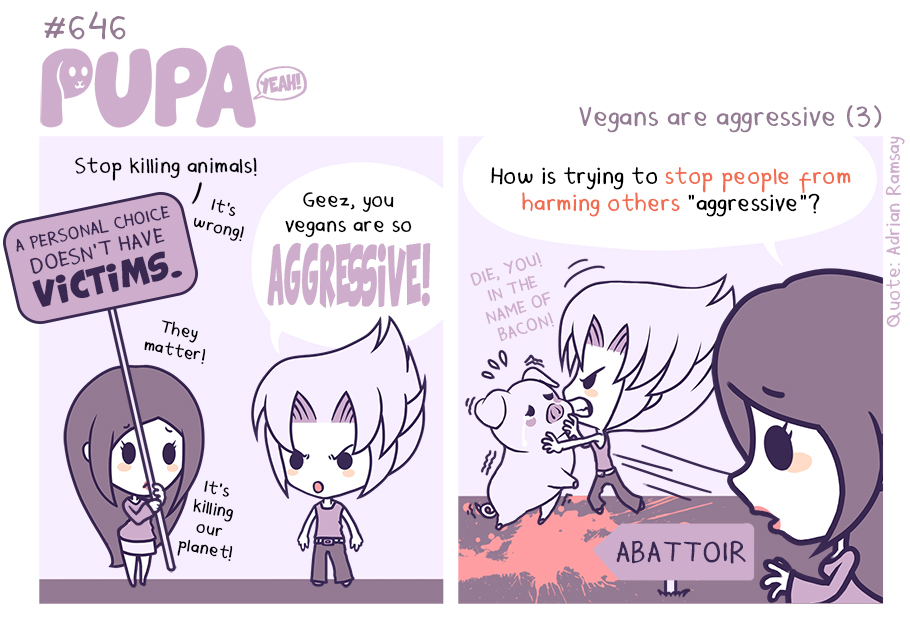 If telling people to stop harming others is "aggressive"...
Then what does that make harming others?
The most "rude" vegan is less violent than the most "peaceful" non-vegan.

Art
Food for thought.

First book:
www.pupaveg.com/Pupa-Vegan-RED…

My other products:
www.pupaveg.com/All-products

Patreon:
www.patreon.com/pupaveg
For this project, too, 100% of the profit will go to the animals in my animal sanctuary:
www.pupassanctuary.com/

"in the name of bacon" that's so something they'd say!
Reply

It's something they actually mean, too. They literally kill for taste pleasure. It's quite sad.
Reply

yeah and they strongly believe we're still part of the food chain too
Reply

Well we are called super predators for a reason.
Reply

are we? wooow I didn't know

are we gonna fight vs aliens?
Reply

George Martin has a good reply to that one:
"You'll have to point me to where the 'circle of life' is in all these slaughterhouse videos, because all I see is torture, abuse, pain, suffering, and misery, for the sole purpose of someone enjoying a 5-minute snack for their own personal pleasure. What non-vegans call the 'circle of life' is actually a bastardised version of the symbiotic workings of the ecosystem and how it provides fruit for us, as described here by Paul Bashir. And isn't it yet again convenient how the people who use the 'circle of life' excuse, just like 'the food chain', seem to want to exempt themselves and their own species from the very rules of this system they allegedly abide by, as perfectly articulated by Gary Yourofsky in his video 'Circle of Life Hypocrites'."
Reply

Reply