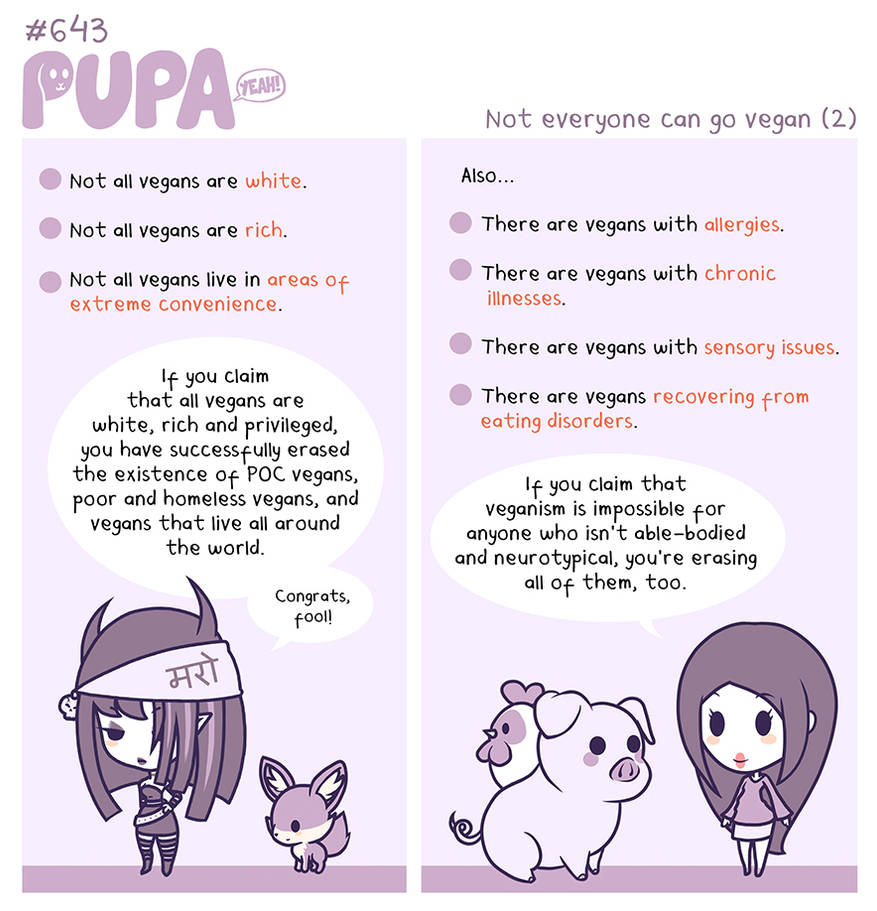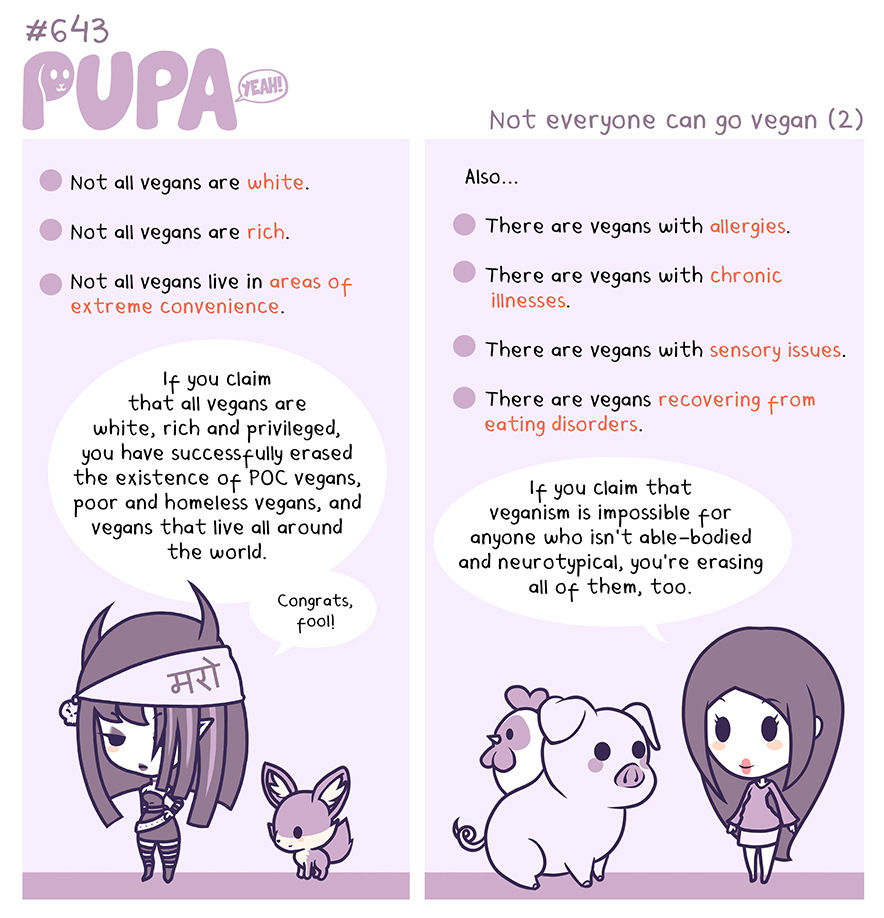 Educating people about the lifestyle is the key.

I decide to go vegan because an artist I admired openly advocated veganism. That's what got me curious about the lifestyle in the first place.

Never was much fan of meat in the first place, so I don't miss it. XD

Reply

last time I ordered at the indian retaurent, the guy asked us if we never ate meat, we said we don't
and then he said that a real indian shouldn't eat meat either
Reply

That's what my dad always says, too.
"A true Hindu does not eat meat!"
Ironically he still eats it himself.
Reply

Yup, a lot of people in poorer countries only eat meat once or twice a year, for special occasions, and they do hard farmwork all day.
So, MOST vegans aren't white privileged teenage girls.
Reply

Yeah. My family is from a poor country, and they grew up very poor, said that meat was a luxury more than anything. Something they got to have a bite of every once in a while. My dad even admitted to stealing a chicken from the neighbours back then, because his family couldn't afford to buy meat.
Reply

Wow. That sounds really hard, your dad was even willing to steal? Wow... that's sad.
Meat is a luxury in some places, and the opposite of others.

I came from a place where there was nothing to eat but farmed potatoes and wheat (most of which got eaten by everything but the people who planted it) suspicious mushrooms and berries, and occasionally wolf BBQ and jerky depending on how many tried to eat us that week.

Back then I'd kill for a big box of juicy, farm grown summer fruit and vegetables.

But I thought meat was OK to eat because animals were smart and dangerous and tried to eat me... so eating them back just seemed like how things were supposed to be... until I came to the mainland where everyone only ate peaceful herbivores and mass produced them in horrible conditions just for eating. A few bites of a farm raised steak, I vowed to never hurt an innocent, harmless animal for food again. Animals and nature should not be contained and enslaved or farmed to do the bidding of Humans for selfish gain.
Reply

Arent most vegans Asian/indian anyway? Not in our countries, but because of religious views in places like in India

Or accidental vegans who can only afford rice and vegetables
Reply

Yeah, Indian, Rastafian etc. And indeed, people who can't afford luxury products like meat and dairy, who often live in 3rd world countries.
Reply