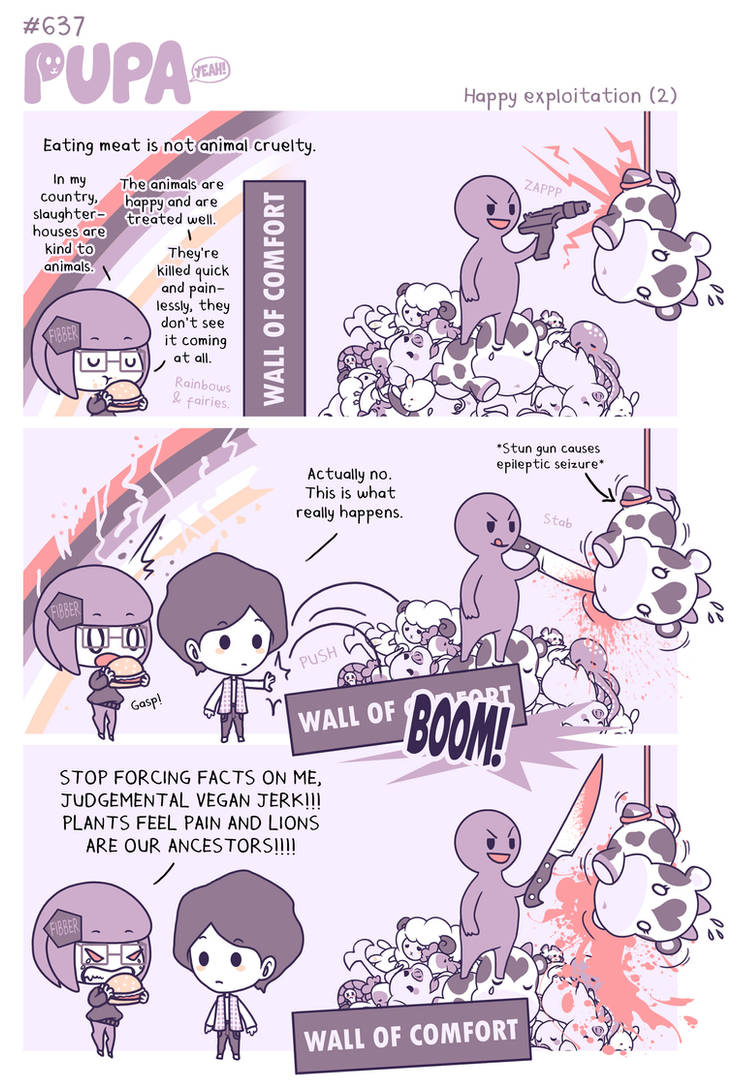 Humane slaughter

The standard legal form of slaughter for animals is for them to be "stunned" and then have their throats slit. For chickens and pigs, the stunning is generally done with an electric shock, and for other animals a pneumatic bolt pistol projects a metal rod into their forehead. It is claimed that this renders the animal 100% unconscious, but if you actually look into the facts, slaughterhouse workers will admit that there is no way to verify that this is the case for every single animal, and indeed the process doesn't always work, isn't followed routinely, and indeed, the "stun" can wear off while the animal is being killed.
But regardless of the fashion of execution, there isn't a justification for taking the life. It is still taking the life of a sentient being, for your
enjoyment
ultimately. If somebody killed your companion animal, I doubt you'd say "that's fine because you did it humanely" as described above.
- Vegan Sidekick
"HUMANE SLAUGHTER"
The words 'humane' and 'slaughter' put together, are what is known in the English language as an oxymoron, i.e. 2 words that contradict each other when put together. To use the term 'humane slaughter' is as nonsensical as to say 'humane rape', 'humane slavery', or 'humane holocaust'—regarding the latter point, some synonyms for 'slaughter' in the dictionary are 'bloodbath', 'massacre', and 'holocaust'... given that it does not make sense to use the term humane for any of those 3 words, neither can it make sense to say it for the word those synonyms derive from.
Ask yourself this question: is there a nice way to kill someone who doesn't want to die?
Given that animals want to live, and value their lives as we value ours, there is no nice way to kill them.
In any case, anyone looking at the methods we use to kill farmed animals can see for themselves that it's not 'humane'. Whether the animal is stunned with a bolt gun or prongs, or whether it's by gas chamber, or whether they are killed via the Halal/Schechita method, these are not exactly methods we would use to euthanise even someone who did want to die.

There are QUICKER ways to kill a cow: A shot to the head from an actual gun, like a pistol, or a hand-gun. Decapitation works, too. the cattle will drop dead in seconds (usually), and that thrashing, that's just the nerve-reaction flaring up. Happens every time a deer or a feral pig is shot in the head.
Reply

Or just not kill them and eat something else?
Reply

And at this point, I can totally see they call Brazen Bull humane.
Though why didn't they just shot it instead of stun it or stab it? That seems unnecessary, as pretty much shooting it will quickly ends its life.
Reply

This is why I strongly dislike factory farming. I'm ok with hunting though, as long as it's done legally and isn't just for sport.
Reply

Why is killing domesticated animals wrong, but killing wild animals fine? Aren't they all sentient beings who want to live?
Reply

I'm really not sure. Maybe it's because domestic dogs and cats are seen as companions not food. But one thing I do know is that animals die all the time in the wild. Do the lions live on grass? Do the wolves live on fruit? No.
And humans evolved as omnivores. Without meat, or brains would not have evolved as large and we would not be as intelligent.
I'm not saying this doesn't mean we could live without meat. As a matter of fact, the world would improve if only people didn't eat as much meat and get fat, but humans still need meat.
Reply

Practically any animal could be your companion if you gave them the chance. People keep pigs as companions, and form bonds with them as strong as you can with a dog.
Wild animals kill to survive. They must kill to eat, otherwise they would die. Whether they kill on instinct or are aware of their predicament is irrelevant, we are not in their situation. If you live in modern society and have access to crops, vegetables, fruit, grains etc, then you have no obligation or need for animal products. Also, lions exhibit all kinds of behaviour that you would seek to avoid, for instance, violent territorial disputes, and male lions will kill the cubs of a female he wishes to mate with because she won't mate while she has cubs around. Lions are not good ethical role models.
The human brain theory has been debunked over a decade ago. Starch is what made our brains grow to this size. The brain works on glucose after all, not on fat and cholesterol. You say that humans need meat. This is false as proven by all the hundreds of millions of vegans in the world, myself included. It's actually unhealthy for us.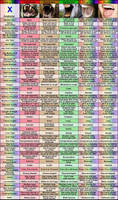 Reply

Reply

Honestly, halfway accurate.
Good counter meme.
Reply

Reply

Yeet, no problem.

Was expecting to be blocked by now :c

Reply

I don't block people, unless they troll my page all over or something or harass my followers.
Reply

Oh dang, honestly that is surprising.

Not to sound rude or generalising too much, but when I give such purposefully-exploiting

responses on topics such as that or something stamp-related (gender sjw topics/religion)
people abuse thy block the moment they have any kind of tingle in their stomach due to a
joke... That or they block mid-argument.Spamming one's page or individually going after
and harassing each and every follower is way too time consuming, could do something

productive for that much time and hatred ;D

Reply

Lions? Did someone actually use that against you? I mean, its prablobly true, but I've never heard that..
Reply

Reply

While on the subject on weird things people said to you...you were called a natzi? Was it a racial thing, or because you're a vegan?
Reply

Some people call vegans "Nazis" for "forcing their choice on others". But they don't seem to realize that vegans do the exact opposite, by telling them to stop forcing their choice on animals.
Reply

Well, I'm happy you learned from your mistake. It makes us better people when we can do so.
Reply

And the hard underpaid labor migrant workers have to do for you to. get your vegetables, even having to work in horrid conditions and are not allowed sick days is less cruel because...?
working-class-worm.tumblr.com/…
Veganism isn't cruelty free, it's humans that suffer for you instead.
Reply

Actually more crops are produced to feed cattle, and these poor quality crops are always produced by slave labour, to make them as cheap as possible. Feeding over 50 billion animals on these crops will require additional land, additional resources and a huge amount of slave labour compared to feeding just 7.5 billion people on plants. And then I haven't even mentioned the horrible conditions in which slaughterhouse workers (most of them being exploited refugees) are forced to work. So if you're truly concerned about the exploitation of humans for crops (and not just pretending to for the sake of argument), it makes no sense for you to eat meat that requires the majority of crops produced. Veganism minimizes slave labour.

That being said, no one ever said that we shouldn't speak out against slave labour. I promote fairtrade production all the time.
Reply

Reply

As I said, if you are concerned about crop farming, all the more reason for you to stop supporting the meat industry, as the majority of slave labour produced crops are used as cattle feed, and veganism minimizes this. For every pound of meat produced, up to 25 pounds of crops have been fed to an animal.
Reply

"Veganism minimizes slave labor" you realize if everyone in the world became vegan then they'd continue to produce just as much crops to feed the population if not more. It just would be used for a different purpose. I reiterate: veganism isn't cruelty free. It's just humans who experience the cruelty.
Reply

You are not thinking about what you are saying. Over
50 billion
animals are raised for slaughter each year. In order to feed them, it takes far more land, water and crops to feed them than it does to just feed us
7 billion
humans on plants. The number of animals being farmed is unsustainable in fact, causing all kinds of pollution as a result of their manure and the greenhouse gases released, which is more harmful than all traffic pollution combined. Disagree with me? Please feel free to research it, but it's by definition going to require additional farming, space, resources, water...
Veganism isn't about dogmatically and irrationally saying "I am perfect, I harm nothing". It is about recognising the harm that is being done by our society, and trying to make a change, avoid being part of it - as far as we can.
Reply

Obviously you don't recognize the harm being done by our society to realize farming crops harms the environment more than farming cattle.

Do those 50billion cattle live to be at least 70 years old? Do those 50billion cattle eat as much as humans need to? Cattle get fed feed, and yes some of that is from crops (which by the way, are mostly only corn because we have so much corn we don't know what to do with it. Notice the articles I sent you weren't about corn. One was specifically about watermelons, you tell me people feed cows watermelons?)

The only crops that get fed to cattle are corn, the corn problem in America isn't reliant on cattle.

Veganism destroys our environment because to produce as many plant food to, hypothetically, feed the population. We'd have to overfarm land, which is already happening! Land is overfarmed to produce the vegetables we eat, not just to feed cattle. And not just food, cotton too is picked by slave labor for overfarming. Land is DESTROYED by overfarming to produce crops.

What happens when people eat meat? An animal dies. That's it,
Reply

What part of "feeding over 50 billion animals takes more resources than feeding 7.5 billion humans" don't you understand?
I've been a cattle rancher.
I know how much animals eat.
For every pound of meat produced, up to 25 pounds of crops have been fed to an animal.
These animals are being bred again and again and again, so I'm not sure why you make it sound as if we suddenly stop feeding crops to animals as soon as they're slaughtered, because their sons/daughters just take their place in the feeding line. Most crops that are produced are corn, wheat and soy, meant as cattle feed.
It is ignorant to claim that feeding 50 billion animals is more efficient than feeding just 7.5 billion people on plants. Maybe you just didn't know, but I have 3 works about food sustainability. All sources are in the artist description, in case you want to check them out.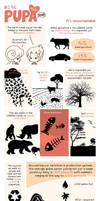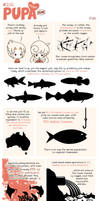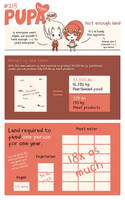 Reply

You have 3 works biased toward your views. Wow super helpful!
Meanwhile I found multiple articles from farmers (plant farmers) saying how concerning veganism is. You also completely ignored my point of how the only crops fed to cattle is corn, and the only reason we feed corn to cattle is because we overproduce it.
www.google.com/amp/s/www.bbc.c…
The issue with the environment isn't that "cows are dying uwu" it's factory farming, which veganism isn't going to help. It just switches what's factory farmed.
Reply
(1 Reply)

I wondered if any of this was true, so I visited a slaughterhouse.
The cows were separated, so they didn't know about the cows ahead of them being killed, so that was nice of them at least.
They were killed by an 8 inch crossbow bolt fired in their head that killed them instantly, they didn't see it coming so they weren't scared.

Except...

About 1 out of 20 cows survive the headshot. Those ones had to continue riding the conveyor belt, bleeding out and dying a slow, painful death, until the call that there was a live one on the rails brought in another gun to end their misery.

That's hundreds every day, surviving a headshot and feeling pain.

So, MAYBE your meat was killed instantly, MAYBE it wasn't. And do you still want to support that industry
Reply

As a former organic cattle rancher, I can tell that "they don't see it coming" is never the case in slaughterhouses, even if you seperate them. Even when I forced animals into the slaughter truck, they resisted, and even released tears of fear on their way there. They aren't stupid. They know what's going to happen to them. They can sense the fear, they can smell the blood, better than we can. This video shows that clearly:
www.youtube.com/watch?v=htUrjO…
even though the animals are seperated before being killed.
But regardless of the fashion of execution, there isn't a justification for taking the life. It is still taking the life of a sentient being, for non-vegans'
enjoyment
ultimately. If somebody killed their companion animal, I doubt they'd say "that's fine because you did it humanely" as described above.
Reply

Yes, they're smart enough to know what's coming to them. The ones I saw were unfamiliar with the scent of death. They seemed suspicious, but continued on with their business as if nothing was too wrong. But I have seen other places where the animals look visibly scared or outright panicking, as you mentioned. They're doing it wrong. Well, technically its all doing it wrong.

Yup, it's still wrong to kill, even if it's a quick painless death its still stopping a living thing that obviously doesn't want to die.
Reply

Lions are our ancestors XD
Reply