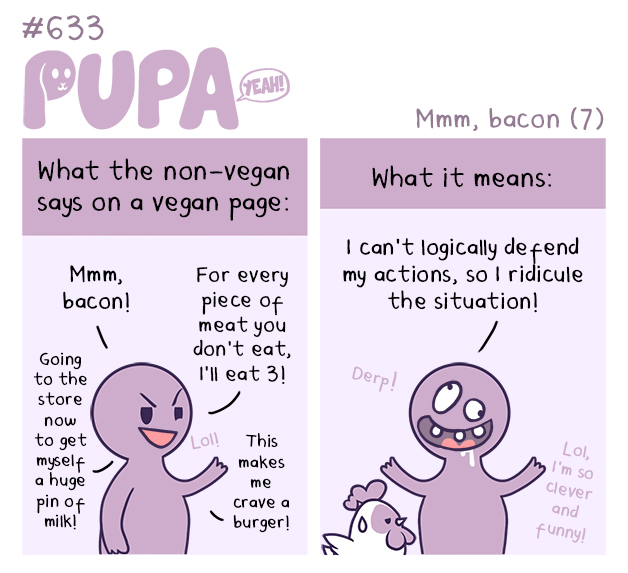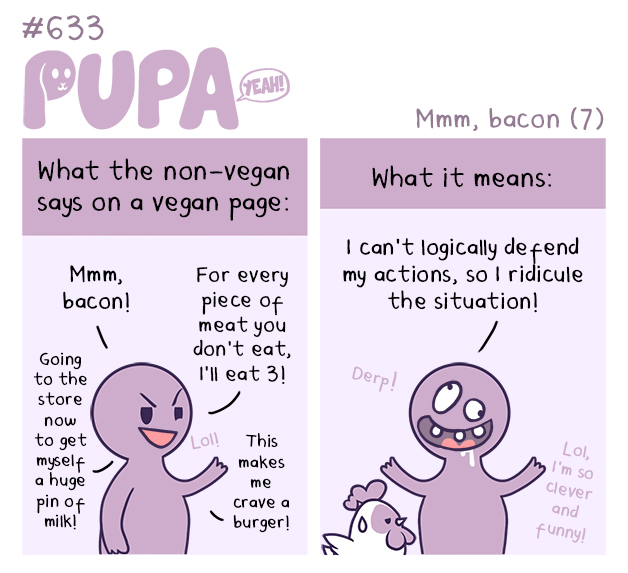 Another one I made:
fav.me/dcs5u2c
How can we morally justify taking someone else's life because we like the way they taste? We cannot justify harming others based on sensory pleasure. Harming someone else for one's own pleasure is morally reprehensible, and any good person knows that.

Art

i have literally never in my life seen or heard anybody say something like that without the vegan first trying to start shit with non vegans in the first place lmfao
Reply

Then you probably have never been vegan and attended a birthay party.
Or you've never visited large animal rights pages and looked into the comments section.
Reply

idk what birthday parties have to do with literally anything, but i certainly hope you aren't talking about some bullshit like peta when you say "large animals rights pages" lmfao
Reply

Ok, as a meat-eater myself, I don't mean to come off as aggressive, but here's my standpoint on this whole matter.

I understand not everything in the meat industry is humane, but a majority of the time, the animals used for the meat industry are given a very well-treated life, and their deaths to give humans meat are just another form of population control most of the time.

And in terms of diet, it varies drastically from person to person, but while vegetables are healthy for you, so can meat. But in either situation, it has to be in moderation. It's not good to eat too much meat seeing how sometimes it can just lead to some diseases that aren't found in vegetables. But at the same time, for some people, too much plant protein is also not that healthy as they can generate their own problems in the body.

Again, this varies wildly from person to person, and I'm not offended by the extremist views of meat-eaters depicted in this story, I just wanted to get that off my chest since I keep getting these comics in my watch feed.
Reply

Animals are bred by humans for consumption. As more people go vegan, less animals are bred for consumption. As such, if everyone eventually goes vegan (which may not even happen, and if it did, would gradually take place over many years), then animals would no longer be farmed. So their population would not be an issue.
The words 'humane' and 'slaughter' put together, are what is known in the English language as an oxymoron, i.e. 2 words that contradict each other when put together. To use the term 'humane slaughter' is as nonsensical as to say 'humane rape', 'humane slavery', or 'humane holocaust'—regarding the latter point, some synonyms for 'slaughter' in the dictionary are 'bloodbath', 'massacre', and 'holocaust'... given that it does not make sense to use the term humane for any of those 3 words, neither can it make sense to say it for the word those synonyms derive from. Ask yourself this question: is there a nice way to kill someone who doesn't want to die? Given that animals want to live, and value their lives as we value ours, there is no nice way to kill them. In any case, anyone looking at the methods we use to kill farmed animals can see for themselves that it's not 'humane'. Whether the animal is stunned with a bolt gun or prongs, or whether it's by gas chamber, or whether they are killed via the Halal/Schechita method, these are not exactly methods we would use to euthanise even someone who did want to die. Regardless of the fashion of execution, there isn't a justification for taking the life. It is still taking the life of a sentient being, for your enjoyment ultimately. If somebody killed your companion animal, I doubt you'd say "that's fine because you did it humanely" as described above. Breeding innocent, defenseless beings for the sole purpose of killing them is not "treating animals well". If you want to treat animals well, you should support freeing them from being treated as commodities.

We already know that meat and animal products can cause the most common lifestyle diseases like heart disease, kidney disease and cancer, and that red and processed meat are class 1 carcinogens in the same category as cigarettes and abestos (meaning it's always unhealthy, wether you consume large or small quantities, just like smoking is). But you state that vegetables can also cause problems. I am very curious to know what problems exactly eating vegetables can cause, if you're eating a well-balanced wholefood plantbased diet? Because as far as I'm aware, it can reverse the aforementioned diseases?
Reply

I'll admit, the issue more comes from beans than anything.
Reply

Really? Then why is it that the World Health Organization puts meat in the same carcinogenic class as cigarettes and asbestos, and not beans? And how come populations who eat plantbased (including beans) are the longest living populations of all, while heart disease, kidney disease, dietary cancers and diabetes are an epidemic in populations in which animal products are consumed? Beans don't clog your arteries or feed cancer. Saturated fat, sex & growth hormones and cholesterol do, and those are only found in animal products. Maybe you just didn't know, but wholefood plantbased diets have been proven to reverse the aforementioned diseases.
Reply

Personally, I translate it as

Troll: I think being a dick will make mine bigger, so I take it out of my pants and put it in my personality
Reply