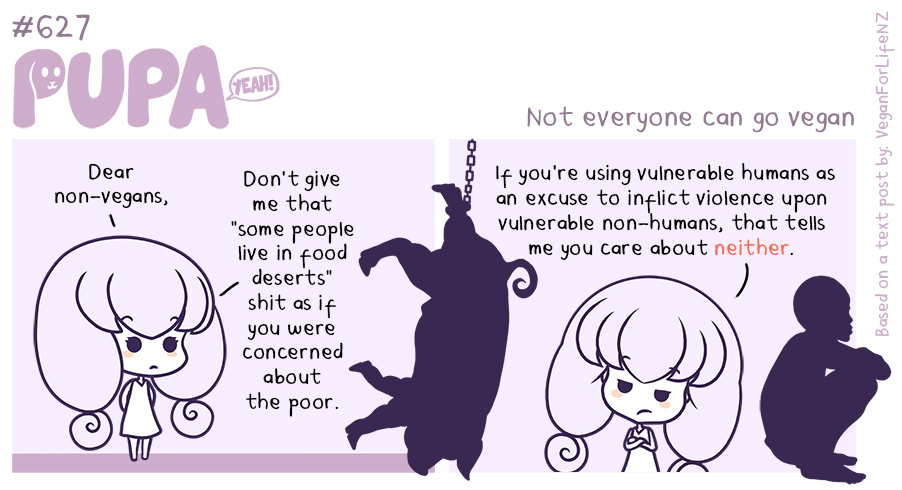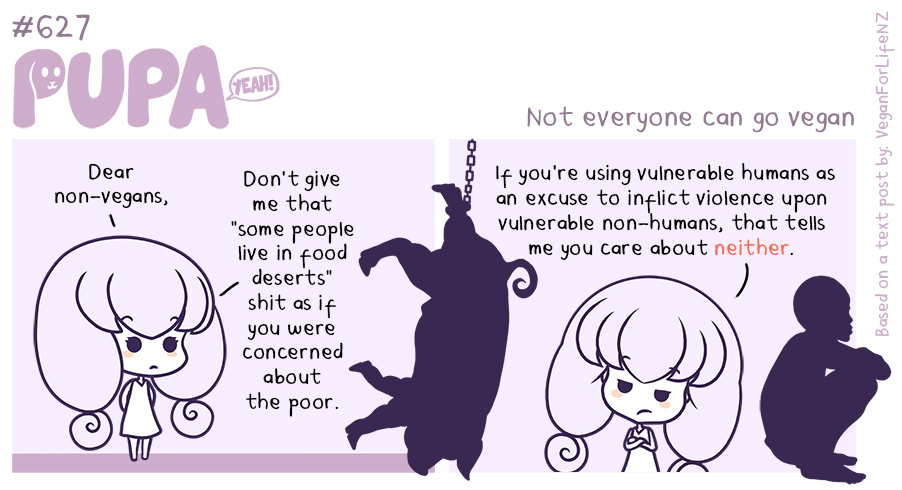 What about tribes who have to hunt to survive

If somebody has to kill to survive, then that's their only option. Anybody who isn't in that situation shouldn't bring this up as it has nothing to do with them.


- Vegan Sidekick
"NOT EVERYONE IN THE WORLD CAN GO VEGAN"
But you can. And that's the point. Anyone who's reading this has no excuse not to be vegan. Unless you're either a.) sitting on a sand dune in the middle of the Sahara Desert, or b.) sitting in an igloo somewhere in the North Pole, in which case I must say, I'm pretty impressed with your wi-fi signal.
Palming off one's own complicity in animal agriculture onto those living in barren wastelands shows a complete lack of ability to take responsibility for one's own actions. If you are reading this now, that means you have access to either a computer, laptop, tablet, or smartphone, which means you also have access to shops and so on.
- George Martin

Art
Yesterday I came across an Instagram post written by a clown. This clown is an academic and lecturer with a big following on social media, and she recently wrote about how vegans have no right to criticize nonvegans. She talked about food deserts, migrant workers and all that tired, old shit which clowns like her love to regurgitate as though they've somehow found a groundbreaking argument which completely "debunks" veganism. Her previous entry on Instagram was a photo of the breakfast she got while staying in a hotel somewhere (the hotel was clearly not the cheap kind, by the way). The breakfast included pig flesh. I'm sure she'd be happy to know that her posts have truly inspired me. They've inspired me to write a message to Cargle and all other clowns like her: you're not fooling anybody. Cargle, everyone knows that you didn't eat that piece of flesh for breakfast because you're worried about the poor; you ate it because you like the way flesh tastes when it's cooked and seasoned. That's what this comes down to. You inflict violence upon vulnerable beings for no better reason than your fucking palate pleasure, while you're on tour giving talks about oppression and discrimination. You are the epitome of hypocrisy. More than that, you are the epitome of intellectual dishonesty. You don't care about the people whose struggles you use as an excuse for your choice to enslave animals. If you did, you wouldn't be using those people and their struggles as a way to make you seem like a less shitty person. And, Cargle, let me clarify: when I say you're not fooling anybody, that includes the clowns who share your anti-vegan posts. They don't believe that shit either. Those "veganism isn't' cruelty-free" articles do NOT go viral because people care about migrant workers. Most people don't give A FUCK about the rights of workers. Anti-vegan posts go viral for one reason, and one reason only: they tell people what they wanna hear. People WANT to be told that vegans don't have the moral high ground. That way, they can continue to enslave and kill animals without feeling too guilty.
- Vegan For Life NZ

all they care about is rationalizing their foolishness.
Honestly.......rationalizing ones own actions is more important to the human race than sex itself.

Reply

Reply

Some people may laugh it off, but we don't go a day without rationalizing our own actions to ourselves, even on a subconcious level. We CAN'T. Especially if we are doing something wrong

It's how humans are.
Reply

Reply

Actually, I'd say all humans need rationalization. It's not necessarily a bad thing either, in fact for people like you or me it helps us stay moral. If we cannot rationalize our actions, we change them so we can continue to walk the straight and narrow.
Reply

Totally agree. That's why we should keep speaking out and educating those blinded by their culture. And that doesn't just count for fighting the oppression of animals.
Reply