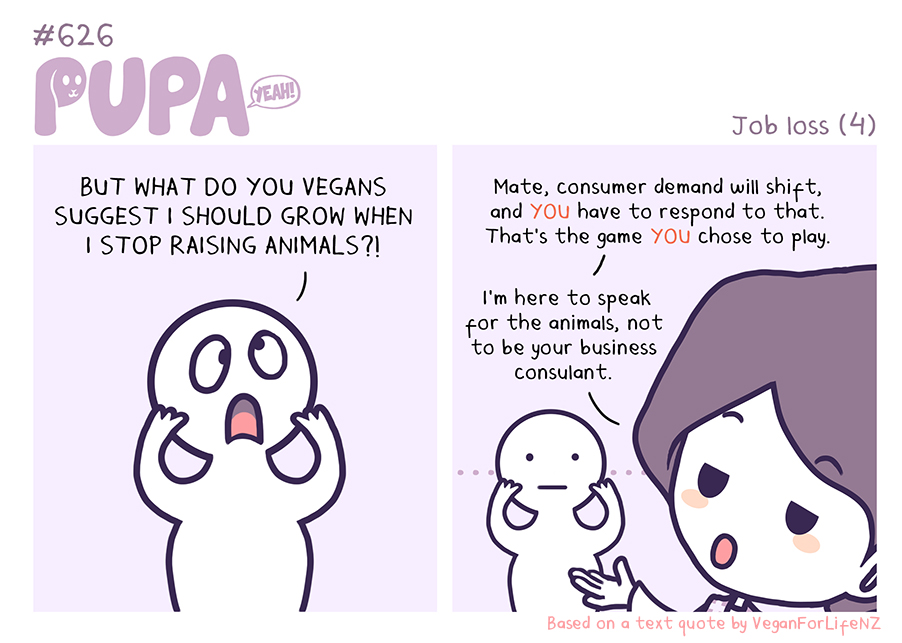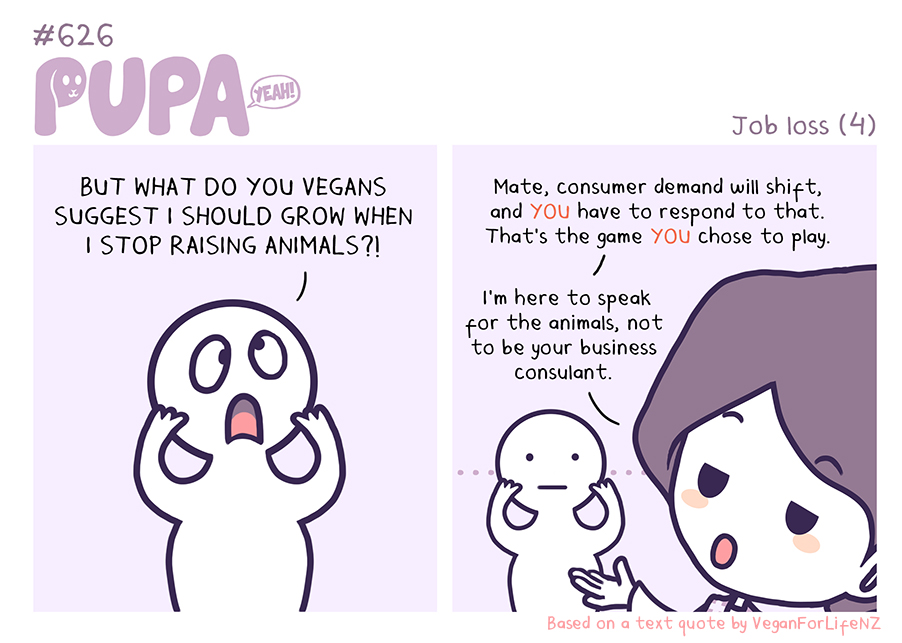 I don't care about the economic implications of veganism. I genuinely don't. Do you know why? Because veganism isn't an economic issue. Sure, it has economic implications, but those implications are ultimately irrelevant. Global veganism could lead to total economic collapse (it won't) and I would STILL be here telling people to go vegan. Slavery is wrong regardless of how much influence it exerts over the economy. You say jobs would be lost if everyone went vegan. I say I don't care. That may sound harsh, but it's definitely not as harsh as trying to justify the violation of the fundamental rights of vulnerable beings by claiming that it creates jobs. Farmers, if you don't mind, I'll save my sympathy and tears for the animals whose enslavement you're trying to profit from.
- Vegan For Life NZ

Art

What about the butcher and deli shops owned by those who make a living, carving the selected meat slices of one's choice? Where could they go if you vegans have your way?

REALLY, I'm curious.
Reply

Just because a product is available for purchase does not make everybody obliged to buy it. This argument becomes clearly absurd when you apply it to anything else - if you stop smoking, you'll be putting people out of jobs in the cigarette industry, so everyone has to smoke. Or, if you stop drinking alcohol, you'll be putting people out of jobs in the alcohol industry, so you have to drink. It makes no sense at all. Industries exist to meet a demand, and to make money from people. If people don't want those products, then that's not their fault, consumers are not obliged to buy everything on offer and fund every single industry out there. If consumers' money is not being spent on one item, it's being spent on another, which means there will be greater demand elsewhere, so the industries change over time to accommodate what consumers want. It doesn't mean job loss in the first place.
Reply

I was referring to the butcher owners who CANNOT shift from demand to another (some of them can't meet the new demands), NOT the customers. Would they (the butcher and deli owners) have to forfeit their business and take up jobs like cleaning floors or carpentry, or end up unemployed and homeless?
Reply

That's funny... I don't recall anyone ever writing in to Netflix to tell them of their heartfelt concern about all the people being put out of work in the DVD industry because of the trending online switchover to video on demand content? And I don't recall anyone writing a letter to their bank either, criticising them for their switchover to online statements, thus putting all those poor people out of work in the paper industry. And what about when people quit smoking? Shouldn't we be concerned about all those people being put out of a job in the tobacco industry?
As per usual, people are only ever interested in using this argument when it comes to animal exploitation. But anyway, with the workings of supply and demand, changing the demand for a product can cause an industry to 'change its tack', so to speak, so any animal farmers who are genuinely interested in staying in business would be encouraged to switch to crop farming, and so on.
In any case, the livelihoods of those on the side of the oppressor is not worth more than the lives of the oppressed. Just as it would not be ethical to continue human slavery on the basis that plantation owners would be put out of work, so too is it unethical to continue animal slavery for fear of farm owners and slaughtermen being put out of work.
Reply

So, the butchers would have a option of trading their blades for either a computer, a telephone, mop and broom, or a pitchfork, or spending they last days without a job and hunt their own food (like, oh say, venison (deer meat) or wild hare) while away from civilization, is THAT it?
Reply

I used to be such an animal exploiter myself. When I realized it was wrong, I gave up farming animals and now do something else for a living, and eat plants instead of dead bodies. People can always find other jobs, but you can't buy back lives. The ones being tortured and killed here are the victims, not their oppressors.
Reply

Maybe this is naive of me, but the way I see it, people will always need food.
The demand for food won't go away. The demand for a specific types of food will shift.
Vegan foods require less resources, which means it cost less to produce it.
If vegan meals are sold at the same price as non-vegan meals,
then food companies can work less for more money.
Reply

It isn't naive of you. It's a fact, called supply and demand. The only reason why meat is afforable is because it's being heavily subsidized by the government (how else are you going to make feeding up to 25 pounds of crops to an animal for every pound of meat produced afforable for the consumer?) Meat used to be food for the rich, more than anything, before the gov started subsidizing it.
Reply

They never care about the job loss until a vegan says to stop meat production, its always the same stupid refutable arguments. How does anyone listen to this crap!? It hurts my ears!
Reply

Tear down animal farm, turn it into a small amusement park. Poifect plan, 10/10 XD
But seriously, just do other stuff with the land, not that hard. Or sell the land and change jobs.

Reply

Go on, and explain how much you're worried about the people who's job it was to build typewriters and tape recorders.
Reply