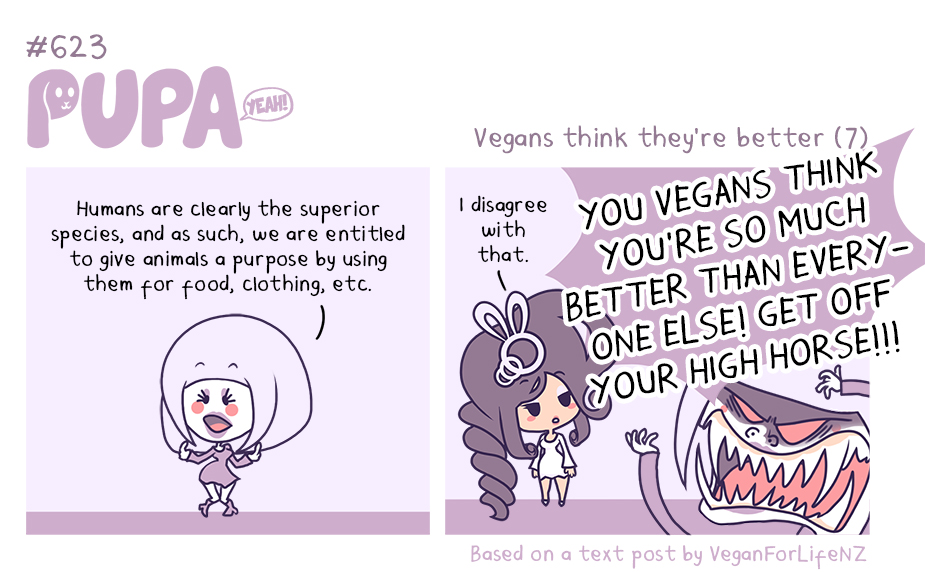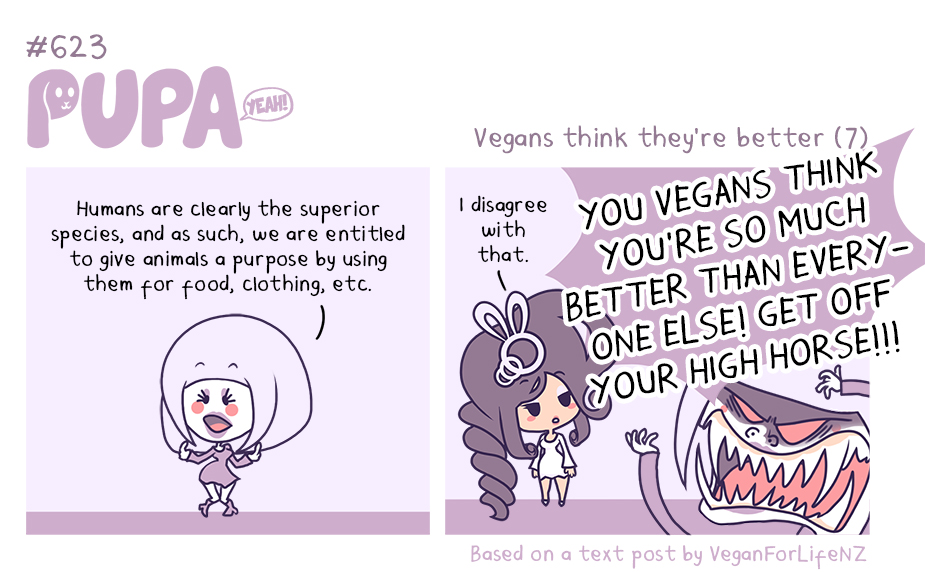 As an antispeciesist vegan, I'm promoting equality. TRUE equality. I'm saying that, when it comes to our most fundamental rights, all sentient beings are EQUAL. How does that make me arrogant? Nonvegans, you're the ones acting as if you were superior to others. In fact, you think you're so superior that you're acting as if your mere palate PLEASURE was somehow more important than someone else's LIFE. And, yes, animals DO count as "someones". They're not objects. They're not commodities. They're individuals with desires, needs and fundamental rights which you are OBLIGATED to respect for the EXACT same reason why you're obligated to respect the rights of other human beings. When you use someone's species as a justification to enslave them, you are being no different from some of the most arrogant humans in history: those humans who have justified, and continue to justify, the oppression of other humans by making reference to their ethnicity, gender identity, sexual orientation, etc. So, tell me, how can you call vegans "arrogant" when you're choosing to support the biggest, most violent system of oppression and discrimination that has ever existed for no better reason than your selfish wish to shove the flesh and secretions of animals down your throat?
- Vegan For Life NZ

Art

Claiming you are superior is relative. Superior in what regard?
If they mean value, which they always do, then that always rides on ones own definition of superiority, and this literally describes every instance of racism ever.
Besides, isn't it odd that ones uses superiority as an excuse to do things that eliminate that superiority?

Reply

Oh my god.

I have literally had this conversation with a woman that looked a LOT like that.
Reply

Eeh, yeah this way of thinking is so inappropriate and annoying >.<'
Reply