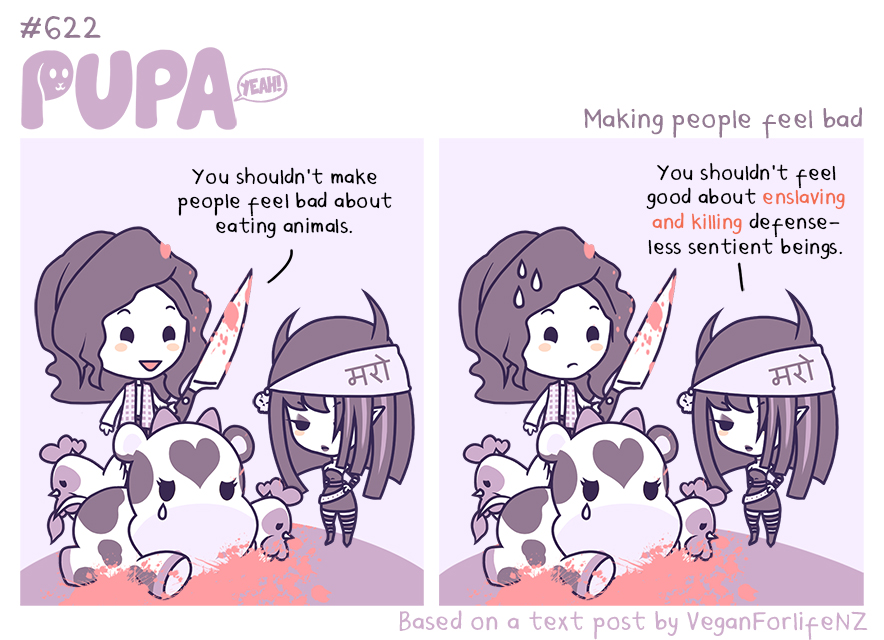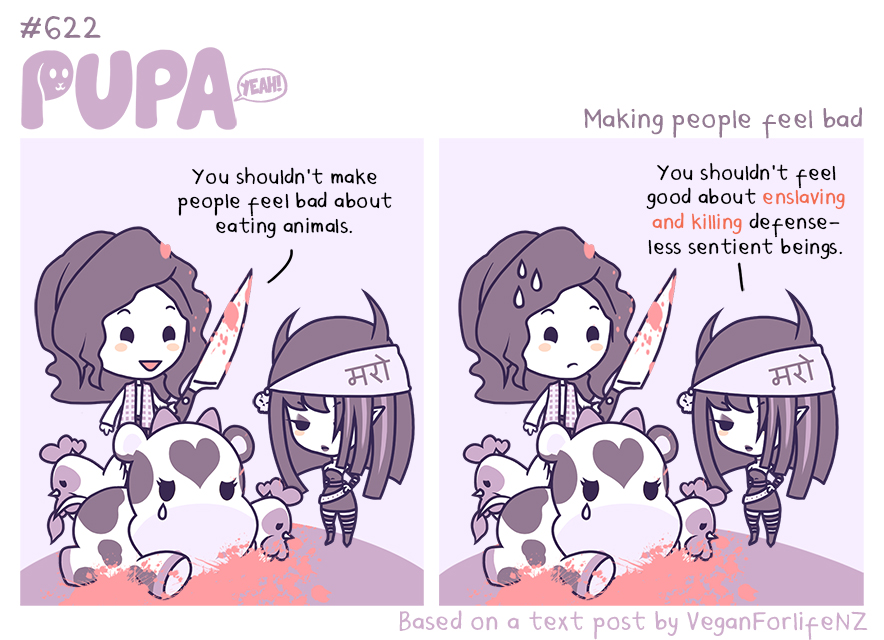 Okay, so a vegan was rude to you on the internet, but how does that compare with your choice to murder innocent, defenseless animals? You can condemn "militant" vegans, you can criticize us for our "fundamentalism", you can regurgitate the word "extremist" all you want... None of your insults will change the fact that YOU are the one choosing to be EXTREMELY violent towards sentient beings who've never caused you any harm. Vegans are arguing for peace; you're arguing against it.
- Vegan For Life NZ

Art

As they always say...
"MMM, SALMON" (Bacons are overrated)
Reply

Reply

Too bad that thing isn't available in my country though.
Reply

It isn't available here either, it's a product from Taiwan. Sometimes I order from Germany, who has it too.
Reply

Well that's a shame. Would've wish its available everywhere
Also, non-vegan question, are you a huge fan of Nintendo? Because you have a collection of Nintendo characters (particularly the princesses) called "Nintend0h" (I think that what's called) and your old artwork contains Nintendo character drawings.
Reply

When I was younger, I used to love Nintendo a lot. I still play every once in a while, but not as much as I did before and the fandoms I used to be fangirlish about in my teens don't really interest me anymore, because I have lots of other things to do. The art of Nintendo and other fanart you see in my gallery are from 2008-2010, very old stuff. I re-uploaded them, because they used to be popular on my old account (which was hacked and deleted by some half-crazed weirdo called Maura).
Reply

I'm also a big fan of Nintendo. Looking forward to their Smash Bros Ultimate.
Reply

Me, too. I can't afford it though. Since leaving my parents house, having to pay my own bills, I can't buy everything I like anymore, especially not with the sanctuary I run. I do have a Nintendo Switch, but that's only because someone else bought it for me for my birthay last year. Literally all of the clothes in my closet are gifts from other people, haha XD (Except for a handful of vegan sweaters).
Reply
(1 Reply)

It's a child whining and crying that you're mean for making them feel bad.

What if it hurt a liars feelings when you called them a liar for lying? Too freaking bad, they lied, if they feel bad because it has been brought to their attention, THEY SHOULD NOT HAVE LIED.
Same instance with killing animals.

Reply

Yes, they're like bullies. They don't like the be called out on their actions either, despite the fact that they harm others.
Reply

And yet they do.

Lets build a new kind of mental hospital for those people.
Reply

No need to. Because in the future, enslaving and killing animals will be viewed as psychopathic as killing humans is today. As Leonardo Da Vinci once said: The time will come when men such as I will look upon the murder of animals as they now look upon the murder of men.
Reply

THIS.
No matter how you try it's always so uncomfortable to sit next to a person who is eating meat and keep your mind focused on something else.
Reply