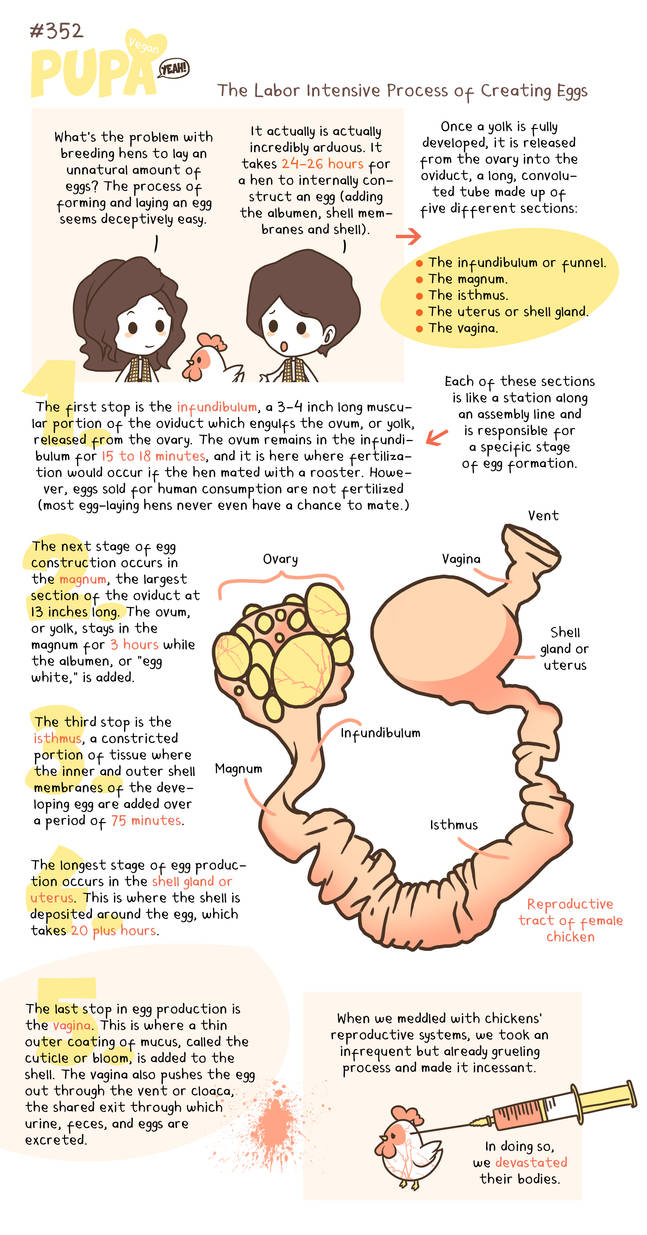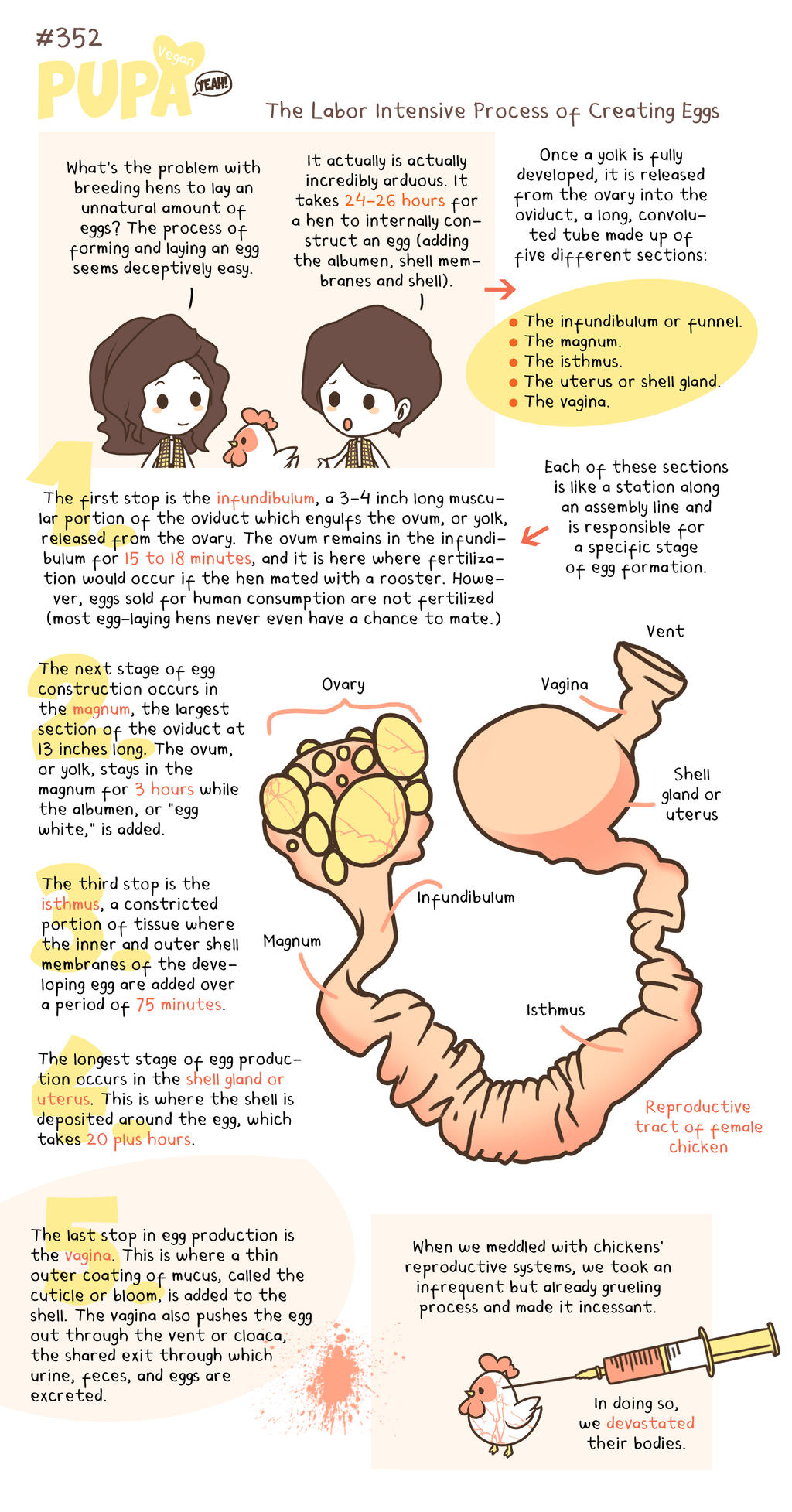 Urine? Birds don't have urine, at least not like mammals.
Reply

Mammals remove excess nitrogen from their bodies by converting it to a dilute solution of urea, stored in the bladder. Birds convert nitrogen to uric acid instead: this is metabolically more costly but saves water and weight, as it is less toxic and doesn't need to be diluted so much. Birds therefore don't have a urethra, and don't pee - all waste leaves via the anus.
Reply

I know. You said they had urine, when it's really only feces.
Reply

Chickens only have one hole, so their waste is all mixed within the intestines before it's evacuated. Basically the poop, pee and pay eggs from the same hole. It's not exactly done in the same way as mammals do, but it pretty much narrows down to the same: getting rid of waste.
Reply

How old can chickens live if they weren't being bred to lay more eggs?
Reply

The oldest I've seen is about 11, one of which was a rooster, so no egg production. I've heard of 21, but I'm not sure I believe it. My 11 year old hen is doing okay, but getting old. Even my bantams, who had low egg production only lived for about eight years. (Commercial breeds that lay seem to live five or so years on average.)
Reply

Wild chickens can become 30 years old.
Reply

You're talking about a wild chicken in captivity, NOT a wild chicken in the wild, which would have a lifespan of a few years due to predators. Also, that's a very rare case, I would guess, such as saying "humans can become 120 years old" or claim that dogs live for 29 years.
The oldest I've seen is about 11, one of which was a rooster, so no egg production. I've heard of 21, but I'm not sure I believe it. My 11 year old hen is doing okay, but getting old. Even my bantams, who had low egg production only lived for about eight years.
Reply

No, you aren't listening. Wild chickens have a much longer lifespan than the puppy-mill versions of them humans have bred in captivity. My point is that these should stop being bred to be that way just to benefit humans. It's no better than puppy-mill dogs imo: breeding animals at the expense of their health just because humans want something from them (eggs, or a cute big chihuahua head on a small body etc.) The puppy-mill domestic chickens will never become as old as their wild ancestors, because they suffer all kinds of health problems on the long run, but one can still maximize their lifespan a bit by using implants. I work with a chicken sanctuary on this chapter and they give their rescue chickens implants so they live many years longer than their sisters which are used for eggs in the industries.
Reply

So, how long do your rescue chickens live?
The AVERAGE lifespan of any wild animal is generally significantly shorter than the lifespan of a wild animal in captivity, barring wild animals like whales that have few predators and other species that do poorly in captivity. A wild chicken in the wild will have a rather short lifespan due to being eaten. (For comparison, their close relatives, pheasants, are lucky to live three years in the wild, and wild turkeys are also lucky to make it past three.)
The 30 years thing sounds more like a world record to me than an actual lifespan. Unless you can find multiple sources saying jungle fowl live to be 30, I can't believe it.
I am aware the commercial breeds die young. I've noticed this with my own flock, but I still don't believe the claim of 30 years old as an average lifespan.
Reply

The point is that wild chickens their bodies don't kill themselves and that their maximum natural lifespan isn't affected by their
own
body. Their bodies have evolved to survive in nature. They don't get egg-layer fatigue or any other creepy diseases humans have bred domestic chickens to have. Domestic chickens their bodies pretty much destroy themselves slowly because humans bred them to benefit humans rather than the animals themselves. So even if a wild chicken dies in nature because a fox gets them or something, it's not their own body that kills them. They have a chance to change their own misfortune. Therefore comparing wild animals to puppy-mill versions humans bred is flawed. It's like justifying breeding dogs with health problems by saying "but wolves often die in nature before they reach their maximum lifespan". Animals with health problems shouldn't be bred at all - and if we oppose puppy-mills that intentionally breed animals with health problems, we should also oppose doing the same to other animals. If you're interested in reading all about the rescue chickens here and how the implants save them, feel free to check it out on the website:
www.exlegkipjes.nl/
Reply

Interesting. I didn't know anyone did that.
Most of my hens are more fancy breeds, so they tend to live longer because they're not so heavily bred to lay. (Like I said, I've got one who is eleven and is probably the most similar to jungle fowl that I have.)
Reply

Yeah, there are many different breeds of chickens. The worst are the ones from the factory farm egg industries, who are bred to lay up to 500(!) eggs a year. They usually die around age 2 of reproductive organ problems. I think that companies who breed them to be like that are the epitome of animal abuse (Hy-Line and ISA for example).
Reply
(1 Reply)

It's like if you gave birth that often. Falk about hard
Reply